This archived news story is available only for your personal, non-commercial use. Information in the story may be outdated or superseded by additional information. Reading or replaying the story in its archived form does not constitute a republication of the story.
SALT LAKE CITY — Computer and electrical engineers at the University of Utah believe they've opened the way to computers processing data thousands of times faster than they currently do.
They say a tiny device could mean a big future and benefit consumers by making supercomputers and eventually smartphones and other gadgets many thousands of times faster.
"It's called a polarization beam splitter," explained Rajesh Menon, association professor at the university's Department of Electrical and Computer Engineering. "It's something that takes a beam of light and splits it into two."
Think of those two beams of light as two distinct channels of information, Menon said. And because it's so tiny — about a 50th the width of a strand of human hair — you can fit millions of these light splitters onto a single computer chip.
Working with other microscopic devices, the splitters can direct all those millions of channels of information around the machine.
According to Menon, that means instead of relying on slower electrons to transmit data, computers can use super-quick light to transmit it.
"Many of us, not just me, a lot of scientists working in this field, we have a vision of that we can do all processing with light in the future," he said.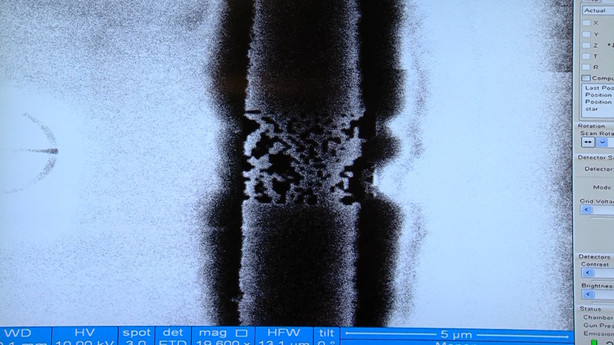 He believes it could be as little as three years before huge data centers like the ones operated by Google, Facebook and other Internet giants will use light to process data. It's super fast, runs a lot cooler and consumes much less power, he said.
"Data centers utilize a huge amount of power. They consume something like 2 percent of the electricity generated," he said.
But what about cost? Menon said the beauty of the innovation is the manufacturing process already used by electronics designers can be used to create photonics devices like the beam splitter.
"These devices can be made on existing capital equipment, which is a huge advantage. You don't have to pay factories to do this," he said.
×
Photos
Related Links
Related Stories