Estimated read time: 4-5 minutes
This archived news story is available only for your personal, non-commercial use. Information in the story may be outdated or superseded by additional information. Reading or replaying the story in its archived form does not constitute a republication of the story.
SALT LAKE CITY — For Salt Lake resident Shauna Petersen, the Chevron oil refinery has been a community fixture for decades, but how it operated remained a mystery.
So when Petersen's son found out about free tours being offered at the refinery Saturday, she decided it would be a good opportunity to learn more about the shiny plant near the freeway with the plumes of white vapor rising into the sky.
"(The tour) was very nice," said Petersen, 62. "I was just impressed at how hard they work to make a clean environment. It's important to have clean air and a clean environment."
Learning about the technology that refines crude oil and produces the numerous products that are used every day was fascinating, she said.
Petersen was among the 750 people who signed up to take guided bus tours on the grounds of the more than 500-acre facility at 2351 N. 1100 West.
The refinery has been in continuous operation since 1948 and today processes approximately 50,000 barrels of crude oil daily that produces 2.1 million gallons of various related products, including gasoline, jet and diesel fuel, propane, butane and petroleum coke for manufacturing electrodes used in making aluminum and steel.
With 340 full-time employees and hundreds of contractors, the plant distributes products to customers in Utah, Idaho, Nevada, Washington and Wyoming. The reason for re-establishing the refinery tours that were halted years ago is to inform the community about the progress being made in the petroleum industry, company officials said.
"We want to educate people about what we're doing," said Greg Gabel, Chevron refinery manager.
Since 1992, in conjunction with environmental regulations, the facility has reduced its pollution emissions 90 percent, Gabel said. The company also is working hard to regain trust that may have been lost following a couple of major mishaps that resulted in significant ecological impact to local waterways, he said.
Last year, the Utah Department of Environmental Quality exercised its regulatory muscle and oversight on key environmental concerns in affecting Willard Bay in Box Elder County and North Salt Lake in Davis County.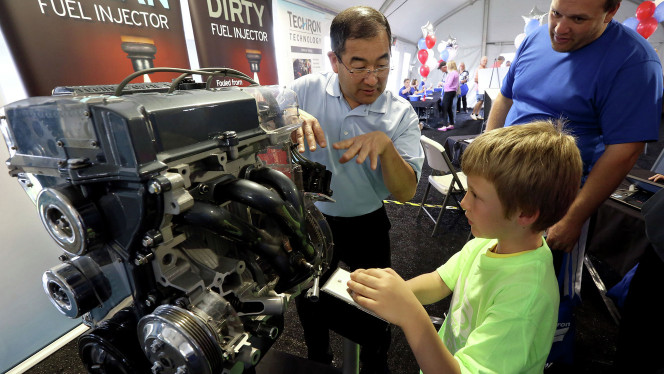 Kristin Murphy/Deseret News
In 2014, the division reached a nearly $4.5 million settlement with Chevron over a diesel fuel spill that impacted Willard Bay, money that paid for a series of cleanup projects. The money is being used to pay for improvements at Willard Bay State Park, carry out restoration along the Logan and Jordan rivers, and restore wetlands at the Ogden Nature Center.
Chevron was able to avoid federal fines for an oil spill at Red Butte Creek five years ago, as well as the Willard Bay spill, in a settlement with the U.S. Environmental Protection Agency.
In May 2014, the Texas-based oil giant's subsidiary Chevron Pipe Line Co. agreed to pay an $875,000 fine for [Clean Water Act violations](<http://www.ksl.com/?nid=148&sid=33340720 >). The money went to the Oil Spill Liability Trust Fund, used by federal agencies to respond to oil spills.
According to a federal lawsuit, Chevron faced fines of up to $4,300 per barrel of oil spilled if the violations were found to result from gross negligence or willful misconduct.
Related Story
In June 2010, a hole in the company's Rangely, Colorado, pipeline leaked about 800 barrels of oil into Red Butte Creek that flowed downstream to Liberty Lake. The pond in Liberty Park was closed for nearly a year for cleanup and restoration. Chevron could have been fined as much as $3.4 million.
Then in March 2013, about 499 barrels of diesel fuel from a ruptured pipeline flowed into wetlands adjacent to Willard Bay. It damaged habitat for beavers and waterfowl, and contaminated shallow groundwater.
Gabel said the company had to take responsibility for those incidents and the negative impacts they had on the local ecology. In the wake of those incidents, he said the company is now working to restore confidence as a community steward and partner.
"We have to continue to review our procedures to try to understand if there is anything we could miss (that could create a problem)," he said. "We've got to make sure (those procedures) are robust."
As a resident of North Salt Lake, Gabel said he understands what is at stake and will work diligently to maintain the highest level of competency possible.
"We're sorry (for the spills). That's not how we operate," he said. "We strive to protect the environment."

×
Photos
Related Stories