Estimated read time: 2-3 minutes
This archived news story is available only for your personal, non-commercial use. Information in the story may be outdated or superseded by additional information. Reading or replaying the story in its archived form does not constitute a republication of the story.
This story is sponsored by Harmons. Want to talk to us in person? Stop by your local Harmons today for fun, friendly food advice.
Bacon and eggs, turkey and stuffing, macaroni and cheese. Each of these foods are delicious when eaten alone, but complement each other when paired, making them even better together. On the contrary, rhubarb needs a partner to make it delicious. Grimacingly bitter eaten on its own, rhubarb greatly benefits from the sweetness that strawberries provide.
Now's the time to take advantage of the classic pairing as strawberries are at their sweetest and rhubarb is abundant in grocery stores. These bars are great for breakfast, a snack, or an elegant dessert when topped with fresh sweetened whipped cream.
The turbinado sugar that is called for in the recipe is simply raw cane sugar. It can be found in the bakery section of most grocers.
Strawberry-Rhubarb Streusel Bars
Makes 16 (2-inch square) bars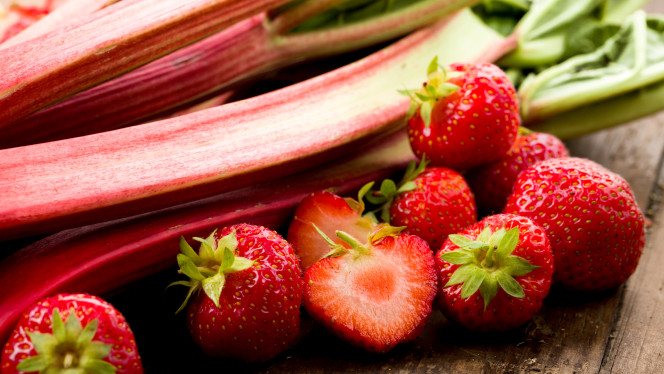 Photo credit: Shutterstock
Ingredients:
1 1/2 cups strawberries, hulled and thinly sliced
2 cups rhubarb, cut into roughly 1/3-inch-thick pieces
1 cup turbinado sugar, divided (plus a little extra for sprinkling)
1 tablespoon lemon juice
2 3/4 cups all-purpose flour, divided
12 tablespoons (1 1/2 sticks) cold, unsalted butter
2 ounces cream cheese
1/2 teaspoon salt
1 large egg
1/2 teaspoon baking powder
1 teaspoon vanilla extract
Instructions:
1. Preheat the oven to 350°F. Grease an 8-inch-square pan with nonstick spray. Line it with parchment paper (so you'll be able to lift the bars out later for cutting) and spray again.
2. In a large bowl, combine the strawberries, rhubarb, lemon juice, and 1/4 cup of the turbinado sugar. Set aside.
3. Place 2 1/2 cups of the flour into the bowl of a food processor. Cut the butter into 5 large chunks and add to the flour along with the cream cheese, salt, and remaining 3/4 cup of cane sugar. Pulse to combine the mixture until moist and crumbly, with no chunks of butter remaining. Remove 1 2/3 cups of this crumbly mixture from the food processor and set it aside for the streusel topping.
4. To the rest of the mixture still in the food processor, add the remaining 1/4 cup flour, egg, baking powder, and vanilla. Blend until it just starts to come together to form a dough.
Press the dough evenly into the lined pan (it's easier to do this if your hands are slightly damp). Bake until slightly risen, about 10 minutes.
Strain the strawberry-rhubarb mixture to remove the excess liquid. Spread the fruit in an even layer over the surface of the partially baked crust. Sprinkle the reserved streusel topping over the surface of the fruit and then sprinkle on a little more turbinado sugar. Bake again until the topping is golden-brown, 40 to 50 minutes. Let cool for 20 minutes before lifting the pie bars out of the pan using the parchment paper. Slice into 16 squares. Store in an airtight container for up to 5 days.
Check out our other Ask a Chef and Dietitian articles for great tips and recipes.
×