This archived news story is available only for your personal, non-commercial use. Information in the story may be outdated or superseded by additional information. Reading or replaying the story in its archived form does not constitute a republication of the story.
WEST JORDAN — Remember Sam Gordon, the pint-sized 12-year-old football player from 2012 who captured the nation's attention?
Gordon became an overnight media sensation, and even got an invitation to the Super Bowl, after video of her playing with the boys went viral on the Internet.
She's back — and she's brought a few friends to the country's first all-girls tackle football league, which kicked off Saturday in West Jordan.
Now, her father is one of the organizer's of the Utah Girls Tackle Football League. That's fifth and sixth grade girls, full contact, with the first of three games in the four-team league played last Saturday. The league uses eight-man football rules.
"First game of girls tackle football, it was awesome," Sam Gordon said. "It was really awesome because girls can play with girls, and it's full-on tackle football."
Even the parents agreed.
"It's so amazing to be a part of history," said Aleisha Coleman, administrative assistant for the Utah Girl's Tackle Football League.
Youngster Kat Kirby plays for the Yellow Jackets, one of four teams in the league.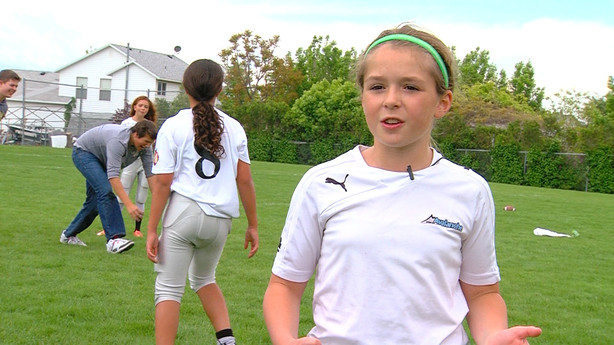 "It's not flag; it's full on tackle," Kirby said. "We hit each other hard."
Each of the girls on Saturday's opening day agreed on the best part of the sport: tackling, and getting to hit other girls.
Mandy Cook brought her daughter Whitney to sign ups pretty quickly, and called it one of the best things that's happened to her family.
"She absolutely loves it," Mandy Cook said. "She's pumped and she's excited. It's the best thing that's come around in Utah in a long time."
Gordon said she hopes the league becomes a "pioneer league" and grows across the country.
"I just think if anyone sees us, it would be great for them to come join," Kirby said. "We want everyone to join, and I think this should be spread. It's an awesome thing to do."
Contributing: Sean Walker, Matt Glade
×
Photos
Related Stories