Estimated read time: 4-5 minutes
This archived news story is available only for your personal, non-commercial use. Information in the story may be outdated or superseded by additional information. Reading or replaying the story in its archived form does not constitute a republication of the story.
WOODS CROSS — After Alta put up 15 shots on Lehi in a 5A boys soccer semifinal with no result, Hawks forward Bryson Colemere wasn't sure if his team was ever going to score.
It turns out, all the Hawks needed was one shot and four minutes of extra time.
Colemere slotted the golden goal inside the far post after picking up a perfect through-ball from BYU-bound Christian Bain four minutes after the end of regulation, and Alta overcame upstart Lehi 1-0 at Woods Cross High School.
"It felt great," Colemere said of his goal. "We're good buddies. We both know each other well, and the ball was played well."
Alta (18-1-1) advanced to face rival Brighton in the 5A state championship match at 4:30 p.m. Thursday at Rio Tinto Stadium.
"I'm glad we're playing Brighton," Colemere said. "It's a classic Alta-Brighton rivalry, and it's going to be really good. They're a good team."
The Hawks also ran into a "good team" in Lehi and goalkeeper Tanner Munson, who fended off all 15 shots faced in regulation with seven saves for the Pioneers.
"Lehi is a great team, an excellent team," Alta coach Lee Mitchell said. "I don't know how they are a No. 3 seed. They are a lot better than that."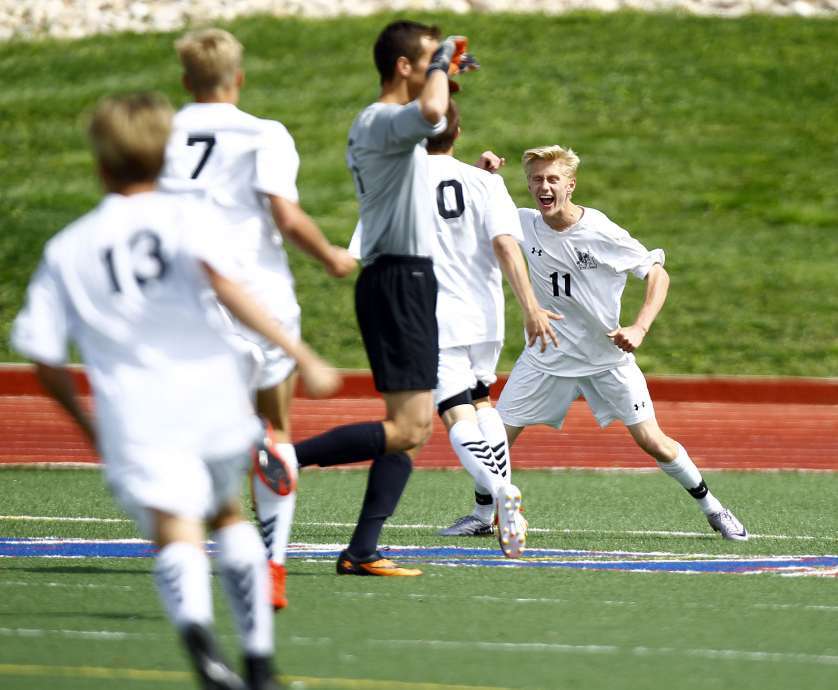 Alta outshot Lehi (10-6-3) 15-7 in regulation, including an 8-1 advantage in shots on goal. Lehi's defense outlasted the Hawks on several crucial final spells of possession, and neither team could break through in regulation.
Alta's Colbey Morf nearly struck the match-winner in the final minute of regulation, but his shot that dipped inside the far post was called back on an offside call. It was the Hawks' second attempt on frame in the final three minutes, after Bain saw his worm-burner saved by Munson just two minutes previous to Morf's nullified goal.
After Alta struck for seven shots, including four on frame in the second half, Colemere's game-winner came on the Hawks' first shot in the extra period.
He didn't need to think about it.
"We had a nice buildup from the back, and Christian just turned and beat a couple of kids," Colemere said. "He saw me through, played a nice ball, and I got a toe on it and watched it roll in."
Alta goalkeeper Alex Johnson made one save on seven shots faced to earn the shutout, a redirected shot following a corner kick that Johnson took away from Lehi's Isaiah Altamirano.
"Alex is amazing, isn't he?" Mitchell asked rhetorically. "If I didn't know any better, I'd say Nick Rimando was playing for us."
BRIGHTON 1, LAYTON 0 — At Woods Cross, Doug Regehr's goal just six minutes before the end of regulation helped the Bengals outlast the Lancers and a 30-minute lightning delay at halftime in the first semifinal of the day.
Regehr struck in the 74th minute, skipping a shot from the left side of the field that caromed off Layton goalkeeper Sam Hunter and into the top shelf.
"I hit it, and I didn't think about it," Regehr said. "I just hit it as hard as I could, and it happened. It's surreal. It was awesome."
The Bengals (12-3-3) lofted 12 shots, including four on goal, as they searched desperately for the go-ahead goal. Brighton came out of a 30-minute halftime as lightning struck just as the two teams were finishing play for the first 40 minutes, and immediately searched for momentum. Brighton's Sergio Higuera tried to take advantage of a chaotic moment in front of goal after a Brighton free kick, but Hunter clamped down for a save that preserved the shutout.
The rain poured down on the Woods Cross campus with less than three minutes remaining in the first half. The first hint of lightning then struck as the referee was blowing the halftime whistle, and both teams retreated indoors to wait out the thunderstorm.
After the break, Brighton came out strong and put up a shot on goal in the first minute of the second half.
"You just hope that the team that comes out the hardest out of the break, that handles the break the best, would win the game," Brighton coach Tom Cushing said. "I felt that, and so we had to set the tempo coming out of the break. You can win it or lose it, depending on how you come out after something unusual.
"We've been like that all year, and these guys have responded well."
The Bengals also got a little help from goalkeeper Conner Dearden, who made four saves to preserve the shutout. The senior who has engineered three-straight 1-0 wins in the playoffs made one final effort with six seconds remaining, corralling his line to block a shot by Layton's Nicolas Ovalle in the waning seconds of the match.
"My heart was racing a little bit," said Dearden, whom his coach called "the glue" of the team. "I just kept my head down and tried to help keep my team in the game. My back line did the same thing, and we got the job done."
×
Photos
Related stories
Most recent Sports stories