Estimated read time: 5-6 minutes
This archived news story is available only for your personal, non-commercial use. Information in the story may be outdated or superseded by additional information. Reading or replaying the story in its archived form does not constitute a republication of the story.
SALT LAKE CITY — The 2015 draft is in the history books but the search for talent continues as NFL teams begin to target and sign undrafted free agents.
Multiple undrafted prospects from BYU, Utah and Utah State have already reached deals with 17 NFL teams, where they'll have a shot to compete for a roster spot prior to the start of the season this September.
The following is a list of each school's most successful NFL undrafted free agent since 2005.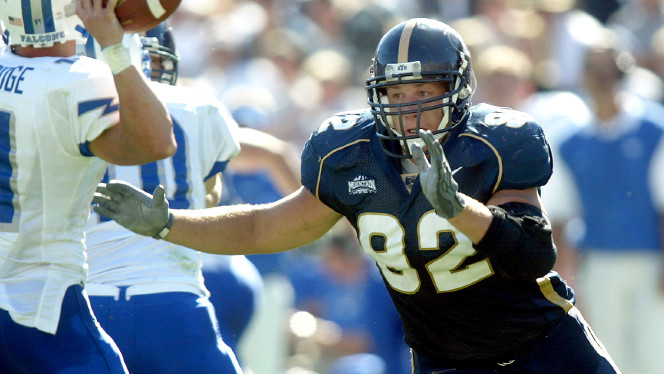 John Denney, Photo credit: Stuart Johnson/Deseret News
BYU
John Denney, LS/DE (2005-2014)
NFL stats: 161 GS; 36 TKL; 2 FF; 3 FR
Despite going undrafted, Denney has been the Dolphin's starting long snapper since he was a rookie in 2005 and has made two Pro Bowls since.
If you're tempted to discount Denney from consideration because he's "only a long snapper," consider the three-year, $3,450,087 contract he signed with the Dolphins back in 2013.
That's right — Miami is paying Denney $1.15 million a year for him to snap the ball through his legs 9-to-12 times a game, run down the field, and occasionally make a tackle. That would be the equivalent of me showing up to work 16 times a year, making 9 to 12 phone interviews, chest-bumping everyone in the newsroom every six weeks for finishing an article, and then having KSL offer me $3.5 million to continue working for another three years.
Sure, Denney will probably never be the difference in a playoff run, but that's not what they're paying him to do. The Dolphins have asked him to do one job, and he's done it well for a long time, earning him millions. If that isn't success, I'm not sure what is.
Apologies to: Aaron Francisco, Dallas Reynolds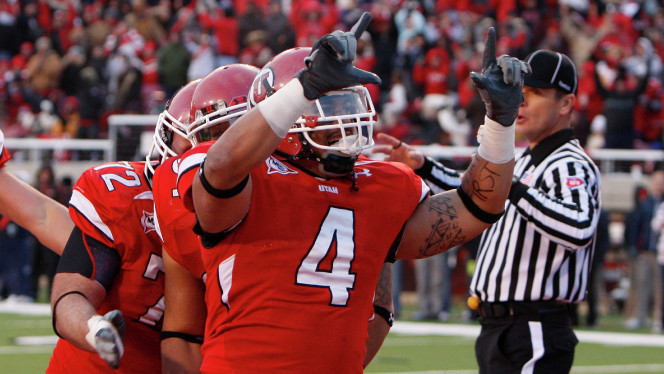 Matt Asiata, Photo credit: Tom Smart/Deseret News
Utah
Matt Asiata, RB/FB (2012-2014)
NFL stats: 42 GP/10 GS; 211 ATT/745 YDS/12 TD; 50 REC/327 YDS/1 TD
Asiata's original role with Minnesota was "one of the guys who could spot Adrian Peterson when he needed a breather," and was able to churn out 175 rushing yards and three touchdowns in limited action from 2012-13.
But Peterson's unexpected 2014 suspension forced the bulk of the Viking's rushing workload upon Asiata, and the former Ute responded with 882 total yards and 10 touchdowns while splitting carriers with Jerick McKinnon.
Peterson's fate with the Vikings has to become clear before people can expect similar production from Asiata in 2015. A Peterson trade would most probably mean another year of the Asiata/McKinnon one-two punch in Minnesota.
Apologies to: Derrick Shelby, Sealver Siliga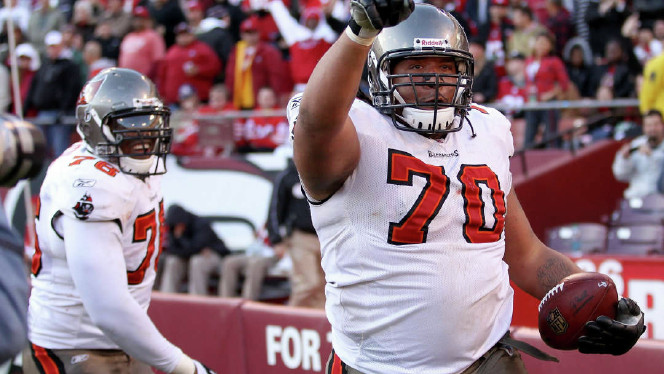 Donald Penn, Photo credit: Ezra Shaw/Getty Images
Utah State
Donald Penn, OT (2006-2014)
NFL stats: 128 GP/124 GS; 4 REC/22 YDS/3 TD
No, you didn't misread the above stats; Donald Penn is a starting NFL offensive lineman who has four career catches for three touchdowns. Here's how each catch ranks:
Also, bonus points for the first-down chop celebration.
Apologies to: Jarrett Bush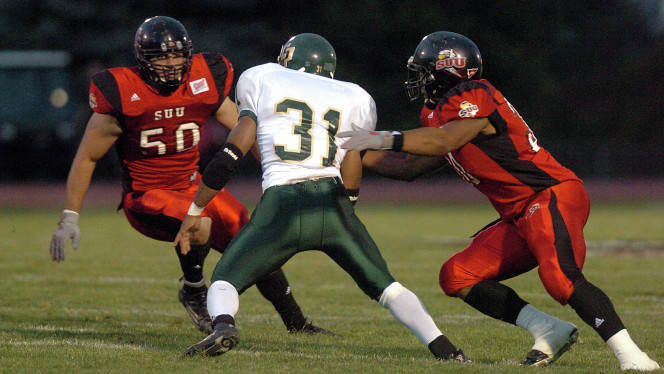 Marques Harris, Photo credit: Ravell Call/Deseret News
SUU
Marques Harris, LB (2005-2009)
NFL stats: 69 GP/6 GS; 72 TKL; 10 SACK; 5 FF; 4 FR/1 TD
Harris built his career as an edge rusher able to put pressure on the quarterback. His best year came in 2008 as a San Diego Charger, where he made 26 tackles, 2.5 sacks and forced two fumbles in 15 games.
Harris gained most of his notoriety by back flipping after sacking the quarterback, footage of which amazingly is lacking on the Internet.
Apologies to: Nick Miller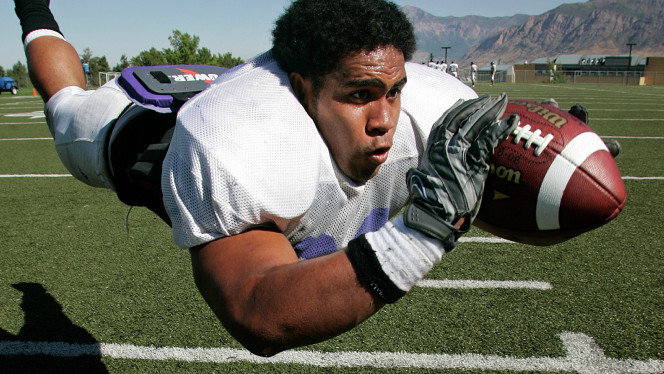 Marcus Mailei, Photo credit: Geoffrey McAllister/Deseret News
Weber State
Marcus Mailei, FB (2009)
NFL stats: 2 GP
Mailei has been the only undrafted Wildcat to play in an NFL game since tight end Ryan Prince did back in 2001.
The New Orleans Saints signed Mailei off of Philadelphia's practice squad late in 2009 with hopes that he could fill in as their starting full back. After playing in just two games as a Saint, Mailei sustained a season-ending injury.
The Saints brought Mailei back a year after having won the Super Bowl, but Mailei suffered another injury prior to the start of the 2010 season, effectively ending his pro career.
---
Alex Clark is a sports writing intern for KSL.com. He currently studies digital journalism at BYU. EMAIL: alclark35@gmail.com; TWITTER: alclark35
×
Related stories
Most recent Sports stories