Estimated read time: 2-3 minutes
This archived news story is available only for your personal, non-commercial use. Information in the story may be outdated or superseded by additional information. Reading or replaying the story in its archived form does not constitute a republication of the story.
DURANGO, Colo. — There's something in the air in the Four Corners region. Methane. Natural gas. Four research planes and more than two dozen scientists and technologists have descended on the region to figure out where it's coming from.
In the region where Utah rubs shoulders with three other states, satellite imagery detected the nation's worst methane hot spot.
"That's a huge anomaly," said Andrew Thorpe from the NASA Jet Propulsion Laboratory. "But we don't know exactly where the methane is coming from."
The concentration is high, but not high enough to hurt people.
"There's no health issue with the methane in this region," said Andrew Aubrey, also from the NASA JPL.
It is worth investigating, since methane is a potent greenhouse gas that can contribute to climate change in large enough concentrations.
But where is it coming from?
The suspects include cows.
"In a lot of other areas, that's a major source," Aubrey said. "And similarly, it could be in this area, too."
Geologic formations emitting natural gas naturally could also be a source of the methane.
The most obvious suspect is the natural gas industry. It's one of the most productive natural gas fields in the country.
Aubrey explained, "I think it was intriguing to us and deserving of more study."
Planes operated by the National Oceanic and Atmospheric Administration are collecting airborne samples to quantify the methane.
Eric Kort, a professor of atmospheric science at the University of Michigan, said they are also measuring the chemical fingerprints in the area.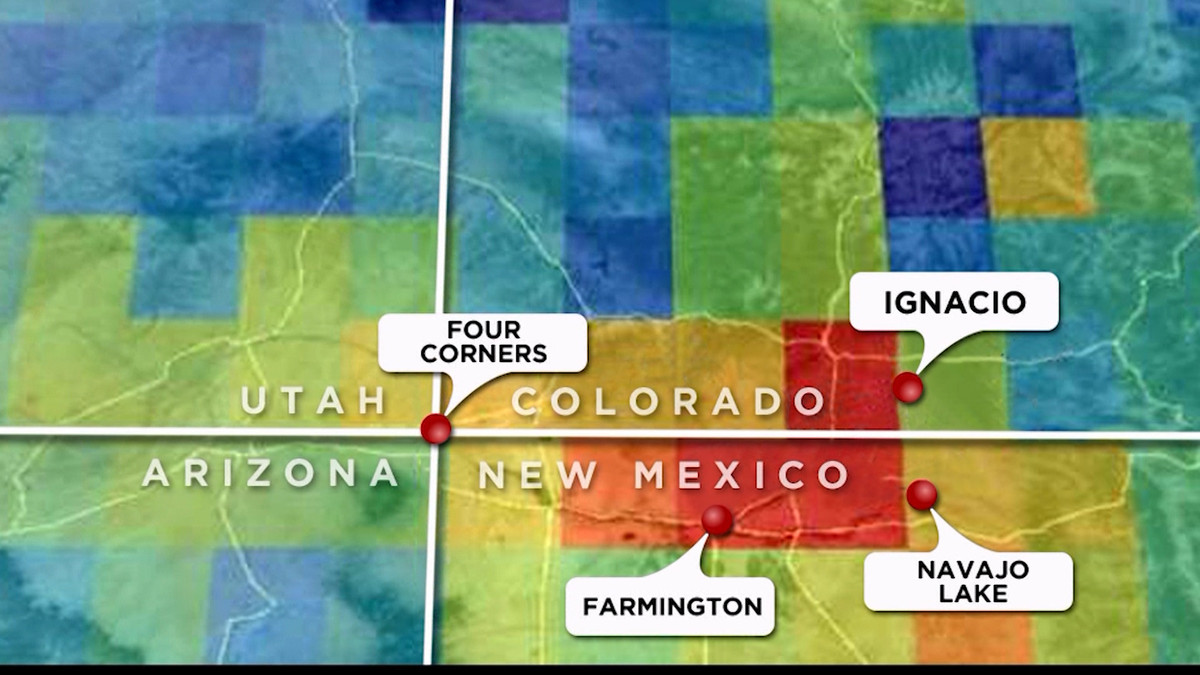 NASA is flying planes with infrared instruments that can see the methane.
"We're actually able to see the plumes in high resolution, emanating from a point source on the ground," Thorpe said.
When they detect a plume, researchers go in on the ground, in this case to a natural gas facility near Farmington, New Mexico.
A tripod-mounted infrared camera can detect and display the gas escaping from a leaking facility.
"And we have multiple examples of that," Thorpe said. "We've seen more plumes than I can get to."
The science teams have detected some gas seeping naturally from the ground. But one member of the team told KSL reporters off-camera the gas industry is "by far" the biggest source. Officially, though, the agencies won't reveal their findings until they've studied their data in detail.
They've collected so much data in the last few days that they expect scientists will be going through it for months, even years. They've also collected data from other oil and gas fields.
The study is considered pure science and not part of any regulatory program.
"It's more we want to really be able to understand greenhouse gas emissions more broadly," Kort said.
×
Photos
Related stories
Most recent Utah stories