Estimated read time: 5-6 minutes
This archived news story is available only for your personal, non-commercial use. Information in the story may be outdated or superseded by additional information. Reading or replaying the story in its archived form does not constitute a republication of the story.
SANDY — BYU rugby was going to need a big player to step up if it wanted to become just the second college program in the history of the sport to win four-straight national championships.
For BYU, Johnny Linehan proved to be that guy.
Linehan scored 15 points, including five of the Cougars' final 12 points, with an assist on the rest, to help BYU hold off Cal 30-27 on Saturday in the Varsity Cup final at Rio Tinto Stadium.
"(The win) says a lot about where the program has come," Linehan said after the match. "It's our 50th anniversary year for BYU rugby, and that alone is huge for us. Credit to those who have gone past, present, and those who will come to play for BYU rugby. We've put in the hard work for five titles in those 50 years. We've gotten to a great level, and now the hard part is keeping it there."
BYU senior Kyle Sumsion, an All-American and U.S. international rugby player, earned most valuable player of the match.
BYU (14-0) became the first program to win four consecutive national championships since the Golden Bears pulled off the feat during a college rugby-record 12-year run of titles from 1991-2002. Cal (17-2) has won 26 national titles to five for BYU.
"It gives us longevity and a good solid background to keep building on," BYU coach Dave Smyth said of his team's fourth-straight title. "I think we are at a reasonable level now, so the challenge is staying there. But we have a good administration behind us and a lot of good young men."
The Cougars and Golden Bears battled for the national championship for the eighth time in the last nine seasons, including all three incarnations of the Varsity Cup. With Saturday's win, BYU nearly closed the gap on the all-time series with Cal, which holds a 5-4 advantage in championship games.
"There's so much respect between Cal and BYU, and I feel like they are very similar programs and similar teams," said Linehan, who plans to try out as a kicker for BYU's football team this fall. "We respect each other to give each other our best shot. I feel like that's how both teams were today. We just got after it."
BYU scored the opening 10 points of the game, including Seki Kofe's scoop-and-score dash for the try in the eighth minute of play. Linehan added three points on penalty three minutes later, before Cal finally got on the board through Jake Anderson's penalty conversion in the 16th minute.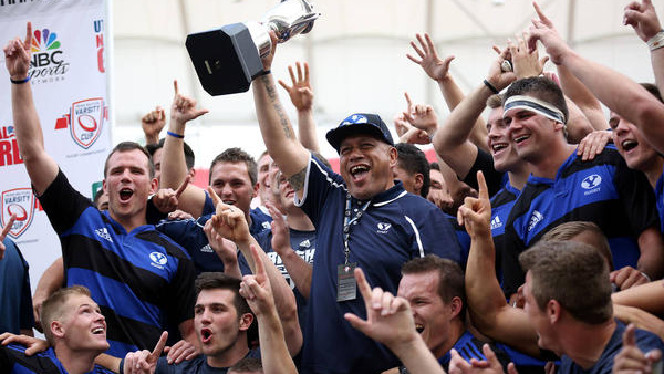 Photo credit: Kristin Murphy/Deseret News
But the Cougars scored on a perfect swing pass to Josh Anderson on the right sideline to take a 17-3 advantage into halftime.
"To be honest, we didn't make any significant (adjustments at halftime)," Cal coach Jack Clark said. "We just got back to what we said we were going to do — we played quite a bit quicker, and were a little bit more physical at contact."
After the break, Cal showed it wasn't going to go away quietly. The Golden Bears scored consecutive tries through Paul Bosco and Anderson in the first 10 minutes of the second half to pull within two points at 17-15.
But BYU answered with a run of its own, beginning with a converted penalty from Linehan in the 58th minute. The junior fly half from Auckland, New Zealand, then set up Jared Whippy's 60th-minute try with a drop kick right in front of the uprights in which Whippy climbed over his defender and dove in for the score and a 27-15 lead.
"We've done that so many times in practice and a few of the games," said Linehan, whose move caused his own coach to bristle with nerves. "I saw (Whippy) out wide, and I guess I put it on the good spot for Jared. Credit to him for making the play."
The final 20 minutes belonged to Cal, though. Michael Bush wasted no time after Whippy's try, scooping up a dropped ball and barreling over the line to pull within 27-20 just two minutes after the BYU fullback found pay dirt himself. After Linehan hit another penalty to get the lead back to 10 points, Anthony Salaber scored to bring Cal within three points with five minutes left to play.
"My heart skipped a few beats, especially with some of the calls we didn't feel were right. But that doesn't matter anymore," BYU senior lock Dan Hubert said. "Cal fought straight to the end, and I'm just glad the boys were able to stay strong and do the things we practiced this week so we could come out with a championship."
Just as it has all season, BYU turned to its defense for the winning stop, forcing a turnover on the final play of the game near the right hashmark to clinch another Varsity Cup title. The Cougars averaged 70 points per game during the undefeated regular season, including three shutouts.
"(Cal) probably won the physical battle in some areas, but we didn't take many steps backward," said Smyth, who barely slept the night before in anticipation of the match. "It was definitely physical, and I was impressed with how our playmakers pulled us through."
Contributing: Jeremiah Jensen
×
Photos
Related stories
Most recent Sports stories