Estimated read time: 3-4 minutes
This archived news story is available only for your personal, non-commercial use. Information in the story may be outdated or superseded by additional information. Reading or replaying the story in its archived form does not constitute a republication of the story.
LONDRES (AP) — El príncipe Guillermo y Catalina, duquesa de Cambridge, salieron del hospital con su beba recién nacida.
Catalina dio a luz a la niña, cuyo nombre no ha sido anunciado, el sábado por la mañana en el Hospital St. Mary. La flamante miembro de la realiza es cuarta en la línea de sucesión y la quinta bisnieta de la reina Isabel II, de 89 años.
Una multitud frente al hospital recibió con aplausos a la pareja, que se detuvo a posar para los fotógrafos y saludar.
Catalina, quien se casó con Guillermo en abril de 2011, dio a luz al primer hijo de la pareja, el príncipe Jorge, en el mismo hospital en julio de 2013.
Toda Gran Bretaña, desde el príncipe Carlos, abuelo de la niña, hasta los apostadores en la tienda de la esquina, deseaban una princesa.
Y Catalina les dio el gusto.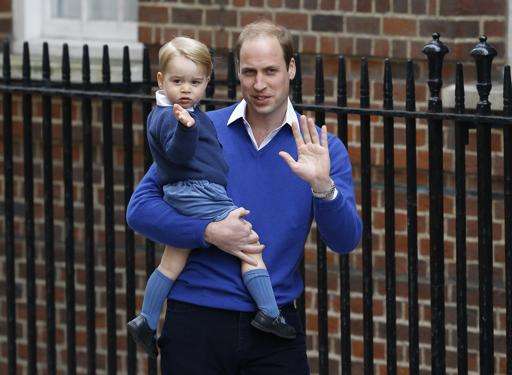 La duquesa "dio a luz a su hija sin inconvenientes" a las 8:34 de la mañana, hora de Londres (07:34 GMT), señaló el palacio de Kensington, menos de tres horas después de llegar al hospital de St. Mary de Londres.
El anuncio se vio recibido por vítores ante el hospital, donde aficionados ataviados con ropas con la bandera británica acampaban en la acera, esperando con ansia la noticia. Un pregonero con un elaborado traje tradicional declaró con voz potente la noticia en la puerta del hospital, haciendo sonar la campana para dar la bienvenida a la nueva princesa.
La pequeña pesó 8 libras y 3 onzas (3,7 kilos). Tanto Catalina como su hija se encontraban bien, añadió el palacio, y el príncipe Guillermo estuvo presente en el nacimiento.
La princesa es la cuarta en la línea de sucesión al trono y la quinta bisnieta de la reina Isabel II.
Los miembros destacados de la familia real habían sido informados y "están encantados con la noticia", señaló el comunicado oficial.
Catalina, que se casó con Guillermo en abril de 2011, dio a luz al príncipe Jorge en el mismo hospital en julio de 2013.
No se esperaba que las autoridades anunciasen el nombre de la recién nacida de inmediato. En el caso de Jorge, pasaron dos días antes de que se hiciera público su nombre.
La mayoría de las apuestas registradas en las últimas semanas apuntaban a que el bebé sería una niña, pese a la aparente falta de pruebas que respaldasen la teoría.
Los nombres más señalados en las apuestas eran todos de niñas, con Alicia y Charlotte como claros favoritos, seguidos de Elizabeth, Victoria y Diana. Todos esos nombres tenían una estrecha relación con la tradición real.
El príncipe Carlos indicó en dos ocasiones que le gustaría tener una nieta, lo que llevó a algunos a especular con que tuviera información sobre el tema.
La corona británica no ha tenido una princesa en un puesto tan alto de la línea de sucesión desde la princesa Ana, la segunda hija de la reina, nacida en 1950.
Las princesas Beatriz y Eugenia, hijas del príncipe Andrés y Sarah Ferguson, eran quinta y sexta en la línea de sucesión cuando nacieron.
Jorge, de 21 meses, es ahora el tercero en la línea de sucesión, después de su abuelo, el príncipe Carlos, y Guillermo. La recién nacida ocupará ahora el cuarto lugar, relegando a su tío Enrique al quinto puesto.
×
Most recent News stories