Estimated read time: 4-5 minutes
This archived news story is available only for your personal, non-commercial use. Information in the story may be outdated or superseded by additional information. Reading or replaying the story in its archived form does not constitute a republication of the story.
SANDY — In a game where two teams combine for 37 fouls — or a foul every 2.43 minutes on average — it's hard to find consistency and rhythm amongst the starting lineups.
Fortunately for Real Salt Lake, Friday night's rhythmic boost didn't have to come from the starting 11.
When substitutes Jordan Allen, Devon Sandoval and Sebastian "Bofo" Saucedo entered the match starting in the 41st minute, the young attacking talent brought a new energy into RSL's lineup and significant options to rally the squad to a 1-1 tie with the San Jose Earthquakes.
Salt Lake, which went down 1-0 just 19 minutes into the match on a questionable goal from San Jose striker Chris Wondolowski, plodded along as the teams struggled through a tense opening 45 minutes that featured 20 total fouls and only four shots, with Wondo's goal being the only shot on goal for both squads.
"It was a strange game," RSL defender Tony Beltran said. "Both teams struggled to keep the ball."
Goalkeeper Nick Rimando called the game the most frustrating one in which he's played in with RSL (2-2-4, 10 points), and the UCLA product equated it to a basketball game with a multitude of whistles and stop-and-start moments.
"Neither team could get a rhythm going," Rimando added. "There were lots of things. It just wasn't what soccer is made to be."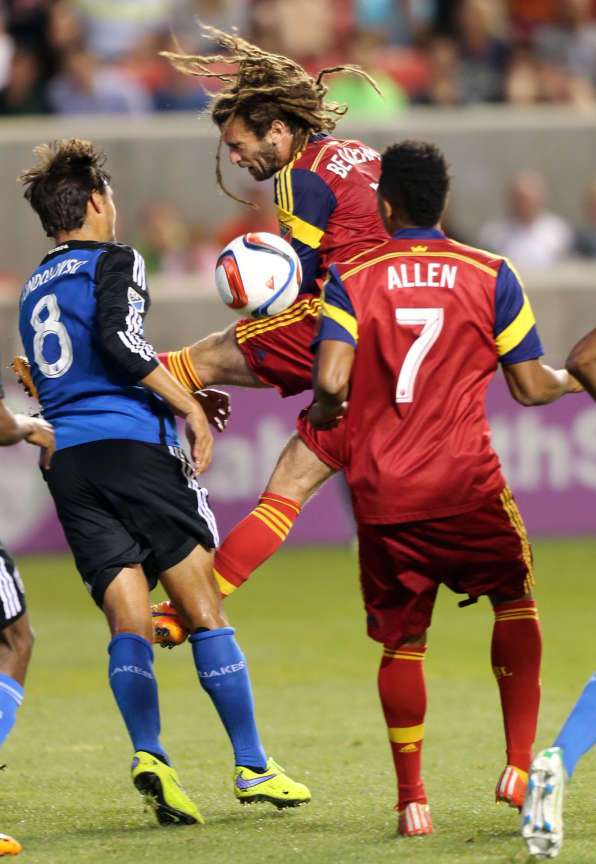 When the new blood entered for RSL, though, things started to turn around. The 20-year-old Allen was called upon early to replace Javier Morales, who left to receive tests for concussion-like symptoms in the 41st minute, and the youngster from Rochester, New York, injected a spark into the game.
Allen's emergence shifted Luis Gil, who started at wing forward next to Alvaro Saborio and Olmes Garcia, back into his comfortable attacking midfield role. The standout with the U.S. U-23 National Team took on Morales' role of a playmaker a little more, dropping deeper and holding the ball en route to RSL's 61.8 percent possession in the second half.
"I think Jordan Allen is an incredible talent. I really think the sky's the limit for him," Beltran said. "I like having him on the field. He's dangerous. He's a problem for defenders with his speed and his skill."
By the time Sandoval got into the game in the 63rd minute, the big striker who Beltran called "arguably the sharpest player through preseason" helped force the pressure that led to Victor Bernardez's own goal barely eight minutes later.
"I felt they were brave. I thought they were aggressive and brave, something we've talked about all week and at halftime," RSL coach Jeff Cassar said of his subs. "I really liked that they weren't playing timid. They were trying to make an impact on the game, and I thought all three of them did a great job."
Saucedo's role came with eight minutes remaining in regulation, and the 18-year-old striker replaced midfielder Luke Mulholland as RSL tried to find its offense.
The final touch never came for a win, but Allen, Sandoval and Saucedo combined for three of RSL's seven shots in a combined 84 minutes of play. Each one of them brought something a little different, and often something RSL needed in the closing minutes of the match.
"All of our subs did really well," team captain Kyle Beckerman said. "We needed that, and the game needed it. It brought some life to the game."
The depth will prove useful as RSL focuses on a quick turnaround of three games in eight days. Defending MLS Cup champs L.A. Galaxy visit Rio Tinto Stadium Wednesday, and RSL will travel to Chicago for a Saturday match against the Fire.
"It's good to have a deep bench, especially in a week where we are having three games," Beltran said.
The multi-game weeks are sometimes a chance to focus on opponents, but Beckerman said RSL's biggest focus right now is on itself.
"We've got to find ourselves. Forget the other team, whoever it is," the captain said. "Every team is tough right now, and we've got to strive to get better. We've got to continue to work hard and figure out what we're about. We'll just get back to the drawing board."
×
Photos
Related stories
Most recent Sports stories