Estimated read time: 1-2 minutes
This archived news story is available only for your personal, non-commercial use. Information in the story may be outdated or superseded by additional information. Reading or replaying the story in its archived form does not constitute a republication of the story.
SALT LAKE CITY — La Patrulla de Caminos de Utah pasó la mayor parte del viernes por la mañana en la limpieza de un vuelco de un solo vehículo en el que participaron siete coches.
Alrededor de las 4:30 a.m. en la I-80 cerca de la frontera del condado de Salt Lake y el Condado de Tooele, un semitruck transportando siete vehículos rodó. UHP Sgt. Chamberlin Neff dijo que el conductor de 51-años de edad, quien al parecer no estaba familiarizado con el área, dio un giro muy rápido.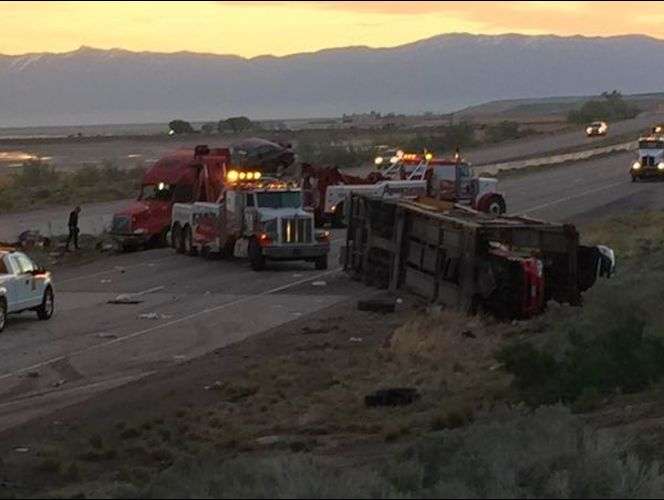 "Decidió conducir fuera de la carretera en el hombro izquierdo, afectando algunas barreras de concreto y en ese momento comenzó a colear impactando la estructura de la (ruta estatal) 201 ocasionando la salida de uno de los vehículos fuera del remolque, y en ese momento él se separó de su remolque , dijo Neff.
El conductor, que no sufrió lesiones graves, salió de su cabina a través del parabrisas, dijo Neff.
Otro automovilista que estaba detrás del remolque, chocó con el primer coche que cayó del remolque. No hubo heridos graves en ese accidente, según la UHP.
El semitruck transportaba vehículos usados, incluyendo un Prius y un SUV.
La parte este de la I-80 fue cerrada durante 4 horas y media mientras los equipos limpiaban los restos. El conductor fue citado para ser investigado por la forma errática de conducir.
×
Most recent News stories