Estimated read time: 3-4 minutes
This archived news story is available only for your personal, non-commercial use. Information in the story may be outdated or superseded by additional information. Reading or replaying the story in its archived form does not constitute a republication of the story.
HERRIMAN — Bryant Jacobs of Herriman is an Iraq War veteran who was hit by a roadside bomb in 2004. He eventually lost his leg, but that hasn't stopped him from enjoying the game of golf he loves.
Jacobs almost enlisted right out of high school, but went to college briefly and "absolutely hated it," he said. After the events of Sept. 11, he and a friend quickly joined the Army.
"I think that patriotism came out of everybody," Jacobs said. "Whether it was joining the military or gaining a new respect for our country, we really focused on what our country was about and what we do."
Jacobs was stationed in Hawaii, but the day he got to his unit, they left for Iraq. He was a combat engineer, or in other words, a fancy way of playing with C-4 every day, he said.
"Our main objective was taking care of IEDs and caches that we would find," Jacobs said. "We would dispose of it and blow it up. We got to blow stuff up every day. It was a great job."
Nearly 11 months into his tour, Jacobs' unit was clearing the roads before a mission when he got hit by a roadside bomb in December 2004. They were traveling 50 miles per hour, and then chaos ensued.
"I can't really explain the feeling," Jacobs tried to recall. "When you're getting blown up, you don't know that you are getting blown up."
Jacobs was thrown from the truck, and when he landed on his stomach he noticed that part of his index finger was missing. Unable to breathe, his unit lifted him in a Humvee and tried to keep him awake while they transported him to a Medivac unit.
"The last thing I remember was a couple of doctors standing over me, their hands covered in blood," he said. "Then I woke up three weeks later at Walter Reed."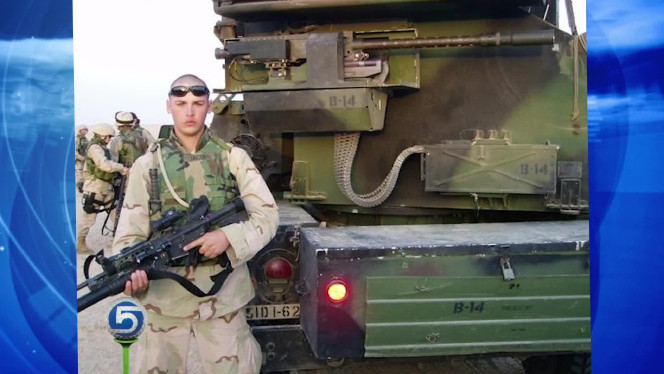 Photo credit: Courtesy photo/Bryant Jacobs
After 22 months at Walter Reed Medical Center and 44 surgeries, doctors saved both of his legs — but they couldn't save him from severe pain in his limbs. He fought through physical and emotional pain for most of a decade.
"I graduated from the University of Utah and tried to start moving forward," Jacobs said. "I didn't ever give myself time to feel bad for myself. Honestly, all you can do is move on. I had a lot of struggles with nightmares and being in crowds, so being at the U. really helped me with that. I forced myself to be around people and forcing myself to not let that take over. I paid attention in class."
After graduation and a wedding, Jacobs talked to his wife and they decided to have his right leg amputated.
"I haven't looked back. It's been amazing," he said of his decision. "I'm doing more than I was. I'm off the sideline."
And he's back on the golf course.
"Before, I felt pain with every swing," Jacobs added. "Now I can't complain."
Jacobs' prosthetic leg is computerized, and he can even put it in "golf mode." The hydraulics are lowered, and he can squat into his stance much easier.
"I'm doing better than I thought I would," he said. "It's been such a progression, and I'm absolutely in love with life right now."
×
Photos
Related links
Related stories
Most recent Sports stories