Estimated read time: 3-4 minutes
This archived news story is available only for your personal, non-commercial use. Information in the story may be outdated or superseded by additional information. Reading or replaying the story in its archived form does not constitute a republication of the story.
PROVO — In 50 years of BYU rugby, the Cougars have been able to form a lot of brother-like bonds among what past players recently called "caretakers of the jersey" to freshman Alex Vorster at an alumni banquet.
That brotherhood has been on display this season as BYU has ridden a wave of defense into its third-straight Varsity Cup final at 2 p.m. Saturday at Rio Tinto Stadium.
"I think defense is just about having trust and faith in the person next to you," said Vorster, the Cougars' starting hook. "As long as you trust them to make the tackle, you can focus on your guy in front of you. As long as you have trust, that's all about it."
BYU (13-0) welcomes perennial power Cal (16-1), the holder of 12 national titles — the most in college rugby history. But while the Cougars respect Cal and the tradition beholden in one of the greatest collegiate rivalries in the sport, they don't necessarily look at themselves as underdogs.
BYU enters the match with the No. 2 national ranking to Cal's No. 4, according to rugbytoday.com's latest rankings of Division I programs. The Cougars also entered the Varsity Cup playoffs as the No. 1 seed, with Cal right behind at No. 2.
Much of the team's dominance has come from its defense, which allowed only 13.2 points per game during the regular season and held Central Washington to eight points in the tournament semifinals two weeks ago.
"We've focused on it all year long," BYU coach David Smyth said. "It's been a part of every practice we've done because it's such a critical part of the game nowadays. We specifically work very closely on our line speed, at staying connected, communicating and keeping our feet moving. When you get to this point in the season, you play teams that are used to scoring a lot of points. In our game Saturday, it will be important to score points, but it will be equally as important to keep them off the board."
Smyth credited assistant coach Kimball Kjar for the team's current focus on defense, saying a practice rarely goes by without the team working on improving its defensive shape and tactics.
Of course, winning has helped the Cougars gain confidence in their defensive sets, too.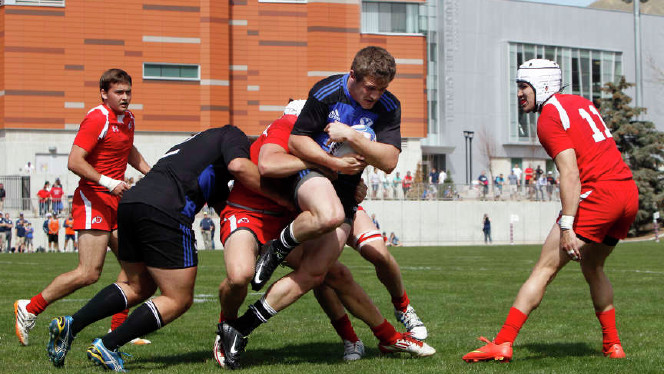 Photo credit: Chelsey Allder/Deseret News
"The more we win, the more confidence we get; not just confidence in the way we play, but the way we play with each other," Vorster added. "As long as we have confidence, we can always adjust to what we have to do and the way we love to play."
Despite his freshman status, Vorster has 10 years of rugby experience under his belt in his native South Africa, and the 6-foot, 220-pound hook uses a high rugby IQ and low center of gravity to overwhelm opponents in scrums and the open field alike, his coach said.
The freshman's attitude has rubbed off on his teammates in his short time on campus, Smyth added.
"He expects a lot from himself and from the other guys," the coach said. "He gets after himself, and he talks to the others to rile them up and get them going."
Cal owns the all-time record against BYU, 5-3 — but the Cougars own the past three national championship wins (two of them over the Golden Bears), and could join the Bears as the only teams to win four-straight titles with a win Saturday.
The chance to play such a program at the top level hasn't daunted BYU's freshman hook. But Vorster doesn't think his squad will be intimidated by the atmosphere.
"It's a huge privilege to play them," Vorster said. "They're coming here, and they've won so many championships; they deserve the respect by everyone.
"But we have to bring it ourselves, and I'm sure it will be a good game on the weekend."
×
Photos
Related stories
Most recent Sports stories