Estimated read time: 3-4 minutes
This archived news story is available only for your personal, non-commercial use. Information in the story may be outdated or superseded by additional information. Reading or replaying the story in its archived form does not constitute a republication of the story.
PROVO — What started as transatlantic music collaboration between Eric Robertson and Catherine Leavy, turned into the synthesis of a new sound, unlike anything previously heard in the Provo music arena.
While described as being dark wave, dream pop, retro wave and synth pop, hints at "New Shack's" genre hardly capture the "New Shack" experience.
"Myself and Eric met through a mutual friend. We initially did a smaller music project together, but at the time I was moving to Europe, and so we started a transatlantic collaboration," Leavy said.
It was the distance between the two musicians, Leavy said, that ultimately gave the music its unique character and sound. All of the communication was done online, and that added a more distant, dreamy and nostalgic feel to the tracks they were producing.
"I was producing and doing commercial music before I got involved in this project, and while she was in Germany, I would send her some cool beats and she sent me back some awesome lyrics," Robertson said.
While the group has been compared to Beach House, Chvrches, Purity Ring and CocoRosie, what separates their band from others, Leavy said, is how they combine analog tracks with lo-fi vocals.
"Eric puts these really cool retro mostly, analog tracks on, and then I put these super lo-fi vocals over the top and together — it's a cool combination."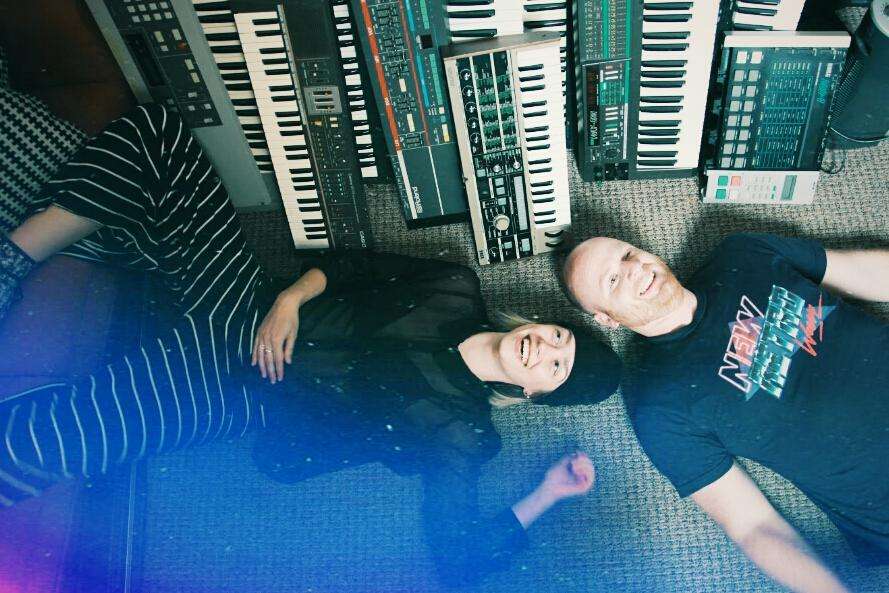 "It definitely has a nostalgic feel," Robertson said, "because most of the instruments we use were made in the '80s — old analog gear for example, although Catherine's vocal styles are pretty modern and super fresh. So it's a cool mixture between old and new. I'll get old keyboards and play sounds that remind me of stuff I've heard (Robertson said one of his inspirations is old John Hughes movies), and I'll build tracks around that."
In order to improve and adapt her vocal style with the unique genre the duo was creating, Leavy would only listen to '80s inspired retro dark wave tracks while she was in Europe. Leavy also had a unique method of sending back the vocals she recorded while abroad.
"I recorded the first album on a pair of earbuds — cellphone ear buds — I got them on the German Amazon for a Euro because I was so poor. I didn't tell Eric that was what I was using, because I was afraid he would say we can't use this," Leavy admitted.
Now that the pair is back together in Provo, they are excited to promote their new album, "Shadow Girl," that will debut at Velour on June 12.
"We are taking what we started with and it's just going to the next level of that. My vocals will be less low-fi and more cinematic — dreaming in a cyber world," Leavy said about the sound of the new album.
The band has also produced a few music videos, one done by Matt Eastin who has worked with Imagine Dragons, Mates of State and Dr. Dog. Another upcoming producer, Kristine Knight, recently compiled their "Atomic Holiday" music video, a visual feast for the eyes, taking the listener to a tangible "dreamy-otherworldly" place.
×
Photos
Related links
Most recent Utah stories