Estimated read time: 5-6 minutes
This archived news story is available only for your personal, non-commercial use. Information in the story may be outdated or superseded by additional information. Reading or replaying the story in its archived form does not constitute a republication of the story.
SALT LAKE CITY — After relentless training, scrutiny and speculation, it's time for the nation's top football prospects to finally learn their NFL fate. Athletes anxiously await a phone call from an NFL executive sometime between Thursday and Saturday as part of the newest installment of the NFL draft.
This extravagant three-day selection process has been both a triumph and a disappointment for in-state players throughout the years. The five Division-I football programs within Utah have combined to produce 54 NFL draft picks over the last 10 years, with players selected everywhere from first overall (the Utes' Alex Smith in 2005) to final overall (Weber State's Tim Toone in 2010).
A player's pro success isn't determined by the round he was selected in, or whether or not he was even drafted (see Chad Lewis). What's more, it often takes several years before an individual's long-term performance can be properly measured.
So which local team's draft pick has had the most successful NFL career over the last 10 years?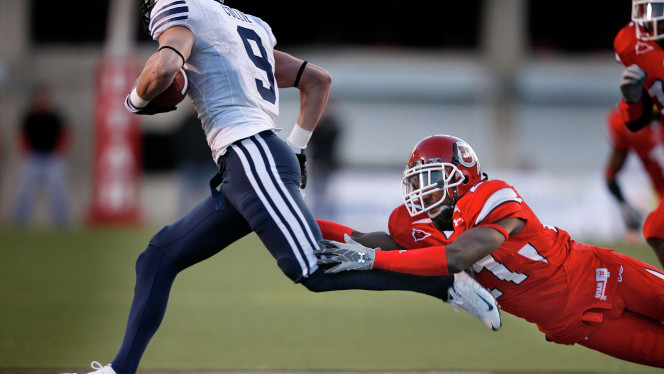 Austin Collie, Photo credit: Tom Smart/Deseret News
BYU:
Austin Collie, WR (4th round, 2009)
NFL stats: 54 GP; 201 REC; 2,221 YDS; 18 TD
Collie burst onto the NFL stage as a rookie, where an instant chemistry with quarterback Peyton Manning led to 917 receiving yards and nine touchdowns in the Colts' run to Super Bowl XLIV.
But the 2009 season ultimately turned out to be the highest point of Collie's career, which quickly spiraled downward because of concussions.
Manning's 143.4 QB rating when throwing to Collie led the NFL in 2010 before two vicioushits limited Collie to just nine games that season.
Indianapolis' replacement of Peyton Manning with Curtis Painter in 2011 didn't exactly help in Collie's return, although he did manage to pull in 54 receptions for 514 yards and a touchdown that year. A torn knee ligament in the third game of the 2012 season ended his tenure with Indianapolis, which released him five months later.
Collie served a short stint with New England in 2013, catching 11 passes for 125 yards in nine games. The Patriots released him at the year's end.
Collie signed with the CFL's BC Lions in January, reuniting with former BYU teammate John Beck.
Apologies to: Dennis Pitta, Ezekiel Ansah, Brady Poppinga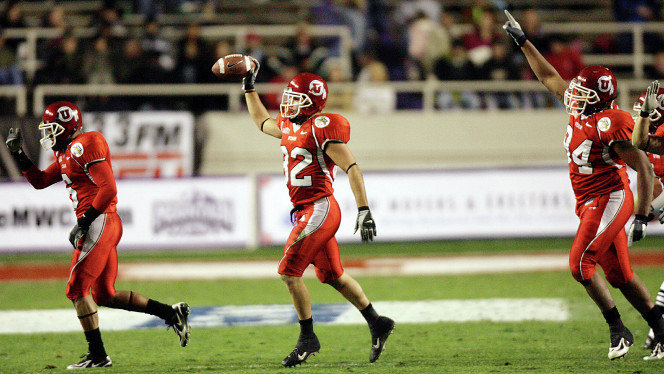 Eric Weddle, Photo credit: Scott G. Winterton/Deseret News
Utah:
Eric Weddle, DB (2nd round, 2007) - NFL stats: 132 GP; 821 COMB; 8.0 SACK; 5 FF; 3 FR; 20 INT; 3 TD; 70 PD
Weddle became a contributor to the Chargers from day one, seeing action on special teams and as a situational defender in 15 games as a rookie. He has started in every season since, not only developing himself into an elite NFL free safety, but also developing arguably one of the NFL's most elite beards.
San Diego named Weddle team captain prior to the start of the 2011 season and the former Ute didn't disappoint, tying Kyle Arrington and Charles Woodson for the most interceptions that year.
Weddle was named First-Team All-Pro in 2011 and 2014, has played in three Pro Bowls and was recently voted as the 92nd best overall player in 2014.
Apologies to: Alex Smith, Zane Beadles, Star Lotulelei, Sean Smith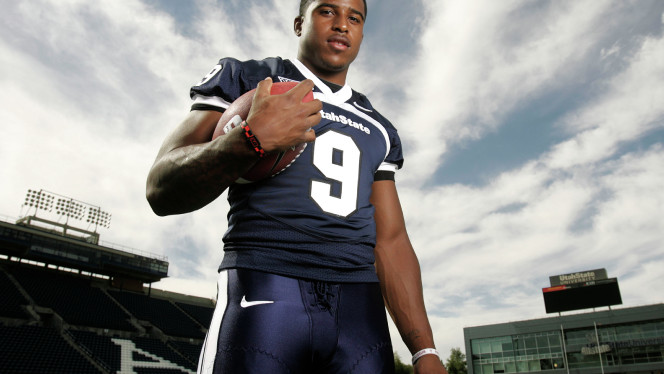 Bobby Wagner, Photo credit: Jeffrey D. Allred/Deseret News
Utah State:
Bobby Wagner, LB (2nd round, 2012) - NFL stats: 49 GP; 446 COMB; 9.0 SACK; 1 FR; 7 INT; 17 PD; 17 STF
Seattle's defense has finished No. 1 in points allowed all three years since Wagner joined the team — and his impact is no fluke. ESPN Stats and Info found that the average QB rating of the opposing quarterback improved from 37.5 to 60.3 in the five games the Seahawks played without him in 2014.
Wagner's resume is particularly impressive considering he's only been in the league three years. As a rookie, he finished as the top linebacker in ProFootballFocus.com's "run stop percentage" metric. He was a key cog in the Seahawks' first ever Super Bowl win in 2013, and was named First-Team All-Pro in 2014.
Apologies to: Robert Turbin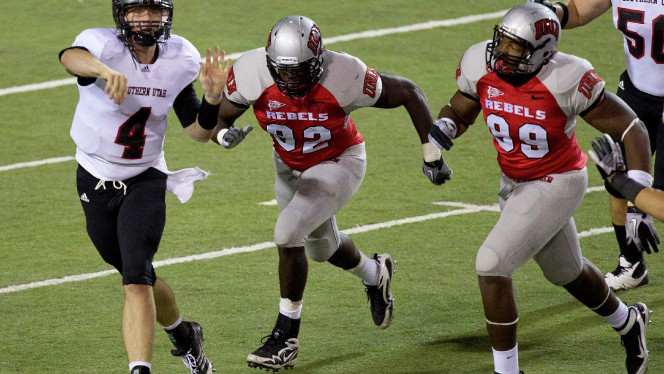 Brad Sorensen, Photo credit: Julie Jacobson/Deseret News
SUU:
Brad Sorensen, QB (7th round, 2013) - NFL stats (preseason): (8 GP); 55% CMP; 450 YDS; 2 TD; 4 INT
Sorensen became the first ever Thunderbird drafted in SUU history when San Diego selected him in the 7th round of the 2013 draft.
After an impressive preseason showing, Sorensen made the Chargers' 53-man roster as a rookie backup to quarterbacks Charlie Whitehurst and Phillip Rivers. San Diego initially cut him a year later following the 2014 preseason before signing him back onto its practice squad last December.
Sorensen is expected to compete with nine-year veteren Kellen Clemens this August for the right to back up Rivers in 2015.
Weber State:
Paul McQuistan, OL (3rd round, 2006) - NFL stats: 97 GP; 53 GS McQuistan has had a serviceable 10-year NFL career, turning in five seasons where he started at least six games on the offensive line. After making 12 starts for Oakland from 2006-07, an early season injury set McQuistan back, and the Raiders went on to release him midseason in 2009.
Following brief stints with the Jaguars and Browns, McQuinstan revitalized his career as the Seahawks' starting guard from 2011-13.
McQuinstan signed with Cleveland in 2014 and saw action in 14 games as a member of the Browns. He was released last February and currently remains a free agent.
Apologies to: Pat McQuistan
---
Alex Clark is a sports writing intern for KSL.com. He currently studies digital journalism at BYU. EMAIL: alclark35@gmail.com TWITTER: alclark35
×
Most recent Sports stories