Estimated read time: 3-4 minutes
This archived news story is available only for your personal, non-commercial use. Information in the story may be outdated or superseded by additional information. Reading or replaying the story in its archived form does not constitute a republication of the story.
SALT LAKE CITY — The members of The Mormon Tabernacle Choir have very full plates these days. They perform in their weekly broadcast, are preparing for a concert tour to the Eastern United States this summer, and they're starring in a film.
The world-renowned choir is a familiar sight and sound to millions. But who are these singers? How do they get into the choir? And what kind of experiences do they have?
Candlelight Media Group, which is producing a new feature film, "Singing with Angels," hopes to answer those questions.
The film's director and producer, Brian Brough, said he knows many people wonder what it's like to be a choir member.
"It's amazing how much happens behind the scenes; and one of the appealing things with the story is to be able to see that aspect," Brough said. "It's not just in the loft, but you can see what happens to get you there."
So, KSL cameras followed the filmmaker and his crew to the basement of the Tabernacle, where there is a small recording studio. It is also used for another important purpose: here, potential choir members take both written and vocal tests.
"Singing with Angels" follows a woman, Aubrey Larson, who auditions for the choir; and then after she makes it, traces her experiences for the next five years.
Actress Sarah Kent found interacting with the real singers a pleasure.
"The choir members are very down-to-earth, and they're probably the most talented musicians around," Kent said. "They're just so sweet and fun. I feel like they have that nice presence about them; it's just like a family."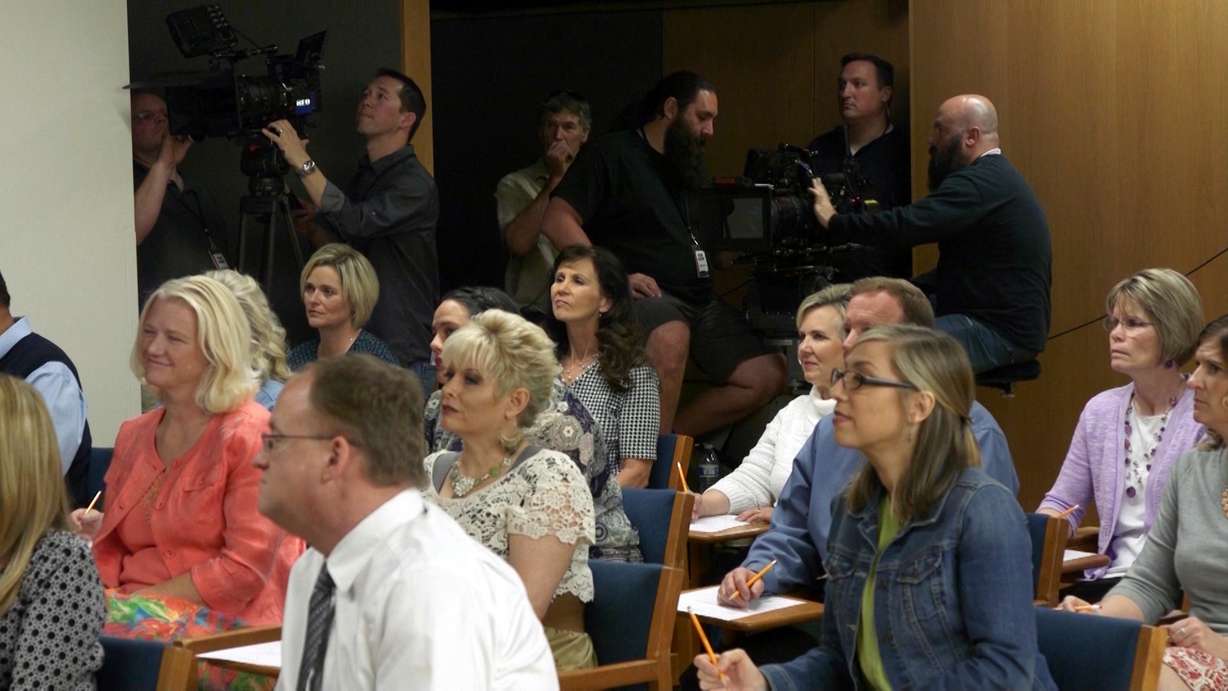 So, this is a first for the choir: a film to be shown in theaters, in which the choir members play themselves with the starring roles filled by actors.
Some months ago, choir president Ron Jarrett took the idea to the choir's adviser, President Thomas S. Monson, and explained the storyline and concept of the film to him.
"He gave his permission with the one caveat that he wanted to see it. So, I said, 'I'm sure we can arrange that,'" Jarrett said with a big smile.
But the film's purpose, producers say, is much more than showing audiences what it's like to be in the choir.
"Whether we're singing in the choir, or behind the scenes, or doing whatever it is that we do in our daily lives, just (understanding) that influence we have on other people — and I think that's what I really want people to get from this movie," said Brittany Wiscombe, writer and producer for the film.
Choir members say that sometimes what they do really is very much like "Singing with Angels," which is the name of the film.
The production company will travel with the choir as it tours this summer, and then "Singing with Angels" has a planned release date of April 2016.
Candlelight Media Group has produced a number of other films including, "16 Stones," "Nowhere Safe," and "Christmas Angel."
×
Photos
Related stories