Estimated read time: 4-5 minutes
This archived news story is available only for your personal, non-commercial use. Information in the story may be outdated or superseded by additional information. Reading or replaying the story in its archived form does not constitute a republication of the story.
GRANTSVILLE — Jim and Mary Jean Hoover moved to Grantsville and opened the barbecue restaurant Hickory Grill last October, hoping to retire from their career as truck drivers.
But early Thursday, the livelihood they established in the small-town eatery — one of only three restaurants in Grantsville — was reduced to charcoal and cinder blocks.
"My wife and I are devastated," Hoover said. "We've lost everything."
The fire was reported about 4:45 a.m. at 196 W. Main, next door to the city's fire station. Grantsville Fire Chief Neil Bell said crews began tackling the fire within five minutes of the report, but wind fanned the flames when they entered the building, and it was fully engulfed within 10 minutes. That's when the roof collapsed.
Granstville Mayor Brent Marshall, who also serves on the city's volunteer fire department, said the official cause of the fire is under investigation, but it appears to have started in the kitchen. Bell said the investigation will likely take one or two days.
"It's a tremendous loss," Marshall said. "They've provided a place for people to sit down and eat, talk and enjoy each other's company, and now the place is just gone."
---
It's a tremendous loss. They've provided a place for people to sit down and eat, talk and enjoy each other's company, and now the place is just gone.
–Brent Marshall, Granstville Mayor
---
Richard Copeland, the property owner who was leasing the building to Hoover, said the building has a rich history and "has meant a lot to the community over the last 60 years."
"It's been a Lion's Club, a church, a dance hall, a library, a kindergarten center, a karate studio, and a pizza place before it was a barbecue restaurant," Copeland said. "There's a lot of memories here, so it's sad to see it all go up in smoke."
Grantsville resident Dave Green said he took karate lessons in the building when he was 7 years old.
"It feels like there's a hole on the street now," he said.
Main Street was closed for roughly two hours Thursday morning while firefighters fought the blaze. No injuries were reported, but the mayor said the building, which has been in the community since the 1950s, is a total loss and will have a hard economic impact as one of only three restaurants in town.
Before Hickory Grill opened in October, Copeland ran it as his own barbecue eatery, Richard's Roundup BBQ, for about three years. He said his customers have continued to eat at the Hoovers' restaurant with growing loyalty.
"The customers are more like family," Copeland said. "You know them by name."
The Rev. Rush Kee, pastor of Grantsville's First Baptist Church, said his church, now located down the street of what's left of Hickory Grill, was first established in 1977 in the now-destroyed building. He said the building brought him memories of worship and a tight-knit community that seemed more like family than neighbors.
"We'll always remember that's where we started," the Rev. Kee said.
"One of the ladies in Bible study this morning said, 'We need to have a funeral for that place,'" said the pastor's wife, Eve Kee. "It was a part of us. It's a huge loss."
Eve Kee said the building, from its time as a church, Lion's Club or a barbecue restaurant, has a rich history as one of the community's go-to gathering spots. She and her friends would often eat breakfast at Hickory Grill.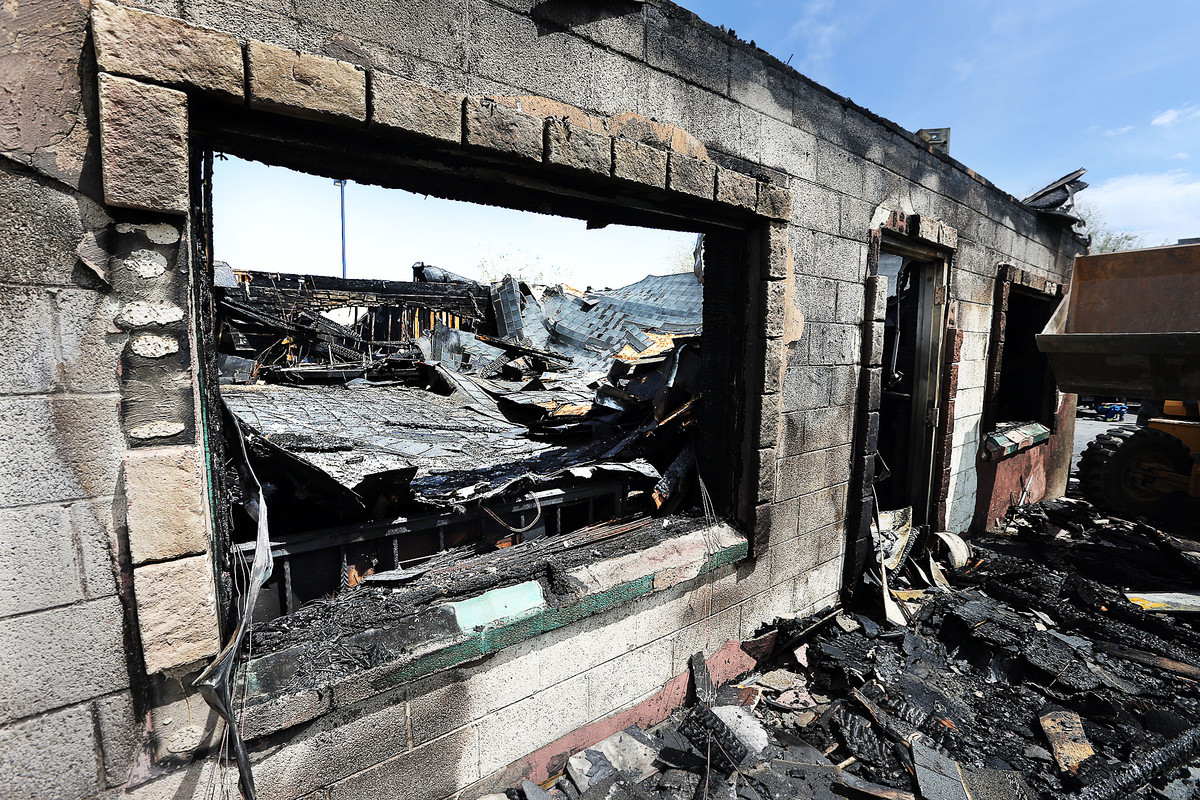 "It was another meeting place, a family place," she said. "Now to have it gone, it's like where are we going to go now?"
Ron Wright, a Grantsville resident of eight years, said "it's a shame" to see Hickory Grill destroyed.
"They did a real good job. It was nice to sit down and have a meal there," Wright said. "They finally started staying open for breakfast and Mondays, because they used to shut down on Mondays. But now, it's all gone."
Wright worked the morning of the fire as a crossing guard for Grantsville Elementary School, directly across the street from the restaurant. During the afternoon recess, elementary children lined up along the chain link fence and watched fire crews douse lingering hotspots.
"I hope to see them rebuild," Wright said. "And I hope the community kicks in and helps out."
Copeland said his property was insured, but as of Thursday he was unsure what would be covered. He plans to work with Hoover to figure out the next step for the property.
Hoover, who was working as a truck driver in New Mexico the day of the fire, said he and his wife are grateful for strong community support, as they've received many calls from neighbors expressing their condolences.
However, he said the fire means he and his wife will have to drive for the next month and a half to earn enough catch up on payroll for their employees, which he said is his immediate concern.
"In the meantime, we're going to work on reopening," Hoover said. "We love it here and we want to stay. We hope we can rebuild."
Eve Kee said the church community is planning on rallying behind Hoover's family for support.
"We're going to do whatever we can to help them," she said. "That's what we need to do."

×
Photos