Estimated read time: 3-4 minutes
This archived news story is available only for your personal, non-commercial use. Information in the story may be outdated or superseded by additional information. Reading or replaying the story in its archived form does not constitute a republication of the story.
SALT LAKE CITY — Perhaps Eliana Vaha'i Feao fell in love with ballet when she was 18 months old, watching the movie "Barbie in the Nutcracker."
"She would watch it over and over and over again," said Glory Vaha'i, Eliana's mother.
Two years later, Eliana had her first ballet class and loved it, but it scared her mother. Eliana's dad is Tongan and, as far as Glory Vaha'i knows, there are no Tongan professional ballerinas.
"When I looked around, I didn't see anybody that looked like her, and it really scared me," Glory Vaha'i, said. "They were very, very, very thin girls, and they were all white.
"I thought 'she's gonna fall in love with something that's not going to be available to her.'"
So Glory Vaha'i enrolled her daughter in gymnastics classes instead.
"I basically was born in the gym, and I felt like I was raised there," Eliana said.
"She was extremely driven in gymnastics," her mom said.
---
I just love the feeling that I get doing ballet. Sometimes I'll feel like I'm connecting with my ancestry and other times it's just being in the moment.
–Eliana Vaha'i Feao, ballerina
---
Her daughter began dreaming of competing for Tonga, but an injury — osteochondritis — cut her career short. To to fill the void, Eliana went back to the barre, to a dance school in a South Jordan strip mall.
"She picked up things so fast," said Sheila Cramer, director of the Academy of Ballet Arts, where Eliana studied for several months. "She had gone from not having any ballet experience to being on pointe."
It's something, Cramer said, that usually takes four to five years.
Eliana auditioned for and was accepted to the Ballet West Academy, where the 13-year-old now studies.
To help afford the added expense of her ballet education – pointe shoes, alone, Glory Vaha'i says cost $100 and are replaced weekly – her family's forgone a house for a small apartment near the school.
"I just love the feeling that I get doing ballet," Eliana said. "Sometimes I'll feel like I'm connecting with my ancestry and other times it's just being in the moment."
She recently performed in Ballet West's production of "Swan Lake."
In addition to regular classes, Eliana often rehearses the wedding variation from "Sleeping Beauty" with Ballet West prima ballerina Christiana Bennett. Eliana has been invited to perform the dance this summer at the coronation of the King of Tonga.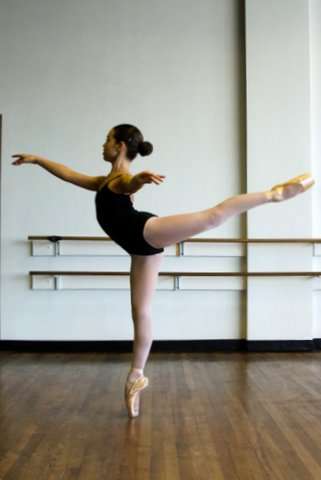 Glory Vaha'i credits Eliana's grandmother, "Grandma Tonga," with talking up her granddaughter and helping secure the invitation.
"Grandma Tonga," Glory says, is related to the royal family.
Bennett said when she watches Eliana dance, she sees the legs of a ballet dancer and the arms and hands of a Tongan cultural dancer.
"I've seen cultural Tongan dancers and their movement quality is so beautiful," Bennett said. "She has really brought that into the variation. The way she moves her arms and the way she presents her hands is unlike most 13-year-olds."
"I think it must be kind of, almost like it's in her bloodline; it's instinctive to her to move that way," she said.
Eliana now aspires to become the first Tongan prima ballerina and to open the first ballet school on the islands.
She's also preparing to enter college in the fall. Eliana's been mostly homeschooled and has been advancing about two grade levels a year. She plans to study dance.
Last year, Glory Vaha'i said, she realized she doesn't have to be afraid of ballet anymore.
"Oh my gosh, she's fine. She's a little half-Tongan kid with dark skin and big quads, and she's fine. The ballet world did not collapse," Glory Vaha'i said.
"Hey, cookie-cutter ballet is not real," she said. "Sure, there's more progress that can be made, but girls like Eliana are making that happen."
×
Photos
Most recent Utah stories