Estimated read time: 3-4 minutes
This archived news story is available only for your personal, non-commercial use. Information in the story may be outdated or superseded by additional information. Reading or replaying the story in its archived form does not constitute a republication of the story.
MURRAY — Cats and dogs are stereotypical enemies, but one cat at the Humane Society of Utah may have saved a small litter of puppies' lives.
Tuesday afternoon, a woman found four abandoned chihuahuas in a box sitting on her car, accompanied by a note that said the puppies were born Friday and their mother had died, according to Deann Shepherd, director of communications for the Humane Society of Utah.
When the woman rushed the puppies to the Humane Society, they were put in a room with a cat who had been dropped off to the Humane Society's receiving department earlier that day with her pregnant sister, Shepherd said.
"When the puppies came in, we weren't sure how long they'd been without food, had been in that box left on the car," Shepherd said. "We're lucky the woman found the box when she did, because within three hours they could have easily starved to death."
The cat was still lactating after recently raising her own kittens and was able to nurse the puppies, Shepherd said.
"We decided to try to put the puppies with the cat and see if they would nurse," Shepherd said. "We didn't know how long they had been in the box on the car, how long they had been without their mother, and luckily they did get some milk from the cat and she became kind of a surrogate mother to them."
The puppies did well for a while, but the pregnant cat then went into labor. Shepherd said the combination of the cats being surrendered to the shelter, being in a new environment and going into labor was too stressful, so the foster department stepped in and bottle fed the puppies.
"We basically looked at doing whatever we could to save these puppies," Shepherd said. "It could go both ways. They're young, we're optimistic that they're going to do well because they did feed yesterday, and we'll just wait and see."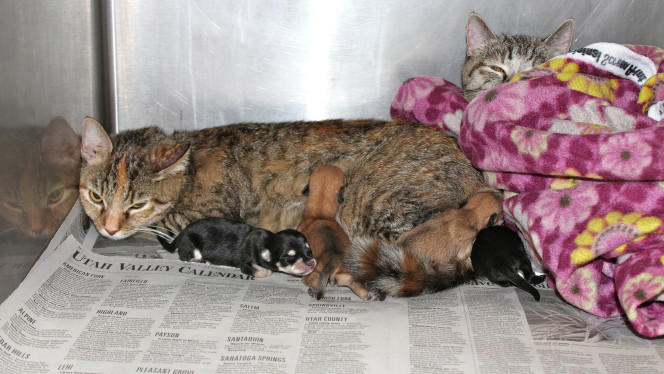 Photo credit: Humane Society of Utah
Shepherd said she has heard there are a lot of instances where nursing mothers have chemicals, such as oxytocin, that drive a strong motherly instinct. She has also heard stories of cats who take on babies of another species and treat them as her own. In this case, Shepherd said, the cat was still in a phase where she was able to treat them as her own.
Shepherd said the Humane Society wants to remind people that abandoning an animal is a misdemeanor offense, and when someone does abandon an animal, they are leaving the animal to the chance of starvation or the elements.
The Humane Society of Utah is an open admission shelter, meaning they accept anything they legally can, Shepherd said.
"We encourage people who have found any strays or lost animals to take them into local animal control because that's where an owner would look if they lost their pet," Shepherd said.
If a pet owner can no longer care for their animal, they may take them to the Humane Society's receiving department, which assesses the situation and the animal so they can match them with a new owner. For example, if someone surrenders a dog that gets along with cats and children, the Human Society wants to know so they can relay that information to a person looking to adopt that dog.
"We're lucky the woman found the puppies when she did and brought them to us, and we're lucky that we had a cat here that was able to provide some milk. We think that might have saved their lives," Shepherd said.
×
Photos