Estimated read time: 4-5 minutes
This archived news story is available only for your personal, non-commercial use. Information in the story may be outdated or superseded by additional information. Reading or replaying the story in its archived form does not constitute a republication of the story.
SALT LAKE CITY — Although a majority of Utah high school students expect to attend college, most aren't prepared to earn a degree, a new state report shows.
The Utah State Auditor's Office found too many of those students either fail to take the necessary classes to prepare them for the rigors of college or take the recommended courses and are still unprepared.
Findings include:
Only 25 percent of recent high school graduates were considered ready to succeed in entry-level college courses.
Students taking the recommended college prep courses in high school were more likely to succeed in the same basic college subjects than students who did not take the those courses.
While 84 percent of 2013 high school graduates want a college degree, only 40 percent enrolled in college within a year after graduation.
Once in college, about 50 percent will graduate with an associate or bachelor's degree, a rate lower than states that have more innovative tracking and assessment methods.
State auditors analyzed 50 million higher education records related to student performance from 1999 through 2014 for metrics that would predict which students earned undergraduate degrees in Utah's public universities and colleges.
The report recommends schools better inform high school students what it takes be ready for higher education and guide them into more rigorous English, math, science and reading classes.
"Students may think they are taking courses that will prepare them for college when they are not," according to the report.
Utah Commissioner of Higher Education Dave Buhler said the auditor's report confirms much of what education officials know from state and national data about the importance of college preparation and the barriers to earning a degree.
---
Students may think they are taking courses that will prepare them for college when they are not.
–State Auditor's report
---
"They took a fresh look at it. They looked at it using a few different measures and frames of reference that I've seen before, so I think on the whole it's a helpful report," he said.
Buhler said higher education and the state Board of Regents are working on several fronts to address the complex issue.
The Regents' Scholarship encourages students to take a college prep curriculum above and beyond the state's high school graduation requirements. Higher education data show that students who receive the scholarship are more likely to be successful in college, according to Buhler.
The Utah Scholars program, which will expand from 16 to 21 school districts this fall, goes into middle and junior high schools to advise eighth-graders to sign up for high school classes that help them in college
"By eighth grade they should be thinking about, 'That's my destination. That's where I'm going and what do I need to do to prepare,'" Buhler said.
In March 2014, the Board of Regents recommended that high schools students take the most rigorous math class for which they qualify. State high school and college data show that students who pass math in their final year of high school are twice as likely to finish their college math requirement.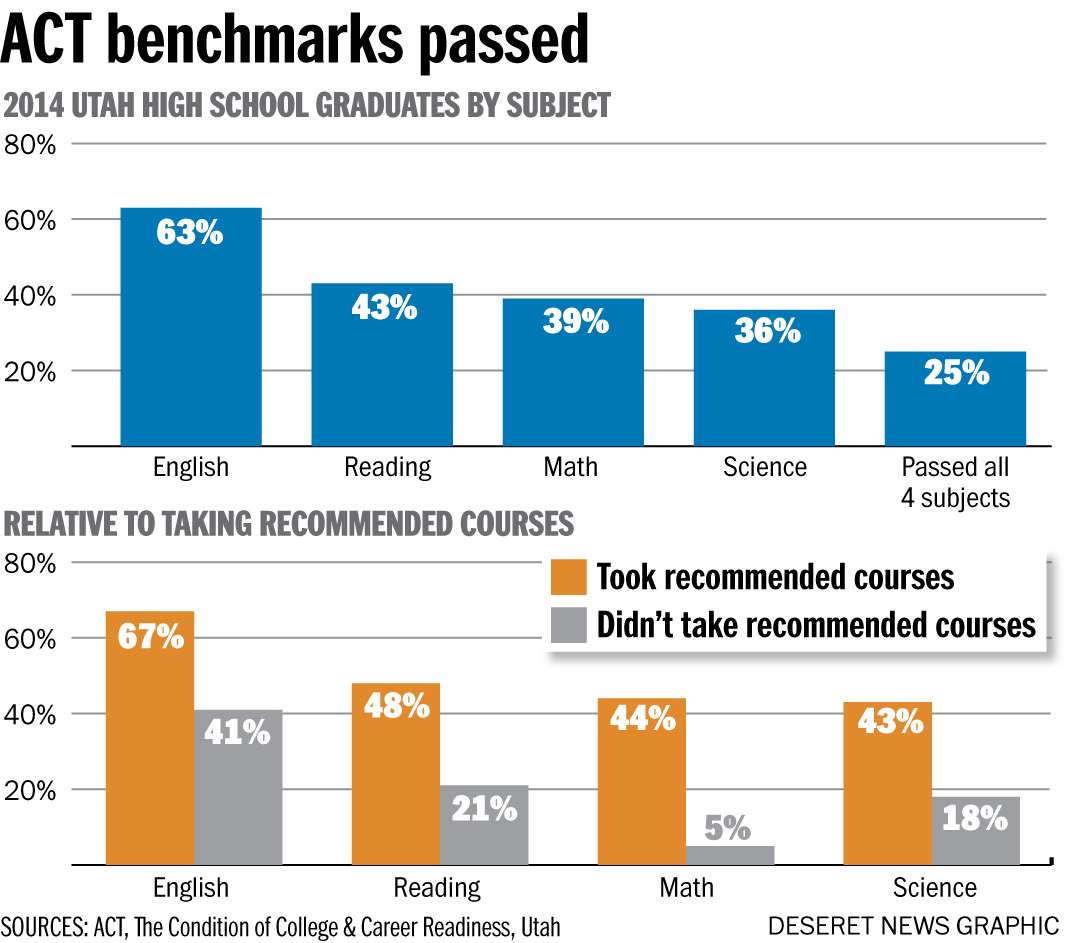 While 84 percent of the state's 2013 high school graduating class thought they would go to college, only 40 percent actually enrolled the year after high school. The report notes, however, the gap might reflect unique cultural factors in Utah, including many graduates participating in religious or volunteer service, as well as financial restraints.
Many Utah college students also are married, have children and work full-time or nearly full-time jobs, making graduation a challenge, Buhler said.
According to the report, 78 percent of 2013 graduates planned to get a bachelor's degree, but the percentage of high school graduates who actually reach that goal is much less.
"High hopes for college degrees combined with poor preparation wastes students' time and money," the report said.
According the report, full-time college students — those who take at least 12 credit hours per semester — are much more likely to earn degrees, especially bachelor's degrees. Also, students who focus on school reduce the time it takes to graduate.
"The best time to graduate is as soon as you can do it," Buhler said. "The longer it stretches out, things just get in the way. It's no lack of attention. It's no lack of ability, but things get more complicated in life, not less."
Utah spends about $10 billion each year on education — $4 billion each in public and higher education, and another $2 billion in private education, according to the report.
That number represents 7.4 percent of the state's economy and educates more than 600,000 in public education and about 200,000 in higher education, and employs about 150,000 Utahns.
×
Photos
Related links
Related stories
Most recent Utah stories