This archived news story is available only for your personal, non-commercial use. Information in the story may be outdated or superseded by additional information. Reading or replaying the story in its archived form does not constitute a republication of the story.
This story is sponsored by KSL Last Minute Travel. Save up to 50 percent on last minute deals.

Fodor's Travel calls Southwestern Utah "[a land of adventure](http://www.fodors.com/world/north-america/usa/utah/southwestern-utah/) and contemplation, of adrenaline and retreat." To enjoy southern Utah with your family, and to make memories that last a lifetime, St. George is the place to start.
Exploring
Home base for myriad outdoor activities, St. George is only 45 minutes away from Zion National Park.
There you can bicycle Pa'rus Trail, hike the The Narrows or Kolob Canyons, take part in ranger-led family activities or take a guided horseback ride.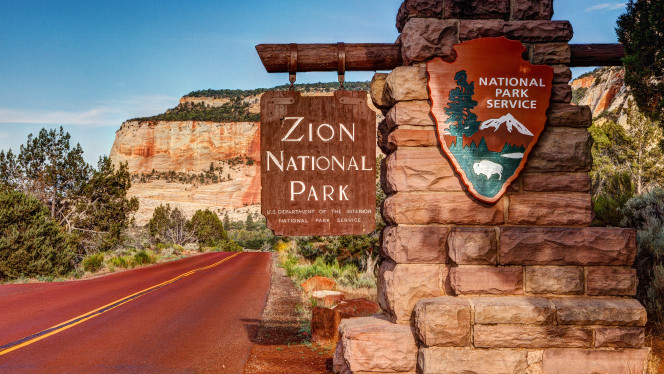 Photo credit: Shutterstock
Twenty minutes from St. George is Sand Hollow, Utah's newest state park. The warm-water reservoir has sandy beaches, sand dunes, tent and RV camping, boating, water sports, fishing and ATV trails. Just over a mile away is Sand Hollow Resort Golf Course where you can tee off while enjoying a breathtaking view of the unique red rock landscape.
Quail Creek, which is minutes from Sand Hollow, offers boating, water sports, fishing and camping.
Gunlock State Park has a small reservoir and primitive camping sites.
Snow Canyon State Park's unforgettable red Navajo sandstone and ancient lava flow landscapes are the backdrop for over 15 miles of year-round hiking, biking and horse trails. The area has tent and RV camping, as well as opportunities for technical rock climbing, wildlife viewing, photography and seasonal nature programs.
Exploring the wonders of the area wouldn't be complete without a visit to Dixie Rock — or the Dixie Sugarloaf — a red sandstone rock formation above St. George's historic downtown district.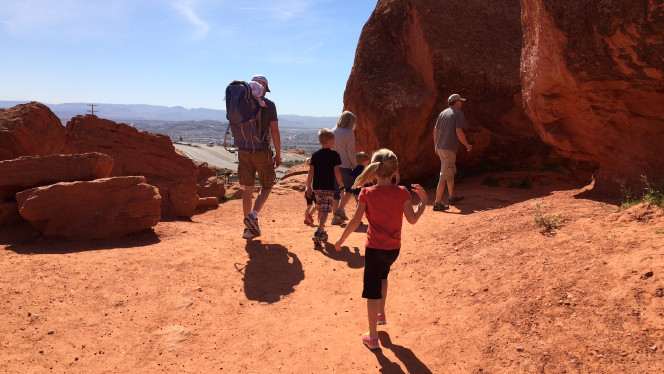 Photo credit: KSL user | A family is shown visiting the Dixie cliffs
The rock is part of 52-acre Pioneer Park, which has picnic areas, rock climbing and bouldering, and ample hiking trails even the youngest adventurers can conquer with the help of a parent. Don't miss the Boy Scout Cave and pioneer cabin site. The park has a connection into the Red Cliffs Desert Reserve.
The reserve's free visitor center features live animals and exhibits that teach about the area's wildlife, plants and ecosystem. Maps of the trails within the reserve are available on its website.
Learning
The Dinosaur Discovery Site at Johnson Farm is described by many paleontologists as "one of the 10 best dinosaur track sites in the world." Dating back to Early Jurassic Period, the farm boasts thousands of tracks preserved in sandstone slabs. The site is also home to several reproduction dinosaurs, including the only Scelidosaurus on display in the Americas. Children will love playing junior paleontologists while exploring and discovering fossilized dinosaur bones and tracks, making their dino tracks and uncovering replica fossils.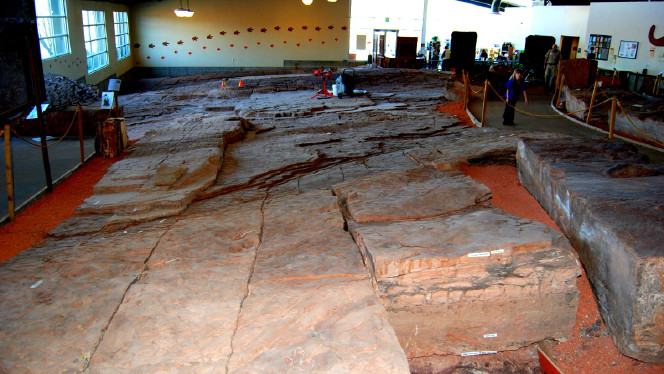 Photo credit: Lori Nawyn
The St. George Art Museum, once a sugar beet seed storehouse, hosts traveling art exhibits and works by regional artisans. The museum's Family Discovery Center offers hands-on learning activities and children's art classes. The St. George Children's Museum also offers children's art and crafting classes, as well as a plethora of fun learning activities and a weekly story time.
At the Rosenbruch Wildlife Museum, visitors can view over 300 species of wildlife from across the globe, including nearly every large mammal of the world. The museum features nearly a quarter-mile of pathways that wind through reproduction habitats and a two-story mountain with two waterfalls.
Historic Downtown is the place to discover the area's rich history. A walking tour will take you to 26 points of interest, including the Opera House and Social Hall, Daughters of the Utah Pioneers Museum, Ancestor Square, Old Jail, the Brigham Young Winter Home, Electric Theater and the Mormon Tabernacle.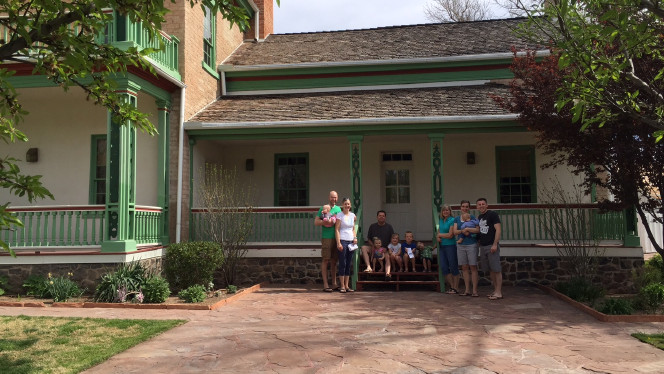 Photo credit: KSL User | A family is shown outside the Brigham Young winter home.
Playing
In Town Square Park, ride the old-fashioned carousel. In summer months, let the children have fun in the splash pad fountains while you dip your toes in the "lazy river." From the end of May through the end of August, on the second and fourth Friday of each month there are free outdoor family movies on the Town Square.
A stop at Learning Express Toys of St. George is fun for all ages. Hot air balloon flights are also a popular attraction. Sienna Hills Park in Washington (part of the St. George metropolitan area) has a splash pad and a large playground. Washington also has the largest aquatic center in the southern part of the state with a three-story hydrotube slide.
Eating
Main Street's Bear Paw Cafe serves up hearty breakfasts — including its famed Belgian waffles — in a cozy setting. Just a few miles west of St. George (in Santa Clara), Breakfast at Tifiny's offers upscale, yet child-friendly, options for breakfast — crepes and its Creme Brulee French toast, as well as for lunch and dinner.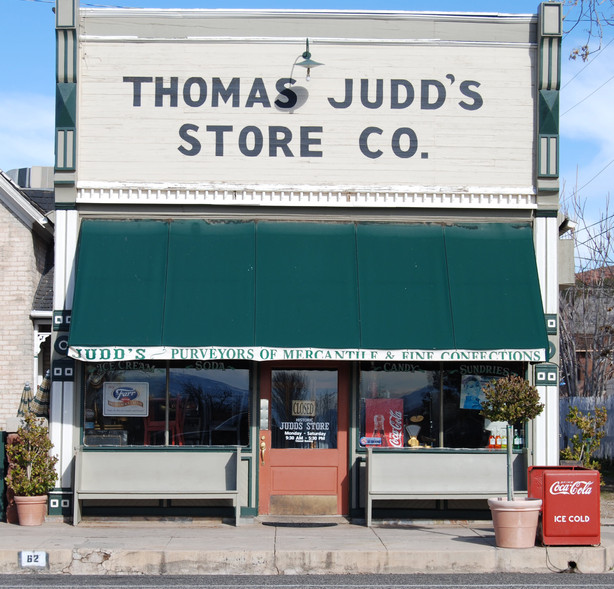 St. George's TwentyFive Main Cafe and Cake Parlor (cupcakes), The Sweet Tooth Fairy, Rocky Mountain Chocolate Factory and The Sugar Cookie are must-stops for treats and sweets.
In the historic downtown area, Judd's Store is a step-back-in-time gem for simple soup and sandwich fare, and sodas, ice cream and penny candy. Fun, family friendly lunch and dinner options include Cappelettis (Italian), the popular Larsen's Frostop Drive-In, The Pizza Factory in Ancestor Square, and Alberto's Mexican Food (they have great breakfast burritos).
Enjoying
From January's Winter Bird Festival to March's St. George Art Festival, August's Washington County Fair and September's Dixie Lions Round-Up Rodeo to October's St. George Marathon, and December's Dickens' Festival and First Night festivities, annual events in the area feature fun and entertainment for all ages. First Friday Streetfest kicks off in June featuring street concerts, artisans, farmers, merchants and a George Jr. Treasure Hunt for children.
For those with a flare for the dramatic, the Tuacahn Amphitheatre is located just 15 minutes northwest of St. George in Ivins and will feature a production of Disney's "Beauty & The Beast" from May 29-Oct. 17 as well as Disney's "When You Wish" from June 5-Oct. 16. The Utah Shakespeare festival is also less than an hour away in Cedar City.
For lodging options in St. George, visit KSL's Last Minute Travel.
×