Estimated read time: 4-5 minutes
This archived news story is available only for your personal, non-commercial use. Information in the story may be outdated or superseded by additional information. Reading or replaying the story in its archived form does not constitute a republication of the story.
SALT LAKE CITY — While Utahns marveled at the amount of snow that came down Wednesday, overall the April storm was only a drop toward solving Utah's water woes.
The 10-inch average snowfall spread across the Wasatch Front made Wednesday the snowiest April 15 on record and brought the biggest snowfall of the season, but when the sun comes back in a few days the state will be right back where it started, National Weather Service hydrologist Brian McInerney said.
A 10-inch snowfall represents only about an inch for Utah's water table, McInerney explained, meaning it would take another 140 inches of the white stuff to bring the state's snowpack back to average conditions.
"We're so far off from that, we're not even close," McInerney, who works at the weather service's Salt Lake City forecast office, said Wednesday. "This little storm that came through was really nice. It was something that was welcome, but it's too little too late."
So far the 2015 water year, which began in October, is the second-driest on record, according to the National Weather Service.
Utah's reservoirs have water in them thanks to a series of heavy rainstorms last fall, but as the state warms up again this weekend, Utah will be facing its fourth dry year in row, McInerney said.
"We need to conserve what we have and be smart," he said. "We need to wait until the 2016 water year starts in October, and hopefully this weather pattern of a giant high pressure ridge over the western U.S. will shift. … It's killing us."
A rough commute
Coming on the heels of a wild windstorm that harangued drivers and caused a large, fatal crash on I-80 Tuesday, several inches of fast-falling snow on Wasatch Front roads Wednesday snarled traffic and contributed to more than 100 accidents.
The intense April snowfall that peaked during the morning commute put "all hands on deck" for Utah Department of Transportation snowplows, some of which found themselves caught in the morning gridlock.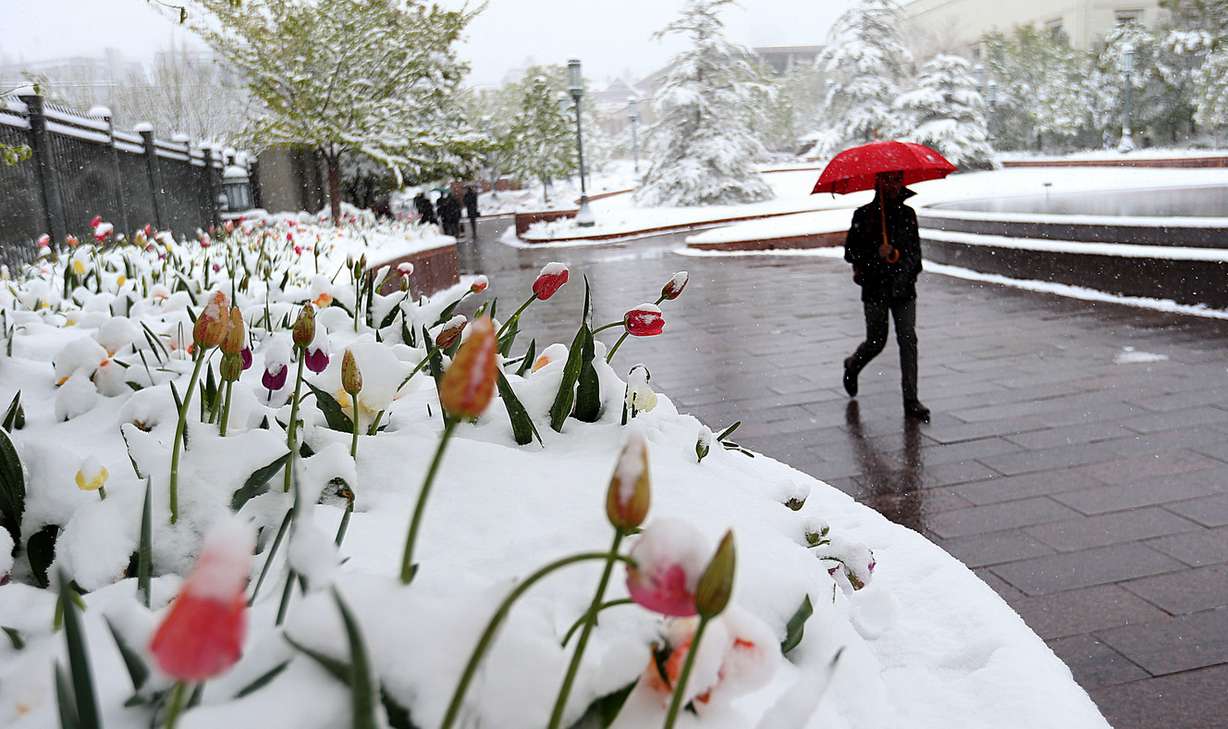 "This is probably the biggest storm that we've had this season," said UDOT spokesman John Gleason. "Sometimes when a storm hits with that type of intensity and at that time during commute hours, it causes traffic snarls and our plows can sometimes get caught in that traffic just like the rest of us."
As many as 118 crashes, including 16 that resulted in injuries, occurred in Salt Lake County between midnight and noon, the Utah Highway Patrol reported. Twenty-two more, including two with injuries, were reported in Utah County.
Additionally, a multi-car crash on a slick, snow-packed section of I-80 killed one person during the evening commute Wednesday. The crash happened about 7 p.m. on eastbound I-80 near the state Route 201 exit leading to Magna and West Valley City.
A UHP trooper was also hit in that accident and pinned inside her vehicle. She suffered minor injuries.
Wednesday accident totals for Davis and Weber counties were not released.
Though Utahns have reveled in the early spring weather and recent high temperatures, UDOT knows better than to put away its plows before April, Gleason said.
"In Utah, anything can happen and we're always ready to go," he said. "We knew that it was coming, we anticipated, and we were out there in force this morning."
Snow totals
Anywhere from 1 to 6 inches of snow was reported in cities throughout the Salt Lake Valley Wednesday, with even more moisture piling up along the benches. Nine inches of snow was reported on the University of Utah's lower campus about midday, while more than 6 inches accumulated in North Salt Lake and 7 inches fell on the Bountiful benches early Wednesday.

Five inches of snow came down at the Salt Lake City International Airport by noon — more than the airport's combined totals for January, February and March, according to the National Weather Service.

In Weber County, 4 inches of snow was reported in North Ogden while 6 inches accumulated near the mouth of Ogden Canyon. An average of 5 inches was also recorded in Cache Valley.

A whopping 22 inches of fresh powder fell overnight on a grateful Snowbird Ski Resort.

The weekend forecast for northern Utah calls for sunny skies. High temperatures will climb back to 65 degrees on Friday and 67 degrees on Saturday, which is about where they will stay into the beginning of next week.

Contributing: Sam Penrod, Haley Smith

[listen to 'Severe weather knocks out power around Utah' on audioBoom](https://audioboom.com/boos/3087176-severe-weather-knocks-out-power-around-utah)

![](http://beacon.deseretconnect.com/beacon.gif?cid=272375&pid=4)![](http://beacon.deseretconnect.com/beacon.gif?cid=272368&pid=4)

×
Photos
Related Links
Related Stories