Estimated read time: 4-5 minutes
This archived news story is available only for your personal, non-commercial use. Information in the story may be outdated or superseded by additional information. Reading or replaying the story in its archived form does not constitute a republication of the story.
LOGAN — Since its inception in 1968, Utah State's Romney Stadium has housed the school's football team, remaining relatively unfazed even as the school traversed through an array of conference affiliations and up-and-down seasons to the 10-win average program of the past three years.
Now, the stadium will get a makeover of its own.
Romney Stadium will be renamed Maverik Stadium thanks to a new, long-term corporate sponsorship with the Utah-based chain of convenience stores, Utah State's athletics department announced during halftime of Saturday afternoon's spring game.
The original stadium was named for legendary Utah State football and basketball coach and athletic director E. Lowell 'Dick' Romney, who coached the Aggies on the gridiron from 1919-48. Romney led the Aggies to an overall record of 128-91-16 in his 29 seasons at the helm of the football team, and he also presided over Utah State basketball from 1920-41, earning a mark of 225-157.
"The renaming of Romney Stadium is a little bittersweet, but our family realizes that to be competitive and relevant in today's sports world, you need to have the financial backing of corporate America," said Richard Romney, grandson of E.L. 'Dick' Romney, in a statement. "The Romney family has the desire for Utah State football to continue to grow and be successful and we strongly believe that this stadium project will go a long way to secure the future of the program, and will also make for a better fan experience.
"What grandpa accomplished at Utah State will never be duplicated in today's society. We know his name will remain prominent and continue to have a strong legacy at Utah State. His story will not be forgotten." Romney remains the longest tenured coach in Utah State history, and his name on the football stadium lasted until Saturday. Following his career at Utah State, Romney spent 11 years as commissioner of the Mountain States/Skyline Conference from 1949-60.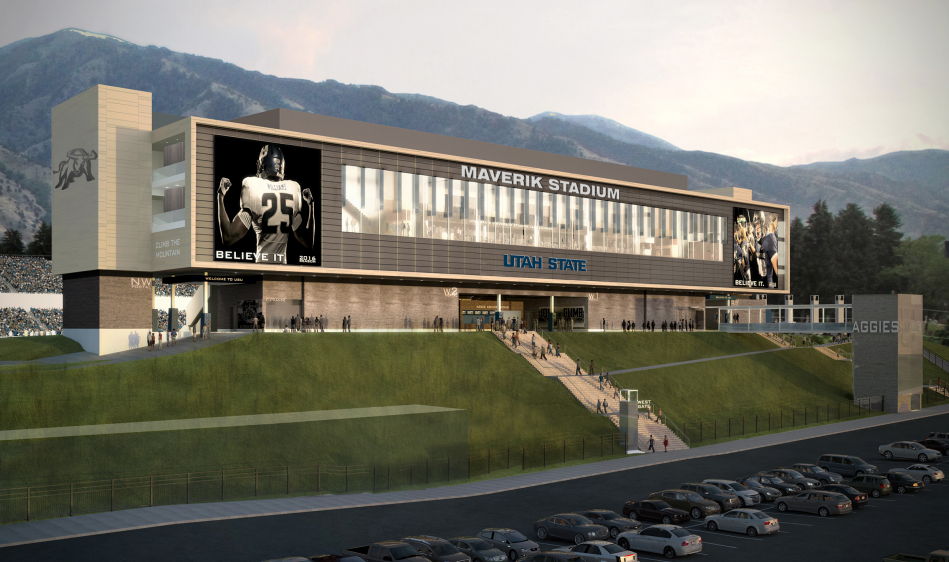 The name of the venue, effective immediately, will be Merlin Olsen Field at Maverik Stadium.
"The Maverik brand, their values and vision for growth in the Mountain West region is an ideal fit for Utah State University," said Utah State director of athletics Scott Barnes in a statement. "This new partnership is a catalyst for our stadium renovation initiative, which will commence immediately with the demolition of the west side press box and a portion of the west side seating. Further, this partnership assists in ensuring the already promising future of our football program and the enhanced fan experience. On behalf of our student-athletes, coaches and the entire Aggie Nation, I want to thank Tom Welch and Maverik for this exciting opportunity."
Utah State head coach Matt Wells thanked Maverik for showing "commitment" to the football program and the university with the corporate sponsorship, and added it can only help recruiting with the recent facility upgrades that includes the Wayne Estes Center and the Laub Athletic Complex.
"I think from a recruiting standpoint, it shows commitment," Wells said after the Aggies' spring game. "It's the last piece of the puzzle from a facilities standpoint.
"Maverik is willing to put their name on Utah State and this beautiful facility that will be up here in a year, it shows their commitment to us as a university and our football program. I think that's special."
Romney Stadium has undergone significant improvements only a few times in its history, with the school adding 10,000 seats in 1980 and 4,000 chair-back seats in the south end zone in 1997 to bring capacity to 25,513.
Improvements to the stadium include a new state-of-the-art press box and premium seating on the west side of the stadium, with 24 luxury suites, 24 loge boxes and 700 covered club seats. The school will also install a new public address system, and add a premium club area that will serve as host for a new student-athlete training table.
"The entire Maverik team is honored to continue our partnership with Utah State University and link our name to its iconic stadium," said Tom Welch, CEO of Maverik Inc., in a statement. "As a community-centered business, we are committed to supporting and promoting our state's universities' athletic programs, and this opportunity with USU was our way to connect with the Aggies' student body, alumni and Cache Valley as a whole. The new Maverik Stadium will proudly uphold the venue's outstanding reputation in the Intermountain West."
Utah State kicks off the 2015 season at Maverik Stadium on Sept. 3 against Southern Utah.
×
Photos
Related stories
Most recent Sports stories