Estimated read time: 1-2 minutes
This archived news story is available only for your personal, non-commercial use. Information in the story may be outdated or superseded by additional information. Reading or replaying the story in its archived form does not constitute a republication of the story.
President Bush woke up in Deer Valley this morning. That noise you heard over Salt Lake City was the sound of Marine One shuttling the President down to the City for his meeting with the First Presidency of the LDS Church. The motorcade back to the airport made for interesting traffic for some - and a glimpse at history for all those along the route, both planned and unplanned. The Director of the Hinckley Institute of Politics, Kirk Jowers, attended both fundraisers with the President yesterday. He was so impressed with what he heard and saw, and he shared those thoughts with Grant and Amanda this morning. Click here to hear what the President said in Deer Valley last night.
**The battle inside the White House**
Former White House Press Secretary Scott McClellan was critical of other former White House insiders who left their service and went on to write tell-all books, and now he's done exactly that. He's taking heat, expectedly, for writing the book. We heard this morning from White House correspondent Ann Compton. Click here to hear her insightful comments.
**Some light bathroom reading**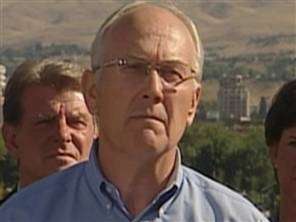 From a book everyone cares about, to one almost no one cares about. Idaho Senator Larry Craig is writing a book that will reflect on the turmoil after his arrest last year in an airport sex sting. The Senator says the book won't focus on that, though. It will focus on "the state of politics" in Washington.
×
Most recent News stories