Estimated read time: 2-3 minutes
This archived news story is available only for your personal, non-commercial use. Information in the story may be outdated or superseded by additional information. Reading or replaying the story in its archived form does not constitute a republication of the story.
DRAPER — What you see isn't always what you get.
For 12-year-old JulieLynn Reardon, there's a lot more to her than some people might see.
JulieLynn is just like most other girls her age: She likes being outdoors, she loves animals and she enjoys dressing up.
But unlike her peers, JulieLynn was born with both hemimegalencephaly and cerebral palsy — conditions that prohibit her from being independent, having full mobility and expressing herself vocally.
"She's so smart but the typical outlets (to communicate) are compromised," said JulieLynn's mother, Anita Miller-Reardon.
In order to share her thoughts and feelings, JulieLynn writes out alphabetical letters onto her mother's palm using her index finger.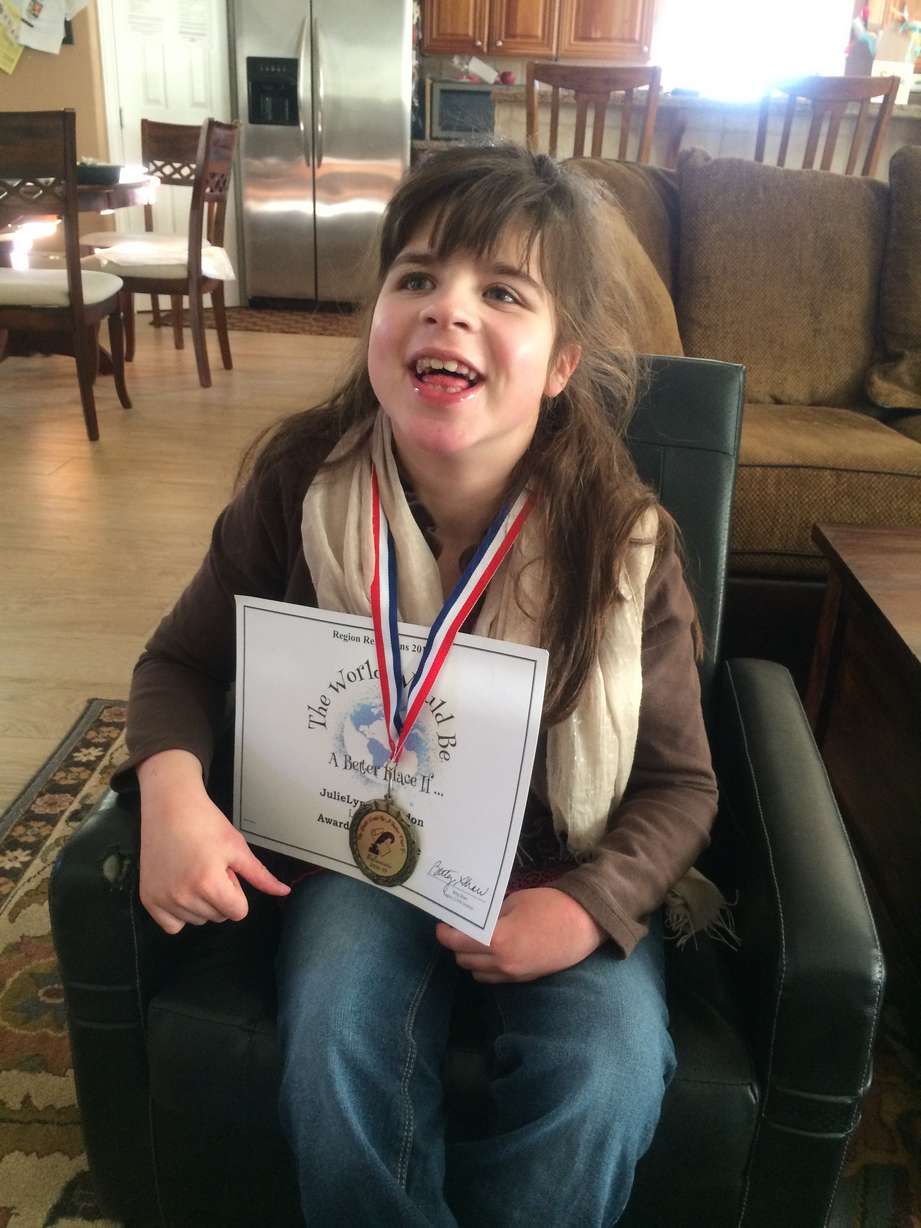 "The fact that JulieLynn can write out her emotions is amazing. She has found a way through the one appendage that works to express herself," said Miller-Reardon.
Although she cannot speak, JulieLynn did not let her physical disabilities stop her from entering into Utah's Reflections writing contest.
"JulieLynn decided she had so much to say that she actually wrote it out," said Miller-Reardon.
In 2014, JulieLynn earned statewide recognition for her essay. The theme was "the world would be a better place if."
"We were floored by (her essay)," said JulieLynn's father, Joe Reardon. "The way it came out was like a stream of consciousness. It was very emotional as she expressed it. For us, we knew how much was in there, but we were just blown away by the depth of it."
One way JulieLynn feels connected to her community is participating in running events across the state of Utah. JulieLynn has participated in marathons, half marathons and even one triathlon, carrying a message of hope for people with special needs along the way.
"I think there's an awareness there that our society is getting better at but we have quite a way to go," said Reardon.
JulieLynn's parents hope that by sharing their daughter's story, people will think twice before judging others by their exterior.
"They're way more than what you see on the outside," said Reardon. "Don't judge a book by its cover. Make sure you get to know who that person is. That person is not going to be at all what you expect them to be."
"They're going to be a lot more than you think they ever could be," said Miller-Reardon.
×
Photos
Most recent Utah stories