Estimated read time: 6-7 minutes
This archived news story is available only for your personal, non-commercial use. Information in the story may be outdated or superseded by additional information. Reading or replaying the story in its archived form does not constitute a republication of the story.
SALT LAKE CITY — A doctor was found guilty late Thursday of killing his ex-wife, who was found dead almost four years ago in an overflowing bathtub in her Sugar House home, a dangerous dose of Xanax in her system and a photo album at her side.
It took the five-man, three-woman jury just over seven hours to make a determination that a medical examiner in the case could not: Uta von Schwedler did not commit suicide, she was murdered by a bitter ex-husband, Johnny Brickman Wall.
Von Schwedler's family smiled, wept and applauded as they left the courtroom at the end of the four-week trial.
Fred Metos, Wall's attorney, said he was "extremely disappointed" in the verdict, which he said left Johnny Wall "extremely upset."
With a large crowd of friends and family at his side, the couple's now 21-year-old son, Pelle Wall, celebrated the verdict as long-sought justice.
"I am deeply thankful for the example of my mom's life. Not a day goes by that I don't think about her and try and emulate her generosity, optimism and vigor for life," Pelle Wall said. "She may not be here any more, but her light is not gone. It lives on inside of me, inside of all of us who knew her."
With justice finally served, he said, it is now time to heal.
Almut von Schwedler, Uta's younger sister, was composed as she spoke in the courthouse lobby after the verdict, addressing the dangers of domestic violence and the fears that family members had for the couple's children as they remained in Wall's custody after her death.
"Uta struggled with Johnny as her ex-husband and as the father of her children. … We as family all knew about Uta's struggle to co-parent the children in view of Johnny's quiet, pathological and hateful behavior," Almut von Schwedler said. "Johnny never succeeded to destroy Uta's joyful life, but he ended up taking her life."
She thanked lawmakers for legislation passed to protect children during murder investigations, passed both in the wake of her sister's death and the brutal 2012 murders of Charlie and Braden Powell, murdered at the hands of their father, Joshua Powell.
Prosecutors argued that on Sept. 27, 2011, Johnny Wall injected Uta von Schwedler with Xanax while she slept before sitting on her until she was unconscious and then left her body in a bathtub with the water running until she drowned.
"Johnny Wall is the one and only person on the planet with a motive to kill Uta," Salt Lake County deputy district attorney Nicholas D'Alesandro told the jury in closing arguments.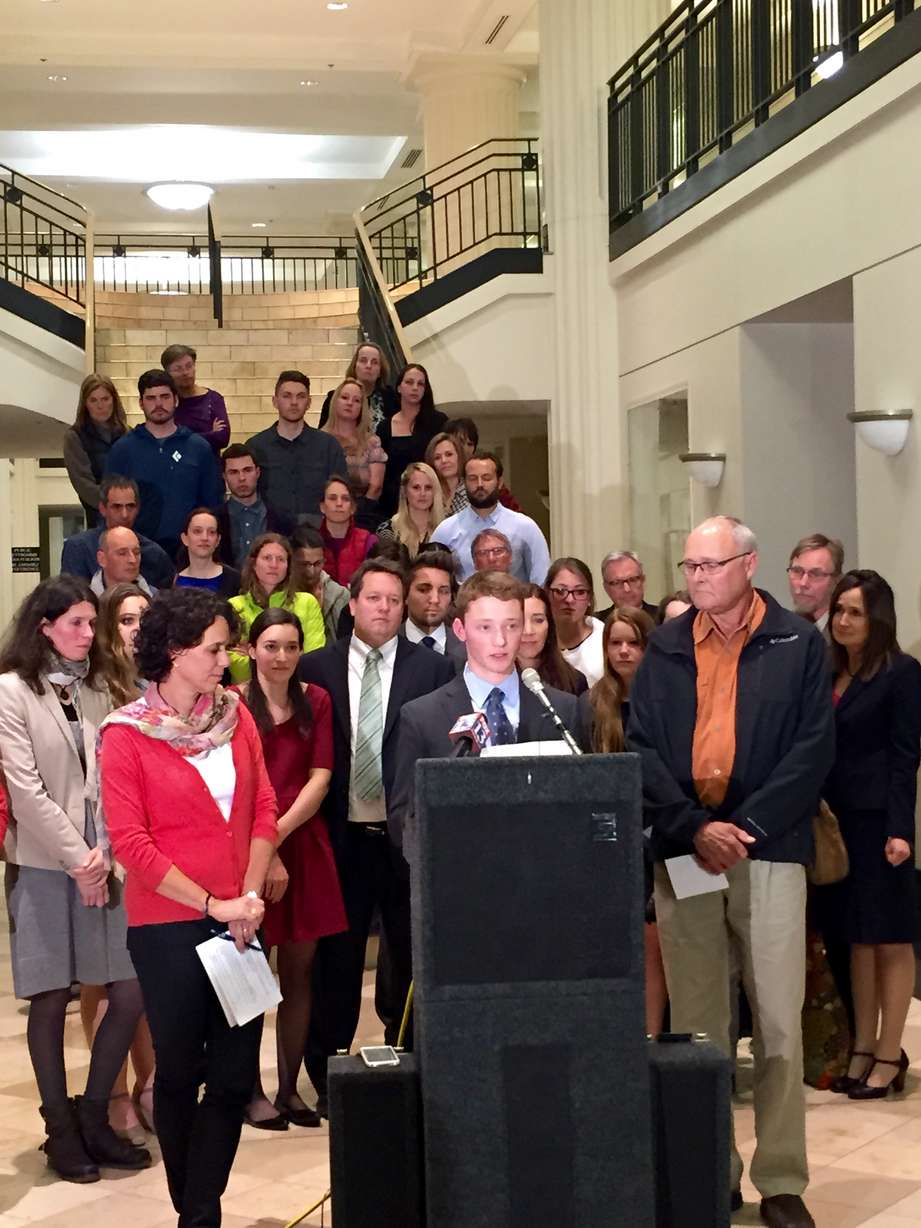 But Johnny Wall's defense team told jurors it was an upset von Schwedler, 49, who took large amounts of Xanax on her own, stumbled around her bathroom in an intoxicated state before getting into her bathtub and caused self-inflicting injuries before ultimately committing suicide.
The case against Wall, a 51-year-old pediatrician who was convicted of murder, a first-degree felony, was largely circumstantial. But D'Alesandro told jurors that if they looked at the entire picture, they would find Wall guilty beyond any reasonable doubt of killing the University of Utah researcher.
"The circumstantial evidence is overwhelming," he said.
Wall's defense team, however, said the state's case was filled with "wild assumptions" and a bunch of "maybes," which weren't nearly strong enough to meet their burden of proof.
"There is more than a reasonable doubt in this case that it was not murder," Metos told jurors.
During closing arguments, each side painted a very different picture of Uta von Schwedler's final days.
While both sides acknowledged Wall and von Schwedler went through a bitter divorce with ongoing issues over child custody, prosecutors described the woman as happy, positive and not suicidal. On the night of Sept. 26, 2011, she was described as "perfectly fine" by family members.
D'Alesandro noted that Wall "hated" his ex-wife and that she was an "obstacle" to him gaining custody of his children. "He just couldn't stop talking about how much he hated her," he said.
There was no evidence of forced entry into von von Schwedler's home the day her body was found, nothing in the house was stolen and there was no sign of sexual assault, he said.
Wall was known for having a good memory with his patients, yet he told police the day after her death that he couldn't remember what he was doing the day before, the prosecutor noted.
"The evidence of motive, of means, of opportunity, there is but one compelling conclusion you can come to," he told jurors. "Uta was murdered and the defendant Johnny Brickman Wall murdered her."
The scratch under Wall's eye that was spotted by Wall's children and co-workers the day von Schwedler's body was found was made by his ex-wife during a struggle, he said.
"It was as if Uta was standing in this courtroom and pointing to the defendant as her killer," D'Alesandro said.
But Metos countered there was no sign of any attack or struggle, and no one in the neighborhood heard any commotion coming from her house that night.
"Don't ya think if there was this ongoing attack there would be a lot more yelling?" he asked.
Metos said prosecutors were asking jurors to jump to too many conclusions about the events of that night. He took issue with the state's medical expert witnesses, accusing some of them of simply speculating or even making things up on the fly when questioned on the witness stand.
"The physical evidence doesn't lie," Metos said. "The physical evidence doesn't misremember. The physical evidence doesn't put someone in a better light now that that person is gone."
The combination of the Xanax, the cutting injuries and the drowning doesn't happen in a homicide, he said. It's far more indicative of a suicide. He also said the only reasonable explanation for Xanax getting in von Schwedler's system was that "she took them herself."
The testimony from the state medical examiner only raised enough reasonable doubt because he couldn't determine if the manner of death was homicide or suicide, he said.
But prosecutor Matthew Janzen said the defense experts completely ignored the bloody shoe prints found in von Schwedler's kitchen. Other bloody shoe prints in the house were cleaned up, he said — something a person committing suicide wouldn't bother to do.
Janzen ended his comments by holding the scrapbook that was found in the bathtub with von Schwedler's body, the one that had become a major source of contention between her and her ex-husband, and said, "That book right there tells you who did it. That man right there," he said, pointing to Johnny Wall.
×
Photos
Related stories
Most recent Utah stories