This archived news story is available only for your personal, non-commercial use. Information in the story may be outdated or superseded by additional information. Reading or replaying the story in its archived form does not constitute a republication of the story.
LAS VEGAS — With a 10-point halftime advantage over a team it had already beat twice in the regular season, WCC women's basketball champion Gonzaga appeared headed for another tournament title game appearance.
BYU's Makenzi Morrison had other ideas.
Morrison scored a game-high 18 points, including 4-of-6 from the 3-point line, to help the Cougars rally and stun top-seeded Gonzaga 61-55 to move into Tuesday's West Coast Conference women's title game for a shot at the league's automatic bid to the NCAA Tournament.
"I think that we came out of the first half a little bit frustrated, and it just didn't go as smooth as we hoped," Morrison said. "We regrouped at halftime, and decided we needed to what's being said, make eye contact with the coaches and stop overrunning on defense."
The Cougars became the lowest seed to advance to a WCC women's final since sixth-seeded San Diego in 2009. Friday's title game appearance will be BYU's second in its four-year history in the WCC.
BYU (22-9, 12-6 WCC) held the Zags to 25 percent shooting in the second half, including a 3-of-10 effort from distance. The Bulldogs made just seven shots after the break as the Cougars switched between and man-to-man and zone defense schemes multiple times in the second half.
"Just as important as beating Gonzaga, it was important for us to stay focused on what we had to do," Morrison said.
Xojian Harry added 13 points, including three 3-pointers, for the Cougars, who made nine treys as a team and limited the Zags (24-7, 16-2 WCC) to four 3-pointers, and only one in the first half.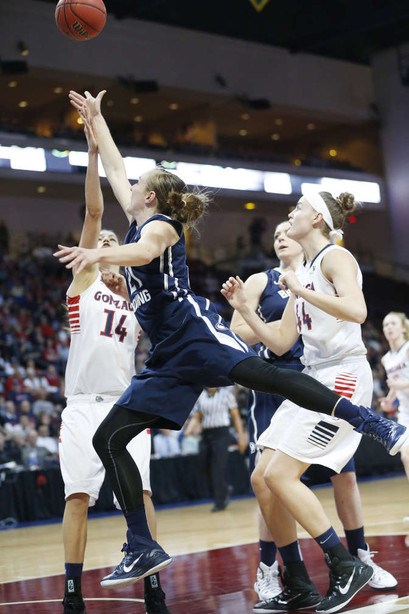 With BYU leading scorers Lexi Eaton and Morgan Bailey performing below their season averages, Morrison hoisted the team on her back, scoring 10 points before the break to keep the Cougars within a marginal striking distance.
The sophomore from Alta High then paced a furious comeback out of the break, helping the Cougars outscore the Zags 12-6 in an up-and-down opening five minutes of the second half. BYU held Gonzaga to 1-of-9 from the field in the half's first 7 minutes, 31 seconds, but Gonzaga kept clinging to a lead, including a 46-42 advantage with 9:12 remaining after Lindsay Sherbert nailed a 3-pointer.
From there, the game belonged to the Cougars, who will face No. 6-seed San Francisco at 2 p.m. MT at Orleans Arena.
Bailey made two free throws to tie the game at 48-48, and Morrison calmly lit a trey from near the top of the key with 4:51 to go to put BYU in front for good. Bailey's block on the other end highlighted a 7-0 run over the next 2:22, with Eaton getting back into the action from the free-throw line.
"In our eyes, the last few games, we did a few things that were in our control and we let them slip," said Eaton, whose team lost 78-62 and 73-66 to Gonzaga in the regular season. "Defensively, we let them get into easy spots and shoot easy shots."
"We made it a point to fix that in the second half. That was the thing that made us confident: we knew that we could control things that were going wrong (the first time)."
With 1:35 remaining, the Zags nearly came back again. Bailey picked up her fifth foul on a shot by Sunny Greinacher, who led Gonzaga with 15 points, 12 rebounds, two assists and two steals. Greinacher made them both, pulling the Bulldogs within two, 55-53.
But Micaelee Orton entered the game for Bailey, and on her first touch after sitting for much of the second half, went inside for a layup that put the Cougars on top 57-52 with 1:12 remaining. Orton finished with two points, two rebounds and a blocked shot in 15 minutes of play.
"To have one of your best players on the bench is hard. But Orton had a moment," BYU coach Jeff Judkins said. "She came in, gave us a big basket, some big defensive plays, and these two were just solid. I'm really proud of these guys."
BYU ended the game on a 13-5 run, and the Zags never threatened as Eaton and Morrison combined to make eight-straight free throws down the stretch. Eaton made 10-of-12 from the foul line to finish with 16 points, four rebounds, four assists and four steals. Bailey finished with eight points, nine rebounds, three steals and a pair of blocked shots for BYU.
"I'm so excited, because our team played big-time tonight," Eaton said. "We all came out tough, we all stepped up where we needed to, got big rebounds and made big baskets and defensive plays."
Makenzi Morrison puts BYU ahead for good

Keani Albanez added 12 points, three rebounds and two steals for Gonzaga, who got eight points and five boards off the bench from Emma Wolfram.
The opening 20 minutes were defined more by several scoreless periods for the Provo squad. BYU jumped out to a 6-4 lead on Xojian Harry's 3-pointer just 2:49 into the game, but promptly went without on a scoreless run of 6:52 before Gonzaga eventually took a 16-8 lead on Shanique Nilles' jumper with 12:26 remaining.
Kylie Maeda's fast-break layup brought the Cougars within a point, 18-17 with 7:37 left until halftime. But that was followed by a 3:29 stretch in which BYU made only one shot, a 3-pointer by Lexi Eaton that was immediately countered by a quick 6-0 run by the Zags to go up 26-20 with 3:49 remaining until the break.
Gonzaga finished the half on a 6-0 run, and the Bulldogs held BYU scoreless for the final 3:29 to take a 32-22 lead into the locker room. Greinacher had 13 points and six rebounds to pace the Zags.
Eaton and Bailey, the WCC player of the year, combined for just seven points and eight rebounds in the opening 20 minutes.
Gonzaga out-rebounded BYU 43-29, including a 19-7 advantage on the offensive glass. But the Cougars' defense limited the Bulldogs to 13 second-chance points.
"We've got one more," Judkins said. "We're excited, but we've got one more and we want to go to the NCAA tournament."
SAN FRANCISCO 65, SAN DIEGO 57 — At Orleans Arena, Taj Winston poured in 18 points and five rebounds, and Las Vegas native Zhane Dikes added 16 points as the Dons upset the second-seeded Toreros in the other semifinal.
Taylor Proctor supplied 10 points and 10 rebounds for San Francisco, which shot only 32 percent from the field in the win.
Katelyn McDaniel led USD with 11 points and 10 rebounds.
×
Photos
Related Links
Related Stories