This archived news story is available only for your personal, non-commercial use. Information in the story may be outdated or superseded by additional information. Reading or replaying the story in its archived form does not constitute a republication of the story.
SALT LAKE CITY — Clapping and cheers erupted in the gallery Friday after the Utah Senate passed a bill that seeks to balance religious freedom and protections for LGBT Utahns against discrimination in the workplace and housing.
Even Senate President Wayne Neidehauser, R-Sandy, joined in the applause and praised his colleagues for working together on what many see as watershed legislation.
"Utah is attempting to do something novel and do something great," said Sen. Steve Urquhart, R-St. George, co-sponsor of SB296, which moves to the House for consideration next week.
The bill, which passed the Senate 23-5, proposes to add sexual orientation and gender identity to Utah's anti-discrimination laws for housing and employment, clarify exemptions for religious institutions and provide protections for religious expression.
"It's a balance. It's a needed balance," said bill co-sponsor Senate Majority Whip Stuart Adams, R-Layton.
Debate turned more to testimonials as several senators shared personal stories of what brought them to vote for or against the bill. Three of the Senate's minorities — one black, one Hispanic and one Asian — spoke poignantly about bigotry they have experienced in their lives.
While supporters of the bill celebrated afterward, they looked forward to the next hurdle.
"We move on to the House now, which will be a much more vibrant debate," Derek Kitchen, a plaintiff in the lawsuit that overturned Utah's gay marriage ban, said afterward.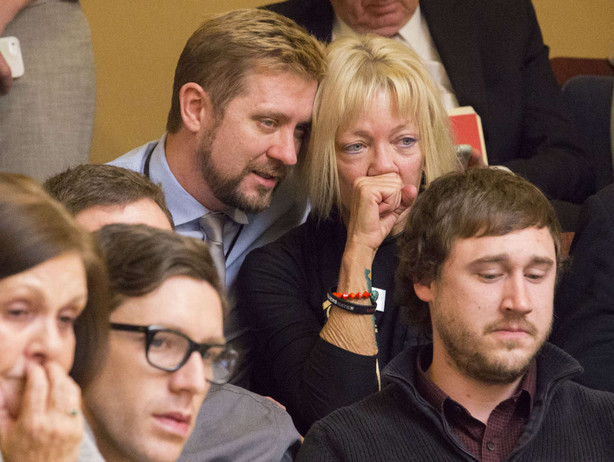 Kitchen said he believes his case opened up the conversation on LGBT issues and allowed people to look at them in ways they haven't in the past.
Gov. Gary Herbert said earlier this week he would sign the bill if it reaches his desk.
Supporters of the legislation, which is endorsed by The Church of Jesus Christ of Latter-day Saints, LGBT rights advocates and civic leaders, call it a historic compromise. Detractors say it contains a lot of ambiguity and has the potential for future litigation.
Though he voted for the bill, Sen. Todd Weiler, R-Woods Cross, said some of it needs tweaking. But because of the sensitive negotiations that led to it, "I'm not going to open that can of worms," he said.
Sen. Jim Dabakis, D-Salt Lake City, said Utah is conservative and religious but it's also fair.
"What we're talking about here is legal blah blah. It's not about the words. It's about the core of our state. It's about the soul," said Dabakis, the state's only openly gay legislator.
Sen. Alvin Jackson, R-Highland, the Senate's only black member, said it "disturbs me to the core" when the LGBT community compares its "crusade to the civil rights movement of my forefathers."
Jackson said he can't accept sexual orientation and gender identity next to race on the list of protections. He said he's a member of the LDS Church, "but my black Baptist roots will not let me accept this legislation."
In casting her no vote, Sen. Margaret Dayton, R-Orem, said she believes the bill is creating a protected class. She also said the size of a person's business shouldn't determine how much freedom they have.
---
What we're talking about here is legal blah blah. It's not about the words. It's about the core of our state. It's about the sou.
–Sen. Jim Dabakis, D-Salt Lake City
---
SB296 would prohibit employers with 15 or more workers from discriminating against job applicants and employees based on gender identity or sexual orientation. Landlords and property owners with four or more units also would be banned from discriminating against LGBT people.
Protections for employment and housing do not create a special or protected class for other purposes, according to the bill.
Sen. Mark Madsen, R-Saratoga Springs, also a Mormon, said it bothers him that his church is telling him, "using force" to compel him and others, to live by a standard that it's not willing to live by.
"Should I do as my church says or should I do as my church does? That's tough for me," he said before voting in favor of the bill. "I don't like the double standard."
According to the bill, everyone would be afforded the same free-speech protections in their private lives and could not be fired for their religious, personal or political beliefs about marriage, family and sexuality.
The bill seeks to exempt churches and their affiliates, religious schools, small or family-owned businesses, and specifically the Boy Scouts of America. It would not prohibit employers from setting "reasonable" dress and grooming standards and designating sex-specific bathrooms or showers.
×
Photos
Related Links
Related Stories