Alex Cabrero reporting
A house is the biggest investment most of us will make, so naturally, we want it to look good inside and out. But up and down the Wasatch Front, hundreds, if not thousands of homeowners are seeing their driveways crumbling.
We first told you about this problem last year and found out this year it's happening all over again. It's after the snow melts when most homeowners start to see the crumbling. Because of our story last year, homeowners were looking for it this year, and sure enough, we got dozens of phone calls.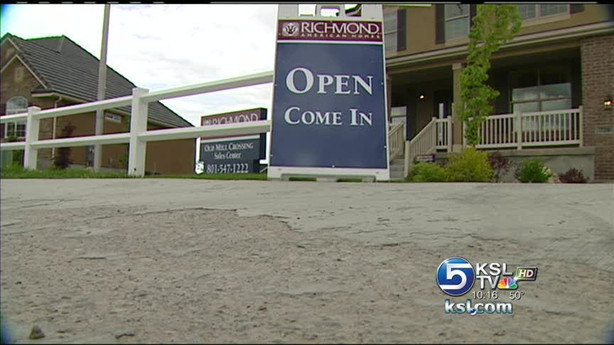 The one thing that's common with every single phone call or e-mail we received in the past two months is that they bought their homes from America's largest homebuilder.
Christy Alluis' driveway is only a year and a half old. She says, "Well, you can see right here, it's crumbling off." Alluis wants her homebuilder to fix it. "We feel like we've been robbed," she said.
Richmond American homes built Alluis' home, but she says she can't get them to fix the driveway. She can't even get them on the phone. "I have spent hours and hours, and I'm not exaggerating, trying to get through to someone, trying to get someone to call me back who has some answers," she said.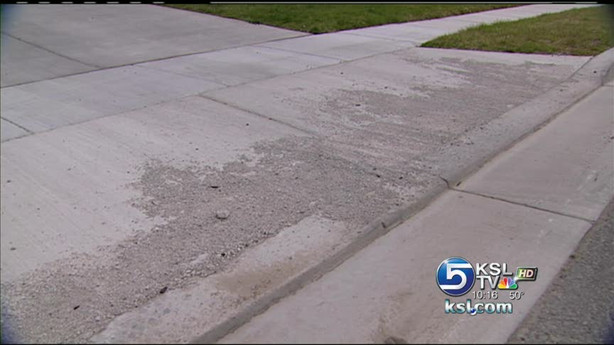 Now, her story alone doesn't mean there is a widespread problem. But we started getting calls from other homeowners in Kaysville, Riverton, West Jordan, Orem, Eagle Mountain and Stansbury Park. Richmond American Homes built them all.
Craig Woodard says, "It's just shoddy workmanship, in my opinion." He says he's called Richmond about his Stansbury Park driveway, but they never call back. "You call and leave messages. You don't hear back from them. And so, after a while, you just kind of tend to give up, I think."
Daniel Boone hasn't given up. He says, "I've written the corporate president and e-mail, I've written the regional manager and e-mail." He says last year a Richmond representative marked the section of his driveway they would replace. The mark is still there. "I just want a resolution to the situation," Boone said.
Homeowners we spoke with say they understand there are going to be some problems with new home construction. It's like that for any homebuilder. What these residents don't understand, though, is why Richmond Homes won't even address those concerns.
Last year, Richmond American wouldn't answer our questions, saying only that they stand by the quality of the work. This year, we asked again and got this response: "Without talking about specific customer situations, we do understand that the quality of sidewalk and driveway concrete in certain homes in some of our communities may not be up to our standards. We are investigating these circumstances."
We then asked Utah's Department of Commerce about Richmond American. Francine Giani told us, "We've had some inquiries, and we've worked with them on some things, and they've been cooperative, in our opinion." Giani also says, if homeowners feel something isn't right, to call her department. "Not every situation will allow us to get involved, but every case is different, and we would have to look at those cases, and certainly we're willing to do that."
Richmond did replace several driveways last year. But a year later, new homes have the same problems and the same promises.
Diane Weeks said, "I actually did receive an e-mail saying they intended to fix it, but we'll see. I'm just afraid they'll fix it with the same thing they put in the first time."
Alluis says, "We laugh at them all the time. We don't believe anything they say anymore."
Brianna Hendrix said, "I mean, a new home is everyone's dream. And then to have these kinds of problems, it's frustrating."
To be fair, this concrete problem isn't unique to Richmond American. However, in part because of the large number of homes they build, Richmond American seems to have the most driveway problems.
E-mail: acabrero@ksl.com
×
Related Links