Estimated read time: 3-4 minutes
This archived news story is available only for your personal, non-commercial use. Information in the story may be outdated or superseded by additional information. Reading or replaying the story in its archived form does not constitute a republication of the story.
LEHI — After designating an area for an infant cemetery, the city of Lehi commissioned a local artist to create a sculpture to comfort families visiting there.
Lehi resident Scott Streadbeck has a rich history of sculpting. His uncles and father started the Adonis Bronze Foundry in 1988, and Streadbeck became familiar with the trade. He began sculpting while attending Brigham Young University, and he has been creating the artwork professionally since 2004.
Streadbeck started his own business, Mainstreet Art, and creates sculptures from clay before having his uncles bronze them at their foundry. He said he enjoys being involved in a family business.
"It's really been a real blessing," he said. "You know each other so well. You can trust each other so well. You know something is going to get done if it needs to be."
Since starting his business, Streadbeck said he has created more than 40 sculptures that have been bronzed. He typically creates life-size sculptures of real people and takes over 200 photos and likes to get measurements to create the true-to-form artwork.
"All artists are different," he said. "Some take a far more visual approach, but I try to balance it and do quite a lot of the technical and make it well-designed and have a nice gesture as well."
In 2013, he was commissioned by the city of Lehi to do a sculpture for the newly added infant cemetery.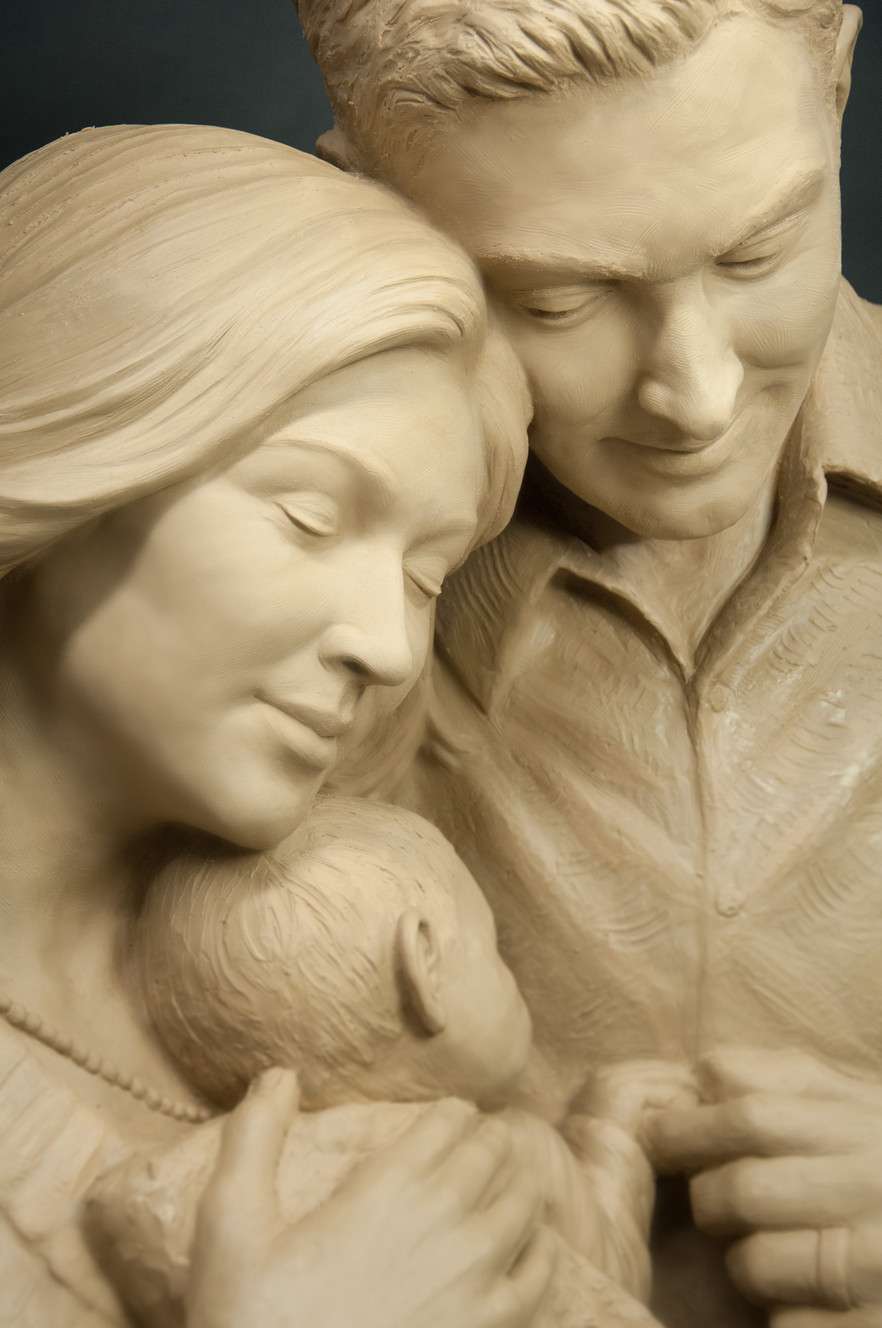 When Streadbeck started the sculpture, he wanted a Lehi family to be the inspiration. He said he found couple Chris and Robyn Shelton and asked them to model for the piece.
"It's not everyday someone comes and asks you to be a model," Chris Shelton said. "That's pretty flattering, right?"
The Shelton's said the experience brought them closer to their son, Collin, who was born a few months prematurely and died a few days after he was born, according to the family. Collin wasn't buried in the Lehi cemetery, but the Shelton's said this sculpture will help them remember their son.
"You're always grasping for things you remember," Chris Shelton said. "This is another thing or another place that will help us remember him."
Streadbeck said he worked on his "Close To Heaven" clay sculpture for almost a full year and completed it Monday. The sculpture of parents with a baby stands at 7 1/2 feet tall, 45 inches wide and 28 inches deep. Bronzing the art piece will take around 90 days, and it will be installed in the Lehi Cemetery later this year, Streadbeck said.
Streatbeck hopes the statue will be uplifting for grieving families, as do the Sheltons, who saw the sculpture for the first time Wednesday night.
"These infants that have passed away are still part of someone's family. They're still important to them and they're not forgotten," Robyn Shelton said.
"For my artwork, I wanted to have a positive impact," Streadbeck said. "I've always wanted my artwork to be positive and calming. The things that celebrate life and celebrate people. The idea that this is going to provide them some comfort is wonderful."
Streadbeck is holding an open house so families of infants buried in the cemetery and others can view the sculpture. The open house will take place Wednesday and Thursday from 6:30 – 8 p.m. at the Alpine Art Center at 450 S. Alpine Highway.
×
Photos
Most recent Utah stories