Estimated read time: 2-3 minutes
This archived news story is available only for your personal, non-commercial use. Information in the story may be outdated or superseded by additional information. Reading or replaying the story in its archived form does not constitute a republication of the story.
Jed Boal reportingA whole new generation of military veterans is applying for the benefits they earned. Many get the medical care and benefits they deserve. Others run into a battle with red tape.
This is the story of one veteran still waiting for his education money.
The Marine Corps veteran estimates he's spent hundreds of hours on paperwork and phone calls to the Veterans Administration. He's has gotten nowhere at all. Now he's hired a lawyer to try to get somewhere.
As a Marine, Sam Gilligan served his country eight years and fought in Iraq. Now he wants to get a psychology degree, but all he's getting is the run-around after applying for his education benefits. "The part that is the most frustrating is that I loved my service with the Marine Corps. It was great," he said.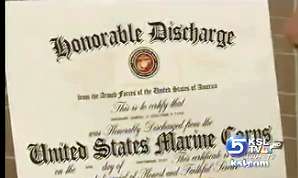 He has all the papers: His honorable discharge, his certificate of eligibility. The Marines even asked him to come back.
"It's OK for me to come back and serve with them again but not to receive the education benefits," he said.
Gilligan is entitled to benefits up to $9,000. He started the process two years ago and recently contacted consumer rights attorney Michele Morin. "It's incomprehensible, and I didn't know about it until I started helping Sam," she said.
She discovered a web of confusion, no solutions, and unanswered needs. "Now that you've done all this for us, what do you need? We need to take care of these men and women now," she said.
Terry Schow, director of the Utah Department of Veterans Affairs said, "Sadly there are a number of veterans in Utah who are not receiving their benefits."
He says 160,000 veterans in Utah receive $50 million in benefits. He's not familiar with this veteran's case but believes he will get his due.
"We're trying to educate the veterans that these benefits are there, and we clearly do want to help them file for these benefits," Schow said.
Gilligan wants an education and says he'll trudge on until he gets the benefits.
"I don't have a lot of hope, but I have a lot of motivation."
When we contacted a spokesperson with the U.S. Department of Veterans Affairs here in Salt Lake, he was willing to talk to us at first, then told us later that there was a temporary moratorium on short-notice interviews, though he couldn't tell us exactly what that meant.
E-mail: jboal@ksl.com
×
Related links
Most recent Utah stories