This archived news story is available only for your personal, non-commercial use. Information in the story may be outdated or superseded by additional information. Reading or replaying the story in its archived form does not constitute a republication of the story.
Carole Mikita reportingWe first introduced you to a young man named Dallas Griffiths last Thanksgiving Day. He and a friend had done some humanitarian work in Tonga. But life took a horrific turn for Dallas with a life-changing accident.
Josh Featherstone returned to Tonga with his friend Griffiths last Fall with clothing, medicine and money for the people Featherstone had met on his LDS mission a year before. He said, "There's a reason why it's called 'The Friendly Islands', the friendly people, they're incredible."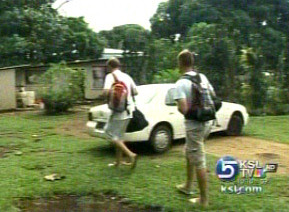 But that journey halfway around the world was nothing compared to the one Griffiths has taken since February 12th. He was longboarding in Snow Canyon when he hit a car or a car hit him, he doesn't remember. He suffered a traumatic brain injury.
A quick flight to Intermountain Medical Center saved his life. Surgeons opened his skull from ear to ear to relieve pressure. He was in a medically-induced coma for four weeks, but doctors couldn't bring him out of it. Two weeks later, he says, "I woke up and I remember it. I saw my dad, I told him I loved him."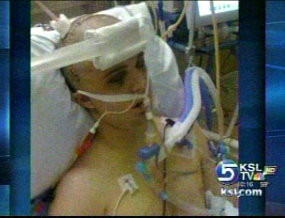 It was days before he spoke and weeks not knowing if he would ever stand again. After months of difficulty, Griffiths is walking again. It's been less than a week since he regained the ability. He says, "I never thought I would, and I am."
Registered nurse Liz Crane says, "I really think that it's his optimism. Even at his worst, the worst pain, the worst situations, he just keeps smiling."
Dallas Griffiths describes himself as stubborn. Everyone else would use the words "heart" and "spirit." He got word just today that he will finally be released from the hospital next Friday.
E-mail: cmikita@ksl.com
×