Estimated read time: 3-4 minutes
This archived news story is available only for your personal, non-commercial use. Information in the story may be outdated or superseded by additional information. Reading or replaying the story in its archived form does not constitute a republication of the story.
COTTONWOOD HEIGHTS — Police are frequently left with surveillance images after an alleged crime, but it's seldom simple to identify and find a suspect.
Cottonwood Heights police said a woman who used a stolen credit card to purchase a big-screen TV and Playstation signed her real name to a warranty for the gaming system.
"I guess she wanted to cover herself, so she purchased the extended," detective Dan Morzelewski said Monday. "Rather than using the name on the credit card, she used her real name."
Morzelewski said a woman identified as 31-year-old Jennifer Elizabeth Spencer was captured in surveillance images Jan. 2 after making the respective purchases at a Super Target and GameStop near Park Centre Drive in Cottonwood Heights.
Police said the woman was accompanied during the short spree by a man they identified as her 22-year-old boyfriend, Dominque Taylor.
Investigators said they believe Spencer is a former teacher.
"On her Facebook page, it said she was a teacher," Morzelewski said. "We contacted Salt Lake City School District, they said that there was a teacher at one point in time, but no longer teaching."
Investigators said they had yet to locate the couple as of Monday night, despite contacting Spencer by phone, reaching Spencer's and Taylor's family members and attempting to locate Spencer at a known address.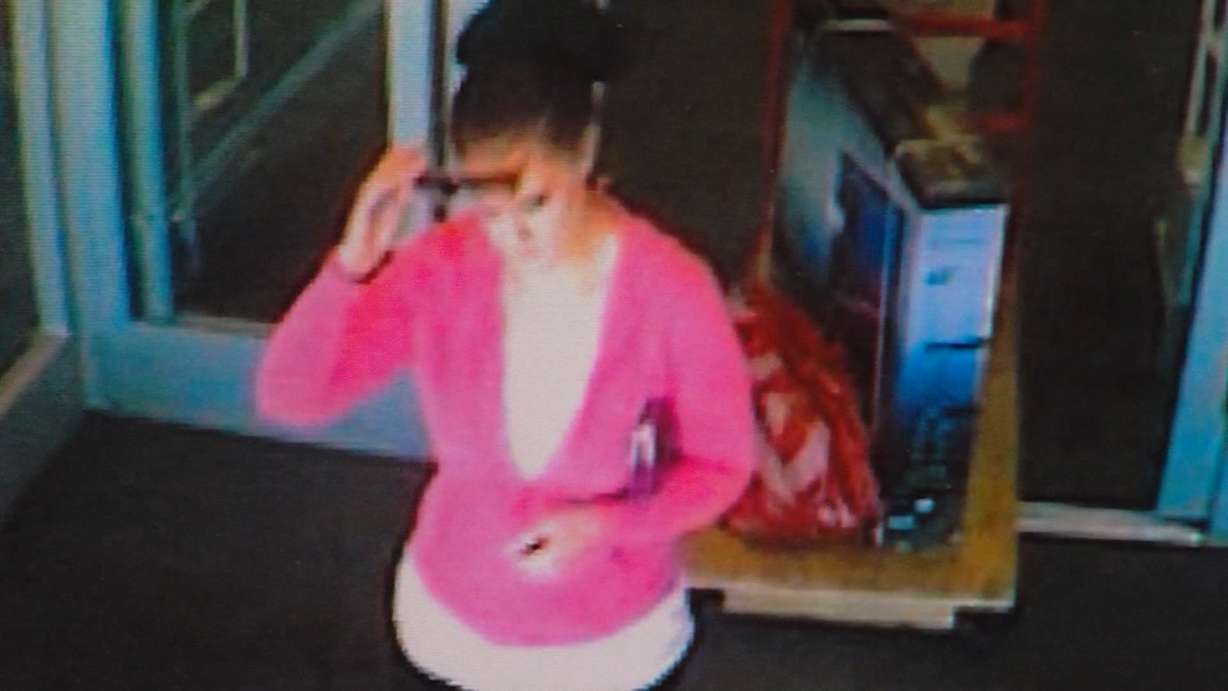 The credit card used in the two purchases in Cottonwood Heights was stolen earlier the same day from a car in a parking lot near 5400 S. Redwood Road in Taylorsville.
Courtney — who requested to not have her last name used because of security concerns — came out to her car after working out at Planet Fitness and saw the rear passenger window was broken.
"You're just like, 'No way!' " she said. "You just feel so violated."
The woman said she had left her purse in her trunk.
"I thought I was doing the right thing — I put my purse in the trunk and locked my car," Courtney said. "Girls know this. You keep so much stuff in your purse — it's your wallet. I had so much stuff in there you just don't think about, so it's been not a great way to start off the year."
Unified Police Lt. Justin Hoyal said witnesses saw a slim man wearing a beanie and jacket leave the scene with a woman in a white Honda Odyssey with Utah plates.
The witnesses were not able to get a plate number, Hoyal said.
Hoyal said within three minutes of the call to police about the break in, two purchases were made at a gas station near 2200 West and 4700 South.
Morzelewski said because of the short amount of time that transpired between the theft and purchases, detectives believed the man and woman in the Cottonwood Heights and Taylorsville cases were "probably" the same.
Hoyal noted some inconsistencies in witness accounts of the woman's hair color between the break-in scene, the gas station and the Cottonwood Heights purchases.
Morzelewski said both Spencer and Taylor had warrants out at the time of the purchases, and Spencer had previously been charged with crimes including forgery and attempted identity theft.
Anybody with information about the couple's whereabouts is asked to call Cottonwood Heights police at 801-840-4000.
×
Photos