This archived news story is available only for your personal, non-commercial use. Information in the story may be outdated or superseded by additional information. Reading or replaying the story in its archived form does not constitute a republication of the story.
WASHINGTON — Utah is closely observing the impacts of marijuana legalization in neighboring Colorado, but Gov. Gary Herbert says the state is not planning to join other border states in a lawsuit.
"We have no plans to sue Colorado. I know others are concerned about that. That is (our position) of today," Herbert said following the State of the States address given by him and Colorado Gov. John Hickenlooper in the nation's capital Tuesday during meetings of the National Governors Association.
Hickenlooper and Herbert are chairman and vice chairman of the organization.
"The concern for some is we have a Colorado law that is contrary to a federal law and that's not being enforced. So there are some issues there that in fact need to be resolved, and I expect over time they will be," Herbert said.
Herbert explained that Utah had legalized the use of a cannabis extract to treat children with seizure disorders.
"We're trying to take parts that make the sense to Utah and avoid others we think maybe would be pushing in a direction that's probably not warranted for our young people," he said.
Otherwise, Utah will observe the consequences, "intended or otherwise," of other states' legalization of recreational and medical marijuana, he said.
"We'll probably react accordingly to what we see taking place there. The good news is, if it works, we'll learn from that success. If it doesn't work, we will, in fact, learn from the lack of success. And if it doesn't work well in Colorado, the good news is, it won't destroy the rest of the county. We'll learn from that experience and that experiment," Herbert said.
---
The concern for some is we have a Colorado law that is contrary to a federal law and that's not being enforced. So there are some issues there that in fact need to be resolved, and I expect over time they will be.
–Gov. Gary Herbert
---
Nebraska and Oklahoma filed a federal lawsuit in December claiming Colorado's decision to legalize and regulate the sale of recreational marijuana cannot stand so long as cannabis remains illegal under federal law.
In a whirlwind day, Utah's governor joined Hickenlooper in a visit with President Barack Obama, during which Herbert raised his Healthy Utah plan, which he has proposed as a state alternative to Medicaid expansion.
The Utah proposal includes a work requirement for participants, which has stalled negotiations with federal officials.
Herbert said the president indicated his administration might be able to give some ground on the issue.
"He was very positive about that concept, and as we had discussion back and forth, his response was, 'Let me call (Health and Human Services) Secretary Sylvia Burwell and let's see if we can revisit this discussion and see if we can get closer to where you'd like to be,'" Herbert said in a conference call with reporters.
Herbert said he also had met with Gen. Mark A. Welsh, chief of staff of the U.S. Air Force, regarding a proposal to significantly expand the Utah Test and Training Range.
Welsh, a member of the joint chiefs of staff, is "hoping to come out sometime this summer and see things personally and up close and have a discussion on Hill Air Force Base and its operations on the Utah Test and Training Range."
Herbert said Air Force officials recognize that the Utah Test and Training Range, which includes 2,624 square miles of ground owned by the Air Force and 19,000 miles of air space, is a tremendous asset to Hill Air Force Base.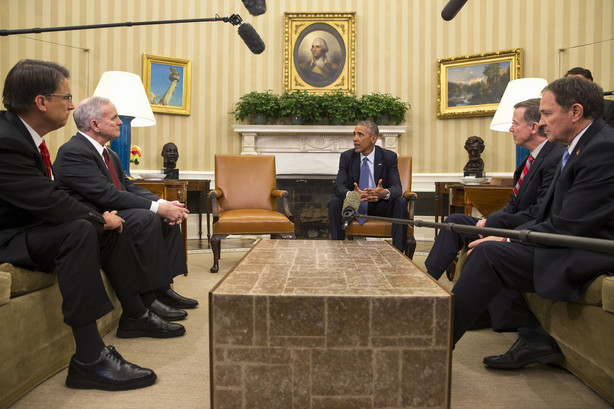 "Many of their pilots have said this is the best test and training range that we have in North America," he said.
The proposed expansion involves an administrative transfer of 625,000 acres of BLM land and a land swap of 85,000 acres of school trust lands.
Herbert said he asked Air Force officials to include local officials and residents who may be impacted by an expansion to have a place at the table to give input and air their concerns.
Hickenlooper's portion of the State of the States address highlighted several successful efforts by states, among them Herbert's initiative that 66 percent of all adults obtain a degree or post-secondary certificate by 2020.
"We governors are occasionally competitive, but it is always good having one governor stand out because it pushes the rest of us," he said.
Herbert, meanwhile, called for a "federal agenda that focuses on solutions and partnerships rather than extreme partisanship."
Herbert said 43 states have received waivers from the No Child Left Behind federal education initiative.
"Government by waiver is a sign that underlying laws do not work and are in need of reform," he said.
But on other issues, such as uniform means to collect taxes on Internet sales, the states need Congress' assistance. Twenty-three states have passed so-called "Amazon laws" to collect a portion of the tax on their own and more will follow, Herbert said.
"To fully resolve this issue at the national level, Congress must act now," he said.
×
Related Links