This archived news story is available only for your personal, non-commercial use. Information in the story may be outdated or superseded by additional information. Reading or replaying the story in its archived form does not constitute a republication of the story.
SALT LAKE CITY — An in-depth look at women in Utah who choose to give birth at home was published Tuesday by the Utah Department of Health.
The review used birth and death certificate data collected by the Utah Office of Vital Records and Statistics. The review looked specifically at data from 2010-2012 due to the changes on the Utah birth certificate the year before that allowed detailed reporting on midwives.
The UDH report was compiled through collaboration with licensed and unlicensed midwives and physician colleagues at the University of Utah.
"It's sort of the beginning of an era of working together and assuring safety for these out-of-hospital births," said Lois Bloebaum, maternal child health quality improvement director for UDH.
UDH, however, did not have information that differentiated hospital births that were planned from those that were emergencies involving an out-of-hospital birth.
How many women are choosing home births?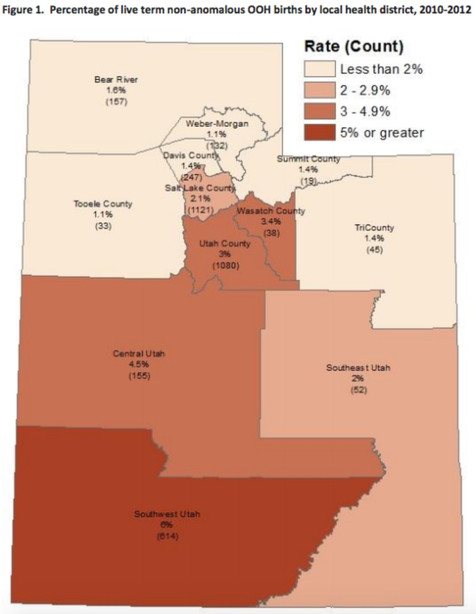 Like previous reports before it, UDH's review found an uptick in women giving birth at home or freestanding birthing centers, as opposed to hospitals. Home births in the United States had been decreasing since 1900, when almost all births occurred at home. By 1969, a mere 1 percent of births occurred at home, according to the Centers for Disease Control and Prevention.
That nationwide number remained steady through the 1980s but has significantly increased since 2004, according to the CDC.
Data reviewed by UDH found that while full-term, planned out-of-hospital births in licensed birth centers have decreased since 1991, term births at home and unlicensed birthing centers have doubled — increasing from approximately 1 percent in 1990 to about 2 percent in 2012.
"It's a trend that we're seeing nationally as well as in Utah, probably at about the same rate," Bloebaum said.
In 2014, 3,693 babies were born at home or in a freestanding birth center. Of those infants, 1,098 were born in birthing centers and more than two-thirds of the births were attended by unlicensed midwives. Licensed direct-entry midwives, unlicensed midwives, certified nurse midwives and naturopathic physicians attended the others, according to UDH.
Who is choosing home birth?
The review also looked into demographics of mothers choosing out-of-hospital births, finding that many were older, white and non-Hispanic married women who lived in rural areas.
About midwives
Certified nurse-midwife: Certified nationally by American Midwifery Certification Board, has registered nurse training and credentials and a master of science or doctor of nursing practice with emphasis in nurse midwifery. Required to maintain a written plan with a physician for collaboration, consultation and referral when need arises. May have credentials to assist a surgeon during C-section, can prescribe medications, order diagnostic tests for their patients and provide normal newborn care. Most attend in-hospital births.Direct-entry midwives: Began midwifery education directly, without first completing a nursing degree.Certified midwife: Received an undergraduate degree in a health-related field other than nursing and graduated with a master's degree from a midwifery education program accredited by the American College of Midwifery Education. Graduates take the same national certification examination as CNMs but receive the professional designation of certified midwife. CMs are recognized in a few states, but none are currently licensed in Utah.Certified professional midwife: Credential granted by North American Registry of Midwives. May attend accredited direct-entry midwifery school, self-directed education and apprenticeship and various equivalency routes. May be licensed or unlicensed to practice in Utah. Can include licensed direct-entry midwives and unlicensed midwives — commonly referred to as a lay midwife or traditional midwife.Licensed direct-entry midwife: A direct-entry midwife must be a certified professional midwife. Licensed to care for normal pregnant women and their newborns up to six weeks of age. Attend births in homes or in unlicensed birthing centers.Unlicensed midwife: Not required to meet any particular educational standard, are not required to be nationally certified as a CPM, and are not required to meet the consultation and referral requirements specified for licensed direct-entry midwives. Qualifications and practice vary widely. These midwives are designated as "Other Midwife" on the Utah birth certificate and referred to by a variety of names, including lay midwives, traditional midwives or simply direct-entry midwives.
Information: Utah Health Department
Comparing Utah's health districts, the rate from 2010-2012 of home births was highest in the southwest Utah health district, where 6 percent of births — 614 infants — occurred outside of the hospital. The Tooele County health district had the lowest rate of out-of-hospital births at 1.1 percent, or 33 babies.
Accounting for the population of the state as a whole, however, the Salt Lake and Utah county districts had the most babies born outside of the hospital, with 30.4 and 29.2 percent of out-of-hospital births occurring in Utah — reflective of the dense population in those areas.
The review said women who delivered babies at home or in birthing centers were likely to be at a healthier weight prior to pregnancy and had five or more prior births.
Why are women choosing out of hospital births?
For many women giving birth at home — including Kathie Warnock and her niece Kimberly Miller — having control over their environment during labor and delivery is a major benefit. Welcoming a baby directly into their home provides a unique bonding experience for mother and child, they say.
"My one who was birthed in the hospital, it was a lot harder to bond with her than the ones who were birthed at home. My ones who were born at home, it was a very quick and easy bonding," Miller said.
From speaking with midwives who participated in the data gathering, Bloebaum said mothers' reasons may be two-fold.
"I think that women are maybe rebelling a little bit against medicalized childbirth (induction, Caesarean section, medical interventions)," Bloebaum said. "That may be part of the reason. It may be cost, as well. … People are paying a lot out of pocket."
Bloebaum notes that home births or those in birthing centers can be significantly less expensive than hospitalized births. UDH found that many women are paying out of pocket for home births, though the review mentioned that doesn't mean those women were uninsured, as many insurance policies do not cover home births.
The report noted that women who gave birth outside of the hospital also had fewer complications than women who gave birth in hospitals. Exceptions included premature rupturing of membranes, precipitous labor and prolonged labor.
What are the concerns?
The biggest concern, Bloebaum said, was uncertified midwives attending the births.
"The largest percentage of out-of-hospital births are attended by unlicensed midwives. That's of concern as well," she said.
Of women who gave birth at home, 1.9 percent did not have prenatal care, compared to 0.3 percent of women who delivered in hospitals. Additionally, the review said 39.1 percent of women who gave birth at home had inadequate prenatal care, compared to 30.5 percent of those who gave birth in a birth center and 14.9 percent of those who gave birth in a hospital.
Women who gave birth outside the hospital were also less likely to begin care in the first trimester, the report said.
Bloebaum said the mortality rate for births outside the hospital could be higher than those that occur in hospitals.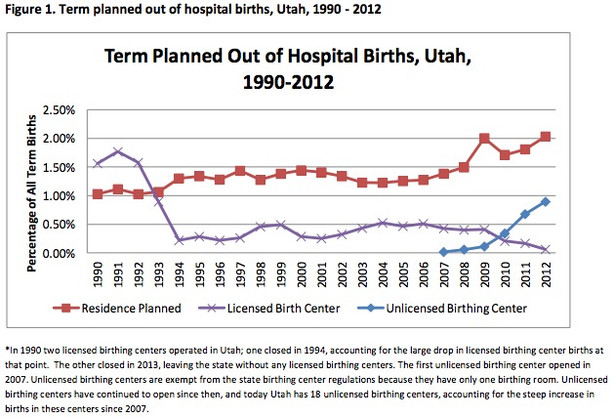 "With the information that we have, we've seen that the mortality rate — the neonatal mortality rate, which is the death rate of infants in the first month of life, and we usually look at that as a marker for the pregnancy and the delivery — is twice the rate of in-hospital births," she said. "So that's concerning. But as we noted in the press release, because of the small numbers in the data, it's a little difficult to say whether that's an artifact of small numbers or whether that's a true concern."
That number, she said, mirrors data gathered nationally about two years ago.
More research needed — by the state and mothers
The qualitative data lack explanation and causation, Bloebaum said. The state will continue to collect data about births and plans to gather more qualitative information.
"I think because of the trend toward out-of-hospital births, I think it's really important that we continue to focus on this issue and this topic so that we can ensure the safety for mothers and their infants," she said. "If women are choosing, then it becomes our responsibility as a state agency that's charged with ensuring and assessing the health of Utah women and babies that these options are safe. And if they're not, then (making) policy changes that would help to improve that."
She also encouraged mothers to research their options and be sure they are choosing the best care provider for themselves and their babies.
"It's certainly something to think about and to consider for women making that decision," she said. "As the report also points out, there are numerous different levels of midwives in Utah — practicing legally in Utah — and I would hope that the general public would make themselves aware of the various levels of midwives and their training. … I guess one of our concerns is that women go into an out-of-hospital birth without being completely educated about their choice. That would be one recommendation that I would make, is to make sure you know what you're getting into."
Contributing: Nkoyo Iyamba and Tammy Kikuchi
×
Related Stories