Estimated read time: 2-3 minutes
This archived news story is available only for your personal, non-commercial use. Information in the story may be outdated or superseded by additional information. Reading or replaying the story in its archived form does not constitute a republication of the story.
Jed Boal reportingIn the days and weeks ahead, snowmelt will accelerate in the mountains. Swift water will rise in community creeks, and it will really surge in many streams this year.
In some of our drought years, the water barely rose in some creeks like Big Cottonwood. Significant flooding is not likely this spring, but streams will roar.
U.S.D.A. Snow Survey Supervisor Randy Julander said, "We still have basically all of the snow to melt, and it's going to come down quickly in the next few weeks."
The snow high in the mountains is just starting to melt. Peak flows are two to three weeks away, but streams are rising.
"The more water put into a creek, the faster it flow," Julander said. "That is an obvious danger as we approach Memorial Day."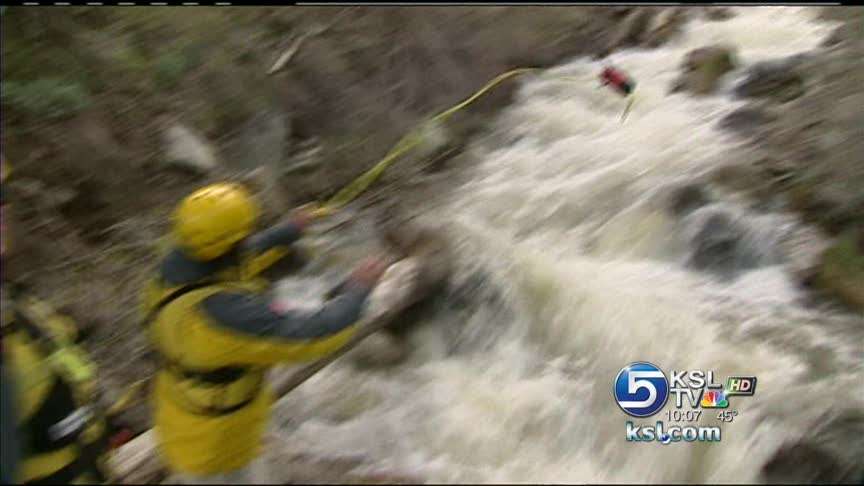 Davis County Whitewater team members showed us just how swift the water is in Farmington Creek. Team member Rex Mumford said, "Staying away is the first precaution. If they fall in, self rescue is the first best hope for someone to get out."
Even that would take incredible luck.
"Tragically, in these kinds of conditions, usually it's a recovery operation," he said.
In a matter of seconds, it's over.
"An individual might think they can hang on to that tree until rescue comes. There is so much power there. You'd never hang on; you'd just be swept down," Mumford explained.
Despite warnings, each year children wander to the banks of the water. Julander said, "Little children are drawn to the streams. They wander over to it and, boom, they're off and gone."
Adults may think they can wade in. "Fast-moving, knee-deep water can knock an adult over very easily. [It's] powerful stuff," Julander said.
The water temperature is less than 38 degrees. In just a few minutes, you could go into hypothermic shock.
E-mail: jboal@ksl.com
×
Most recent Utah stories