Estimated read time: 2-3 minutes
This archived news story is available only for your personal, non-commercial use. Information in the story may be outdated or superseded by additional information. Reading or replaying the story in its archived form does not constitute a republication of the story.
Richard Piatt reportingThe shape of Utah's political season is starting to emerge. Saturday's state party conventions selected the candidates who will run in the primary election and beyond. One of the most-watched races so far is Rep. Chris Cannon's fight to keep his place in Congress.
Jason Chaffetz may not be a name you know as well as you do Chris Cannon, but Chaffetz wants to change that. He's offering Cannon one of the most serious political challenges he's ever faced.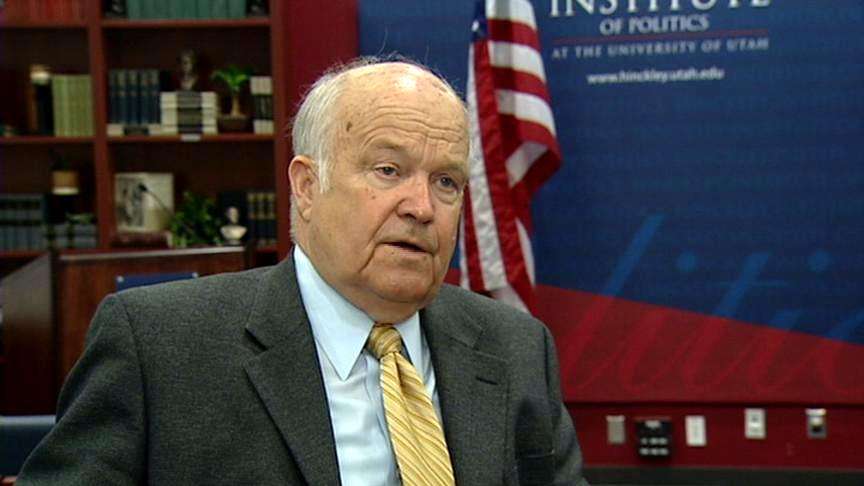 The fact that Chaffetz came within nine delegate votes of outright eliminating Cannon is a sign. Cannon knows it too. He knows taxpayers are discontented and disenchanted with politics and he may become part of a tidal wave demanding change.
"I think it's a little bit deeper this time. He's got the greatest challenge of his career," said Utah political pollster Dan Jones.
Saturday, both Chaffetz and Cannon agreed on many things. They did not, however, agree on whether Cannon's incumbency is a liability or an asset.
Money-wise, it's an asset; otherwise, it may or may not be. "Voters are absolutely fed up with what's going on in Washington, D.C., and what their representatives are doing and not doing. And I've been a message for change, change for the better," Chaffetz said.
Cannon said, "I think people are going to look at, see what needs to be done, what are our values in Utah? And I would let the people in Utah make that decision."
The two have six weeks to campaign before the primary. The winner will face Democrat Bennion Spencer in the fall.
That race, and an overall quest for change, has Utah Democrats hopeful this year, especially in legislative races. "All Utahns are starting to recognize that we were better off when we were a little bit more purple. I think you're going to see the end to the supermajority up here in the House and Senate," said Rob Miller, with the Utah Democratic Party.
Today, Democrat Josie Valdez filed as running mate to gubernatorial candidate Bob Springmeyer. As a Latina candidate, a word she says she likes, she's hoping to spark a lot of support. "There is a huge population there that has been untapped, and I want to generate excitement there," she said.
So, jumping ahead, is this the year for Democrats in the 3rd District? There, a lot of people who are active in politics are asking for a more conservative voice now, but what counts is who shows up in the voting booths in November.
E-mail: rpiatt@ksl.com
×
Related links
Most recent Utah stories