Estimated read time: 4-5 minutes
This archived news story is available only for your personal, non-commercial use. Information in the story may be outdated or superseded by additional information. Reading or replaying the story in its archived form does not constitute a republication of the story.
CEDAR HILLS — Christmas lights by the millions make New York City shimmer in December. But a 12-year-old dancer from Cedar Hills shines a light of her own this year in the Radio City Christmas Spectacular.
Rylee Rogers performs the role of Clara in the "Nutcracker" segment of the show.
"It's just such a wonderful show and it's so much fun," she said. "I've just enjoyed every minute of it — from the rehearsals, tech rehearsals, dress rehearsals to performances. It's all just been such an incredible experience."
Rylee started the audition process at Radio City back in June.
"There were about 150 girls there and they made some cuts and narrowed it down to some finalists and then, over the summer, they would call us and tell us if we got it," she said.
Rylee admits waiting for the results made for some anxious days and weeks this summer. Radio City has touring casts, so she could have been accepted to perform in another city.
"I was so excited when I got the role of Clara in New York," she said. "Radio City is such a legendary stage. I look forward to every performance… on the grandest stage in the world."
Rylee started dance classes when she was just 2. In 2012, at age 10, Rylee danced the role of Clara in Ballet West's "The Nutcracker."
While herself a featured performer, Rylee also studies the other dancers — particularly the famed Rockettes.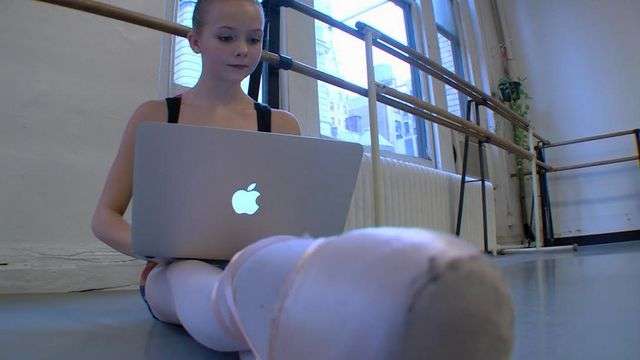 "I admire them," she said. "I love the part where they perform (as) rag dolls. They have fun costumes, they tap… it's just such a fun-filled number. I memorized some of it and do it in my dressing room and backstage."
Speaking of backstage, the feeling there, she says, is very much like a family, even with more than 140 performers.
"Everyone is so caring of each other and so friendly and it's just so much fun to share this experience with all of them," Rylee said.
She doesn't have to miss her own family, because most of them are in NYC with her. Since Oct. 7, Rylee has lived in an apartment with her mom, Shannon; her 9-year-old brother, Tanner; and 7-year-old sister, Savannah. Her dad, Chris, visits on weekends and both sets of grandparents take turns being part of the New York routine.
"I just live five minutes away from Radio City," she said. "It's a great location. I just feel so excited every morning and privileged to have this opportunity."
Shannon Rogers jumped at the opportunity to move her kids to the big city over the holidays. While the arrangement has had its challenges, it's been well worth it.
"It's been a lot of work, but this has been such an amazing experience to be in New York City at Christmas time," she said. "Every Christmas movie you see is set here, so, it's amazing."
Back in Utah, Rylee studies under Jenny Barlow, owner of Barlow Arts Conservatory. As a former dancer with Ballet West and a former Rockette, she urged Rylee to audition for the Radio City Christmas Spectacular.
---
Just never give up. Always try your very best and always have fun while you do it, because if you don't love it, then there's no use doing it.
–Rylee Rogers
---
School and dance classes are not put on hold just because Rylee is living and working out of town. She's not the only one — because of the number of performances, 10 to 12 shows a week, the role of Clara is triple cast.
"Each Clara rotates to either the morning shows, the midday shows or the late night shows," Rylee said. "So, if you're in the late night shows, which I am this week, you have tutoring in the morning, then you do a show and have a little more tutoring between both shows and then you have a late night show."
On days off, Rylee takes ballet classes at "Steps on Broadway," where young hopefuls share floor space with professional dancers.
Rylee has some advice for other young dancers who might want to follow in her footsteps.
"Just never give up," she said. "Always try your very best and always have fun while you do it, because if you don't love it, then there's no use doing it."
The Rogers family will celebrate Christmas in New York City. For Rylee, every performance serves as a constant reminder of the true meaning of the holiday.
"At the very end, the Nativity scene is so Christ-like and it makes me feel so happy every time I see it," she said.
Rylee Rogers and the rest of the company continue their performances through Dec. 31.
×
Photos
Related stories
Most recent Utah stories