Estimated read time: 6-7 minutes
This archived news story is available only for your personal, non-commercial use. Information in the story may be outdated or superseded by additional information. Reading or replaying the story in its archived form does not constitute a republication of the story.
SANDY — Garth Lagerwey came to Real Salt Lake in 2007, a rising lawyer and TV analyst in the Washington, D.C. area, at the behest of former Duke University teammate Jason Kreis as the latter ascended to his first head coaching job in Major League Soccer.
As general manager, Lagerwey helped Kreis to unprecedented success at Major League Soccer's 2005 expansion team, winning the MLS Cup in 2009 and advancing to the CONCACAF Champion's League final in 2011 — still the only MLS side to advance as far in the competition's history.
Three years later, both members of the dynamic duo in Salt Lake City have left.
One year after Kreis accepted the head coaching job at New York City FC, Lagerwey will depart RSL for a similar role with Seattle Sounders FC, according to multiple reports.
The news was first reported by ESPN analyst and former New England striker Taylor Twellman, and later by SI.com's Brian Straus.
RSL confirmed Lagerwey's departure on Tuesday, promoting assistant coach Craig Waibel to the club's new technical director. Waibel joined head coach Jeff Cassar's staff one year ago, coaching the defenders in his first MLS job. The former Houston Dynamo stalwart won four MLS Cup titles as a player.
"Craig is an extraordinarily bright, successful individual whose teams have been winners at every step of his career," RSL owner Dell Loy Hansen said in a statement. "He is the ideal person to work with Jeff Cassar, Bill Manning and myself to evolve this club forward, building upon the incredible foundation established during the last 10 years by Garth Lagerwey and countless others."
Video: Waibel on new role with RSL
Craig Waibel, RSL technical director
(Video: RSL Communications)
Lagerwey is under contract with RSL through Dec. 31, and the club would not comment on the general manager's move to the Pacific Northwest. Lagerwey's contract stated any other club's inquiry into a new position would have to include talks of "team president," and it is expected he will take on many of those responsibilities with the Sounders and current GM Adrian Hanauer.
RSL's director of soccer operations Elliott Fall has been promoted to assistant general manager within the club. Fall is a native of Salt Lake City and a graduate of Judge Memorial High School and the University of Utah who has been with the club since 2007.
When Lagerwey met with the media at RSL's exit physicals a month ago, he gave no indication whether he would stay or go, preferring to focus on the range of new player acquisitions and draft tools before the club at the time.
"There's no rush. I'm in no hurry (to set up a new contract)," Lagerwey said in the offices of SportsMed Utah. "We have a number of weeks. I'm totally committed to the offseason, there's a ton of work to do, and I'm going to keep helping the franchise and this coaching staff for as long as I can."
Lagerwey cleared out his office at Rio Tinto Stadium last week, and RSL already has a new general manager lined up, according to Straus.
"I don't think it's fair to characterize anything until I sit down with Mr. Hansen and pay him the respect," Lagerwey said. "I think when you get that information, it'll be much easier to make that decision."
Lagerway said his decision to stay or go would be based on several factors and would never be about money or loaded contracts. He added that it 'won't be an easy choice' in his lengthy conversation with the media.
"I like Salt Lake very much," he said. "My family likes it, my wife likes it. I moved here as a single guy, dating my wife long-distance for a time, and then we moved here. I bought a house, got married, and started a family. It's a special place here. Our lives have changed here. It's been really fun, and it's been a real pleasure to build this organization, along with Jason, Jeff (Cassar), Dave Checketts and Dell Loy Hansen, and everybody. I hope we can have the spirit at some point that we all did this together, and it wasn't one person or one entity. Without our collective efforts, it might not have made it.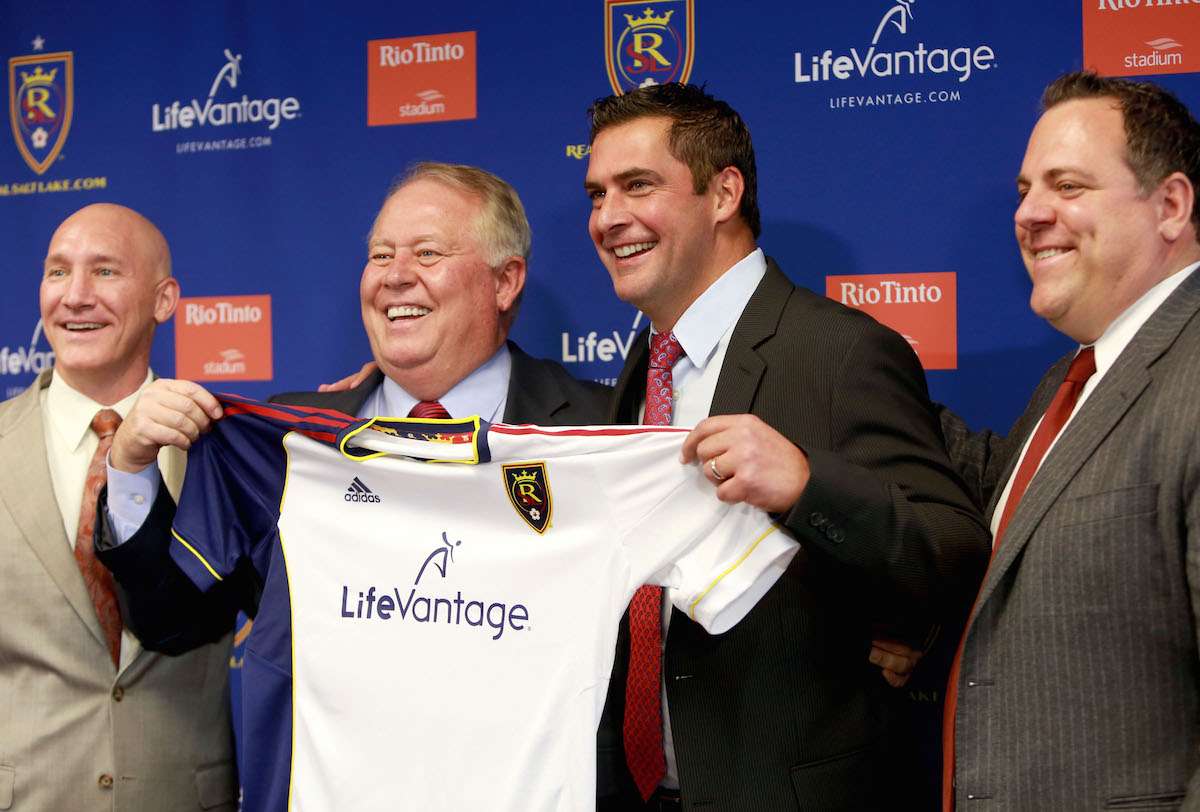 "The fans here are amazing. People saying things on social media, come up to me on the street, saying 'thank you' and being appreciative; it's the kind of thing that doesn't happen in big cities. It's been a neat place for us, and that will be a factor. Professionally, what's the best opportunity? That'll be a factor. Although money is not going to decide anything, Mr. Hansen has plenty of money; I don't see that being a deciding factor in this one. I don't believe it was with Jason, and I don't believe it will be with me. It's opportunity, it's a career, it's what puts me on the best path going forward, understanding that there are a lot of positives here."
Regardless of the final outcome, Lagerwey's tenure with RSL was a success. He helped guide a club that went 6-15-9 in 2007 (and won 21 total matches in its first three years) to 10-10-10 and the Western Conference semifinals in the next season. The trend continued over the next six seasons, culminating in the 2009 MLS Cup final and including playoff runs in a league-high seven-straight seasons.
His final year also ended with RSL's worst playoff loss in franchise history, a 5-0 decimation at the L.A. Galaxy.
"There were a lot of good data points (from 2014)," Lagerwey said in November. "There was some good, some bad, but overall good in Jeff Cassar's first season. It's a phenomenally difficult task to put in a rookie coach with a veteran group like that."
Off the field, RSL also inked lucrative sponsorships deals under Lagerwey's tenure with local companies XanGo and LifeVantage. Real Salt Lake was the first MLS team to sign a front-of-jersey sponsorship when it contracted with XanGo in 2007.
Lagerwey's departure marks the 10th person from RSL's 2009 Cup title to leave the club since 2012. Former owner Dave Checketts and Kreis are front-office departures, and offseason departures Nat Borchers, Robbie Findley, Ned Grabavoy and Chris Wingert join previous trades Fabian Espindola, Jamison Olave and Will Johnson in leaving the club from the 2009 class.
Nick Rimando, Kyle Beckerman and Javier Morales are the only starters from the 2009 final to remain with Real Salt Lake. Current starter Tony Beltran was an unused substitute in that game behind starting outside back Robbie Russell.
"He's part of the club, just like coaches like Jason and Jeff, and any player," Morales said of Lagerwey. "I think everyone put something into the club and tried to do his best. I think he did well, and he was important for the team."
×
Photos
Related stories
Most recent Sports stories