Estimated read time: 4-5 minutes
This archived news story is available only for your personal, non-commercial use. Information in the story may be outdated or superseded by additional information. Reading or replaying the story in its archived form does not constitute a republication of the story.
SALT LAKE CITY — Most times, the best gifts we get are not found under the Christmas tree. This season a Davis County family is grateful for the gift of sight their son has received.
Like all loving parents, Stephanie and Randy Farnsworth want the best for their son Ramiar, or as his friends know him, Tian Tian.
Tian Tian is a happy 13-year-old boy with Down syndrome. He has worn eyeglasses for much of his life, but as his eyesight began quickly changing and getting progressively worse, his parents were concerned for him. His father said, "At one point, we were worried he would lose his eyesight completely."
They sought the help of specialists at the Moran Eye Center in Salt Lake City. Tian Tian's eyesight had become significantly worse. His left eye was measuring 20/400 and his right eye was 20/70. The Farnsworths were told their son has keratoconus, an eye disease that affects the structure of the cornea. Typically doctors recommend a cornea transplant for patients in his condition, but his parents and doctor were worried that procedure might not be the best option for Tian Tian.
---
They did some initial tests and scans that day and found out that his eyes were already much, much better than before. We were so amazed!
–Randy Farnsworth
---
"The primary risk of corneal transplant in patients who have Down syndrome is that Downs patients tend to rub their eyes," said Dr. Balamurali Ambati, the director of cornea research at the Moran Eye Center. "When we do a cornea transplant, we put in stitches to secure the transplant and if you rub your eye strongly that can break stitches, which can be a problem. If we can avoid a transplant and restore his vision without doing a major surgery, that's in his best interest."
For Tian Tian, Ambati recommended a new procedure called collagen cross-linking, "where using a combination of vitamin riboflavin eye drops, which is vitamin B2 in an eye drop form, with a special laser in the ultraviolet range, we can actually cross-link the collagen fibers and make the substance of the cornea structurally more sound and slow down and sometimes even reverse the buckling process."
Cross-linking is an out-patient procedure that takes about a half hour to do and is far less invasive than corneal transplants. However, it's not yet approved in the United States.
"It's had very promising results in Europe," Ambati said, "which is why I sent Ramiar there."
After careful research, the Farnsworths decided to take Tian Tian to Greece to have the cross-linking procedure done. Randy Farnsworth said it went very well.
"We did a lot of research about it and found out the doctor we were going to happened to be the foremost expert in the world on this. It really is a great facility and a great procedure," he said.
They did the procedure in the morning and went back later that day for a follow-up exam.
"They did some initial tests and scans that day and found out that his eyes were already much, much better than before," Farnsworth said. "We were so amazed!"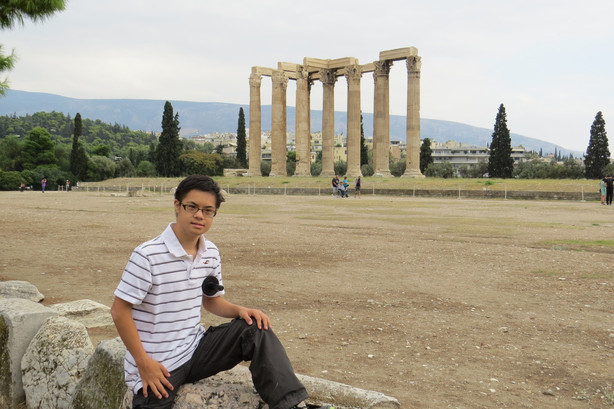 Deciding to take Tian Tian to Greece was easy; the Farnsworths knew they wanted to help their son in the best way possible. But since the procedure is not approved in the U.S., it is not covered by insurance, so they knew it was going to be expensive. They had planned to sell their car or use their savings to pay for the trip, but they were surprised when friends, family and even strangers stepped in to help them out.
Farnsworth said, "The week before we left, we were at church and people were just walking up to us and handing us red envelopes, as is the custom in China. People clear over in Virginia, that have never met us, even rallied together and helped out. It was really humbling to get that much assistance."
Tian Tian's vision is much better than it was before. His right eye is now 20/40 and his left eye is less than 20/200. But the best news is, his eyes are much more stable and will not require a corneal transplant.
The Farnsworths are grateful for all the help they received and for how things have turned out. "It really is a gift," Randy Farnsworth said. "It gave him the gift of sight and gave us the gift of being happy for our son."
Ambati said the cross-linking procedure should be available in the United States sometime in the next 18 months. The Moran Eye Center will offer the procedure once it is approved. The introduction could reduce the number of cornea transplants done here. Patients with mild to moderate keratoconus could benefit from this new procedure.
Contributin: Ed Yeats
×
Photos