Estimated read time: 2-3 minutes
This archived news story is available only for your personal, non-commercial use. Information in the story may be outdated or superseded by additional information. Reading or replaying the story in its archived form does not constitute a republication of the story.
Ed Yeates reportingLifting weights, jogging or watching the waistline is not just for humans. In fact, fitness is now very much a part of things at Hogle Zoo, and we're not talking about the zookeepers.
Hey, couch potatoes! Get up and move! Stretch those muscles; twist those bodies! After all, it's the human way. Or is it?
Some of the stretching is being done by Nisha, an elephant at Hogle Zoo. She's doing her thing to stay fit, and so are the other elephants.
Neck flapping. Twisting the body. Stretching and bending. The big guys work out four or more times a day. They even walk and jog. This animal enrichment program has become the envy of zoological gardens around the country.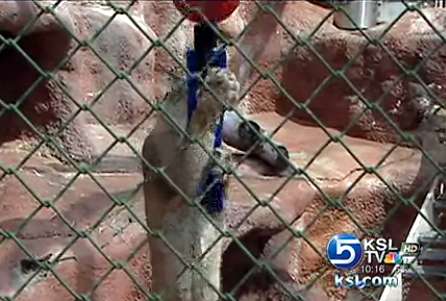 As humans, we can pretty much do what we want to do. We can exercise and run about. But animals at Hogle Zoo, especially those that are born in captivity, have to have some kind of trigger, some kind of incentive, to exercise.
The zoo's behavioral enrichment coordinator, Dawn Neptune, said, "We're quite proud here at Hogle Zoo because our program has kind of set the standard in a lot of ways, and we have made it a requirement."
For a big cat, zookeepers hide a bone in a tree so he has to jump and climb to get it. We stretch muscles using a cable press. But there is a specially-designed bungee for the cats' personalized gym.
Lifting weights will tone the biceps. How about a 50 pound ball for the trunk-ceps?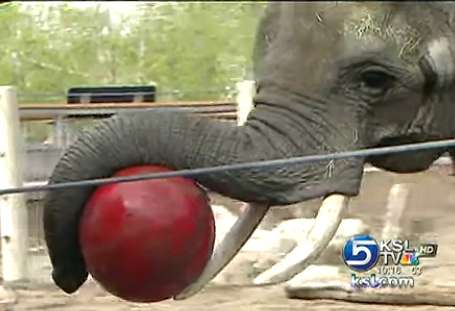 "Unlike their wild counterparts, where you have to survive every single day -- you're looking for food and competing for territory, you're looking out for predators, all those things - these guys live the easy life," Neptune said.
So work out and weigh in. Trainers have even taught the animals of all sizes how to weigh themselves.
Zoo animals live more than twice the normal lifespan of their counterparts in the wild. The enrichment program, which researchers believe enhances them both physically and psychologically, may increase that life even more.
E-mail: eyeates@ksl.com
×
Most recent Utah stories