Estimated read time: 3-4 minutes
This archived news story is available only for your personal, non-commercial use. Information in the story may be outdated or superseded by additional information. Reading or replaying the story in its archived form does not constitute a republication of the story.
NORTH SALT LAKE — Two men were killed Tuesday when their helicopter crashed into a vacant two-story building.
North Salt Lake police identified the men as Claus Hauer and Bruce Orr. Both were residents of the Wasatch Front, according to North Salt Lake Police Chief Craig Black.
Hauer was a former chopper pilot for KUTV.
The crash occurred just before 2 p.m. at 501 W. 900 North. Black did not know Tuesday whether the helicopter was a commercial vehicle or was being used for training.
Sky Park Airport in Woods Cross is very close to the crash site and has a high number of daily helicopter flights.
The building that the helicopter crashed into was vacant, Black said. The Federal Aviation Administration was expected to arrive at the scene to investigate. A cause of the crash was not immediately known.
Black said the North Salt Lake Police Department was working in a supportive role to secure the scene for the FAA, which will conduct an investigation. The helicopter remained in the building Tuesday night, he said.
Several witnesses said they saw the tail rotor break off the helicopter.
Man killed in helicopter crash survived 1999 crash landing
By Andrew Adams
Claus Hauer, one of the men killed in the North Salt Lake helicopter crash Tuesday, was a very experienced pilot and instructor who flew both helicopters and planes. That experience helped pull him through one close call we found in the KSL News archives.
In September 1999, Hauer was piloting a plane that made a crash landing in Murray.
"I thought for sure I was going to hit the horses," Hauer told our reporter. "I said, 'I don't want this road;' so therefore I steered it into a tree and said, 'Hang on!'"
His quick thinking meant he and a student were alive to talk about it afterward.
"I was 100 percent convinced I was in control of the aircraft," Hauer said in the interview. "I knew I was going to be able to put it down."
Fifteen years later, a similar situation turned out very differently.
Following the fatal crash, KSL Chopper 5 pilot Ben Tidswell remembered the men who died as experienced professionals, "pillars of the community," as well as good fathers and husbands.
"It's something that shocks all of us," Tidswell said. "It's a sad day."
Email: aadams@ksl.com
"I hear this helicopter flying right over me and then I hear this engine thrust really loud and then something exploded and (a) piece of the rudder came out of the helicopter," said Vartkes Megerdichian. "It flipped sideways and another explosion happened and shot the helicopter forward.
"There were parts everywhere coming down."
Ben Tidswell, the pilot for KSL Chopper 5, was at Sky Park Airport when he heard a strange noise — "the sound of things coming to pieces big time" or "an in-flight breakup."
Moments later, Tidswell said his mechanic pounded on his door and told him he had just witnessed the helicopter fall apart in midair and crash.
"The entire tail rotor and assembly is sitting about 200 yards away from where the rest of the aircraft crashed down into the building. The aircraft itself was smoldering, seemingly on fire in the building, completely inside the building," he said.
Jordan Anderson was walking nearby when he also heard the chopper.
"I heard a loud, best way to describe it is a backfire, like an engine backfire," he said. "Right after I heard that loud bang. I just saw it tank right to the ground."
Bob Costagno was on the phone at a nearby business when he looked up and saw the crash.
"It made a sound like it was breaking apart, like backfiring, then the tail shaft broke right off," he said. "It just went straight down. It looked like the guy was trying to get out, but I didn't think he had a chance."
Debris from the crash was spread out over a 400- to 500-yard area, Tidswell said.
Costagno watched as rescue crews took one person out of the building.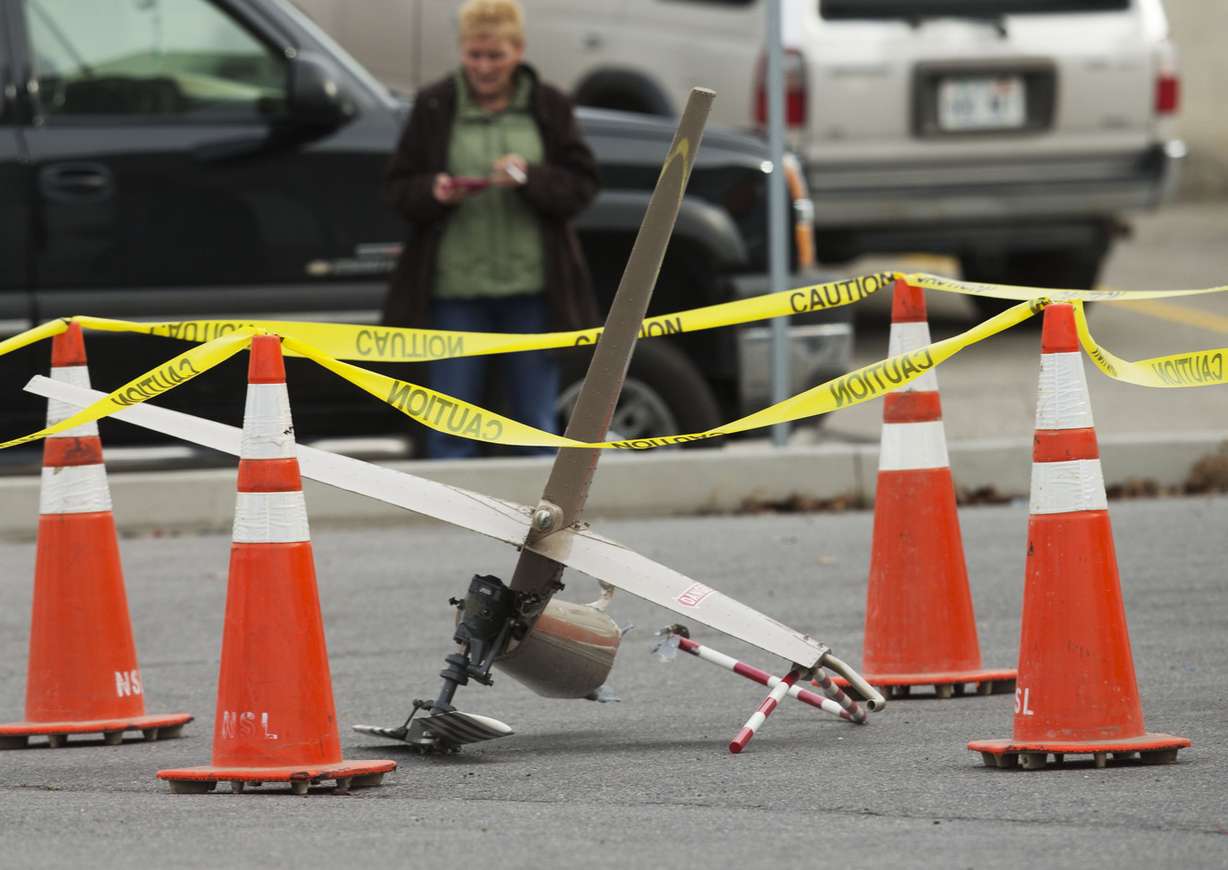 "They brought someone out the front door and laid him on the ground and were doing CPR, and then covered him up," he said.
That man was pronounced dead at the scene. The second man died inside the helicopter. "(He) would have needed to be extricated to get out and that wasn't possible to do," said South Davis Metro Deputy Fire Chief Dave Powers.
A sign at the top of the building says "Wimpole Street Creations." There is a "For Lease" sign in front of the building. Costagno, who works nearby, said he believes the company recently moved out of that building.
There were unconfirmed reports that a mechanic had been working on the helicopter for the past several weeks.
Black said crews were working Tuesday afternoon on a plan to get the copter debris removed from the building.
"The helicopter right now is embedded into the top of that building," he said.
Contributing: Andrew Adams
×
Photos