Estimated read time: 4-5 minutes
This archived news story is available only for your personal, non-commercial use. Information in the story may be outdated or superseded by additional information. Reading or replaying the story in its archived form does not constitute a republication of the story.
CEDAR CITY — A school district in southern Utah is taking steps to stop what's known as the "choking game."
According to the Centers for Disease Control, students also call it "space monkey," "airplaning" and "Cloud 9," among other things. It's a dangerous game to try to make themselves or others pass out in order to get a quick high.
It's been happening for decades, the choking game is now part of the health curriculum at Iron County School District elementary, middle and high schools.
"We've had four children die of this," said Iron County School District Director of Secondary Education Jennifer Wood. "As educators, we just felt really strongly that we should do what we can do in Iron County School District to educate the kids, educate the teachers, educate the parents on what it is, what it means and the devastating effects if it goes bad."
School officials said they've heard of students choking each other on the playgrounds, in the hallways and even in classrooms when teachers aren't looking or leave to get supplies.
Students are now taught about how the choking game can cause brain damage and even death. They're also taught how to say no under peer pressure.
The idea to implement the curriculum came from Cedar City police detective Mike Bleak.
Bleak investigated several young children's deaths and determined that while the deaths looked like suicides they were in fact accidental deaths due to the choking game.
"You've got to really look into the circumstances surrounding the death, kind of with a fine-toothed comb," said Bleak. "We like to refer to it as a psychological autopsy."
The CDC doesn't have a good way to track the number of children dying across the country from the choking game because so many of the deaths are ruled suicides. The last report looked at deaths between 1995-2007. CDC investigators identified 82 probable choking game deaths among youths ages 6 to 19. The report showed 87 percent of the deaths were boys, 13 percent were girls.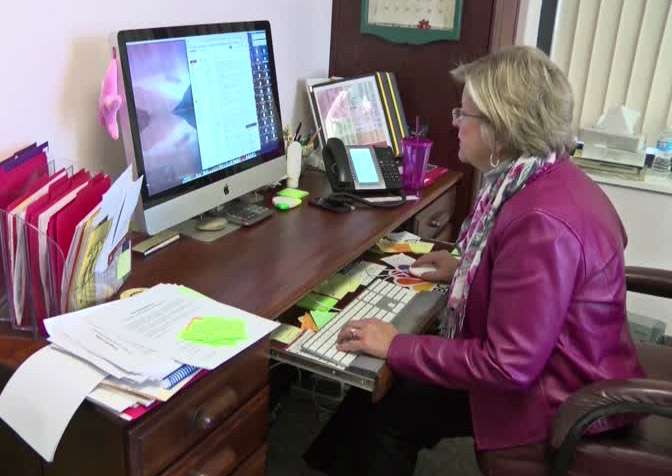 The choking game produces a quick high by first restricting blood flow to the brain and then suddenly letting blood back into the brain.
"The adrenaline rush, the endorphin rush, those type of things do become physically addictive," said Bleak. "A child may start to do this type of activity in a group setting, become physically addicted to that activity and they are going to find ways to get that same sort of physiological feeling by themselves."
Police said kids start to use belts, ropes or other items to strangle themselves and that's when it becomes deadly. It's also why many of the deaths are thought to be suicides.
Kids have been playing the choking game for decades but it has changed with social media. Now thousands of "how-to" videos are available online.
"There's all sorts of videos that purport that this game is not dangerous; that this isn't something that can hurt you," said Bleak. He said part of the problem is that kids think it's a way to get high without using drugs or alcohol.
"This is often referred to as 'the good kids' high,' " he said.
Part of the curriculum being used by the Iron County School District aims to educate parents as well.
Los Angeles mom Judy Rogg said she'd never heard of the choking game until police told her that was what killed her 12-year-old son, Erik Robinson.
"He learned about it on Monday and tried it on Tuesday," said Rogg. By Wednesday, Erik was on life support and by Thursday, Rogg was planning a funeral for her son. After her son's death, Rogg teamed up with other social workers and experts to put together the curriculum being taught in Cedar City. She believes if Robinson knew just how dangerous the choking game was, he never would have tried it.
"If he had thought that something could possibly harm any part of his body, he would not have done this," she said. "He had a lust and love for life."
Rogg said she's thrilled the Iron County School District has adopted her program. She said it's been difficult getting other school districts across the country to consider teaching it.
"There's always a fear like there was with other types of risk behaviors; if we tell them, we might be putting ideas in their heads," she said. "My response to that typically is that 20 to 30 years ago the same thing was said about drug and alcohol prevention. … The fact of the matter is that kids already know about it but kids unfortunately only know one side of it from the Internet and their friends at school. They don't know what's going on inside of their bodies and they don't understand the real serious risk."
That's why Iron County District officials said they're willing to talk about it with their students.
"We're willing to do anything we can," said Wood, "If it means forging the way, being the first to do it, implementing a curriculum that's not research-based because we believe in it. We've had these children die. We're willing to do whatever."
What to look for
According to the CDC, there are signs parents can look for:
Bloodshot eyes
Red dots on face
Marks on the neck
Ropes, scarves or belts tied onto pieces of furniture in an odd way or left knotted on the floor
×
Photos
Related links
Related stories
Most recent Utah stories