Estimated read time: 2-3 minutes
This archived news story is available only for your personal, non-commercial use. Information in the story may be outdated or superseded by additional information. Reading or replaying the story in its archived form does not constitute a republication of the story.
SPANISH FORK — A tanker explosion and the ensuing fire shut down I-15 near the U.S. 6 off-ramp Friday.
"(I) just saw this massive plume, like a mushroom. … My first inclination was like a bomb or something went off," said Fredrick Haywood, a motorist who witnessed the accident aftermath shortly after the crash.
Other motorists rushed to the burning tanker and reportedly pulled the 28-year-old driver, from Colorado, out of the vehicle. The man, whose name was not immediately released, was flown by medical helicopter to the Intermountain Burn Center in critical condition, according to the Utah Highway Patrol.
About 2:20 p.m., a tanker hauling approximately 8,500 gallons of gasoline was trying to go from southbound I-15 to eastbound U.S. 6 when the vehicle went off the left side of the ramp for an unknown reason, down the embankment, crashed and exploded, according to the Utah Highway Patrol.
"It was just exploding. I mean, each compartment was popping off like big firecrackers," Haywood said. "Just poof, poof, poof."
The freeway was closed in both directions as fire and medical crews responded. A huge plume of black smoke from the burning tanker could be seen for miles.
When the fire was put out, emergency crews found about 1,500 gallons of unburned fuel still in the tanker, according to the UHP.
"I saw about five or six people, or seven or eight people, running toward the truck and like three or four of them ran back and another three or four ran forward," Haywood said.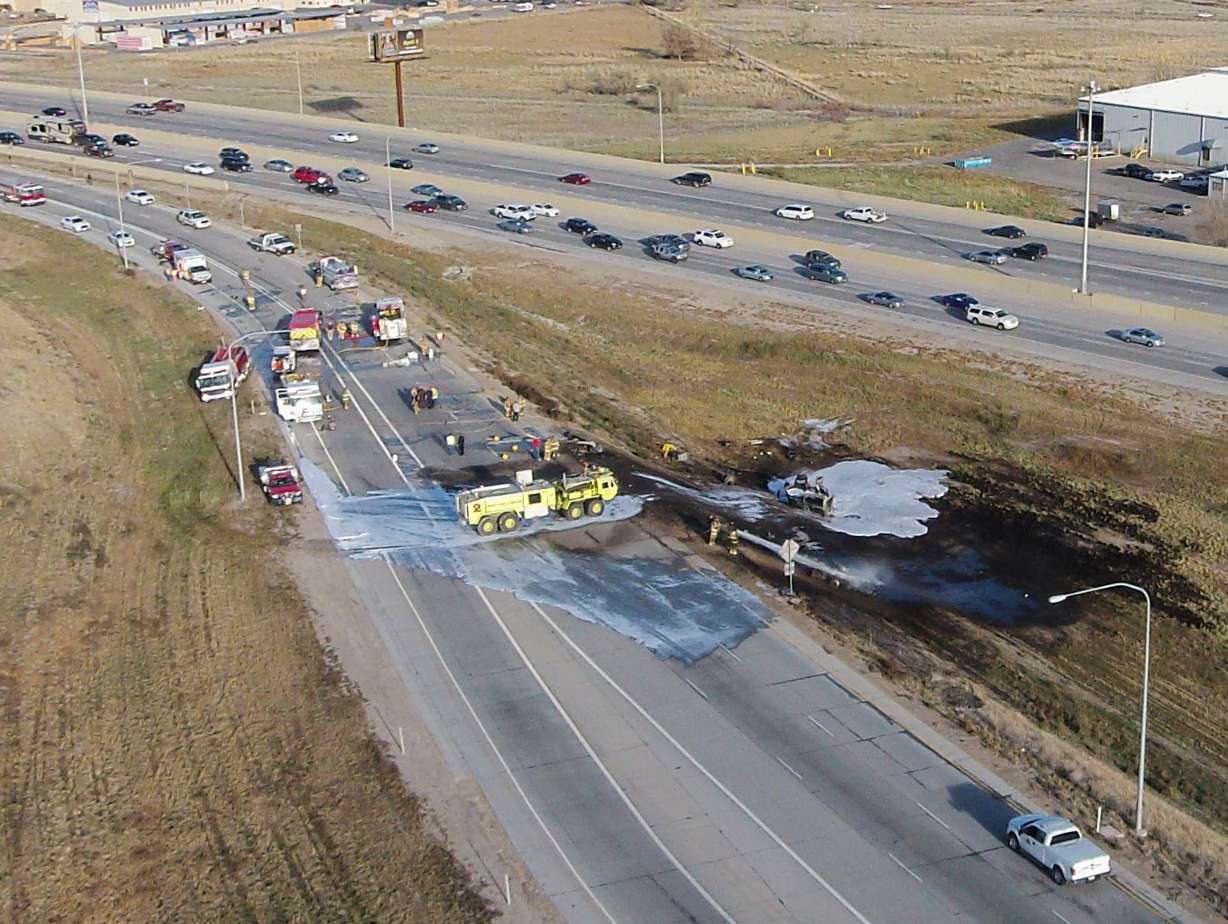 UHP said those people helped to get the injured driver away from the tanker.
Although I-15 reopened a couple of hours later, the off-ramp was expected to remained closed though Friday evening.
Investigators are trying to figure out why the truck drove off the road. They say they don't have any evidence that another car was nearby.
"Where the truck went off, it was kind of in a little straightaway between a couple of turns," UHP Sgt. Brett Christensen said. "So we don't know if speed was a factor or what else may have been involved."
For Haywood, a trucker who also hauls fuel, it was an up-close look at his worst nightmare.
He passes through the area as often as five times a week, and says the connector can be tricky when going too fast.
"Especially if you're loaded," Haywood said. "The weight pulls to your outside of the curve you're taking. And from the looks of this the weight pulled him to his left."
As UHP tries to piece together what's left, others are taking the roadway inferno as an unsettling reminder of road safety.
"It just wakes you up, you know, because that could be me," Haywood said. "That could be anybody. I pray for the family and pray for the guy. Hope that he's going to be OK and that he has a rapid recovery from the situation."
×
Photos