This archived news story is available only for your personal, non-commercial use. Information in the story may be outdated or superseded by additional information. Reading or replaying the story in its archived form does not constitute a republication of the story.
DUCHESNE — Two men and a teenage boy have admitted in court that they burglarized an LDS meetinghouse in Duchesne in October.
Tristan Joseph Peterson Hirst and Denver Timothy Bell, both 19, were initially charged with burglary and criminal mischief, both third-degree felonies, and theft, a class A misdemeanor.
On Monday, the pair pleaded guilty in 8th District Court to the burglary and theft charges. Duchesne County prosecutors asked the judge to dismiss the criminal mischief charges in exchange for their pleas, and reduced the theft charge in Bell's case to a class B misdemeanor.
Hirst, Bell and a 17-year-old boy caused extensive damage to The Church of Jesus Christ of Latter-day Saints meetinghouse, 181 N. 200 West, on Oct. 15. Charging documents state that doors were kicked in, a filing cabinet was pried open with a hammer and screwdriver, and several areas of the church were tagged with red spray paint and permanent marker.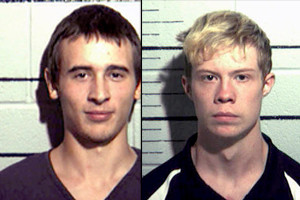 Church medallions and pins, along with about $500 of tithing money, were taken from offices, investigators said. Anarchy symbols were spray painted on a portrait of Jesus Christ, the door to the bishop's office and the front wall of the chapel.
A Duchesne County sheriff's deputy recalled seeing the same symbol painted inside Hirst's home during a prior investigation, which led authorities to Hirst. Detectives also found shoe prints around the building and on the doors that had been kicked in, which matched Hirst's shoes.
The 17-year-old boy involved in the incident entered admissions in juvenile court earlier this month to allegations of burglary and theft, according to deputy Duchesne County attorney Anthony Wilcox.
Hirst and Bell are scheduled to be sentenced Jan. 5. Hirst, Bell and the teenager have agreed to pay for the damage to the church as part of their plea agreements with prosecutors.
×
Photos
Related Stories