Estimated read time: 4-5 minutes
This archived news story is available only for your personal, non-commercial use. Information in the story may be outdated or superseded by additional information. Reading or replaying the story in its archived form does not constitute a republication of the story.
SALT LAKE CITY — When leaves start to change color and nighttime temperatures drop to near-freezing, most people pull a coat out of their closet, put another blanket on their beds.
"It's the things most of us take for granted in our lives that our homeless neighbors can't take for granted," says Chris Croswhite, executive director of the Rescue Mission of Salt Lake.
It's everything from having dry socks to wear, a warm coat to bundle up against the weather to a blanket to help keep warm at night.
Agencies that help homeless people, newly resettled refugees and people escaping domestic violence need donations of new and gently used winter coats, winter clothing, socks, blankets, hats and gloves.
Volunteers of America Utah, which provides outreach services to homeless people who choose not to use shelters, particularly need rain ponchos, said spokeswoman DeAnn Zebelean.
"That season, when were starting to come into snow, snow is actually easier to deal with. When it rains, they get so wet. Ponchos are something we need desperately," she said.
Ditto for waterproof coats and sleeping bags. "We never have enough coats and sleeping bags to meet the demand that we have," she said.
International Rescue Committee's Salt Lake office, one of the two primary refugee resettlement agencies in Utah, is conducting a winter coat/winter clothing drive through Oct. 15. Donations can be dropped off at the nonprofit organization's offices at 221 S. 400 West from 9 a.m. to 5 p.m. weekdays.
---
That winter clothing is necessary in the respect they haven't seen that kind of climate and weather before in their lives. Coats, winter boots, snow pants, things like that are definitely a must as the temperatures start to drop.
–Jesse Sheets, Salt Lake donation coordinator for the International Rescue Committee
---
Many refugees who are resettled in Salt Lake City come from countries that do not experience harsh winter conditions, said donation coordinator Jesse Sheets. Most arrive in the United States with the clothing they have on their backs and perhaps one suitcase.
"That winter clothing is necessary in the respect they haven't seen that kind of climate and weather before in their lives. Coats, winter boots, snow pants, things like that are definitely a must as the temperatures start to drop," Sheets said.
While nonprofit organizations need donations of coats and warm clothing to assist their clients, agencies that provide shelter also want to spread the word that beds are available many nights and at a minimum, people can sleep on the floor on mats or cots to escape the cold.
Matthew Minkevitch, executive director of The Road Home, which houses, shelters and provides case management to clients, said if there isn't room, they will find places for people coming in from the cold.
On Oct. 1, The Road Home started using space in Catholic Community Services' St. Vincent de Paul Center, which is across the street from its community shelter. People sleep on mats on the floor. Many of the people who use the option are intoxicated.
"It's very much a harm reduction model, to keep guys from freezing to death," Minkevitch said.
The Road Home plans to open its winter overflow shelter in Midvale on Nov. 1, which will open up more space downtown.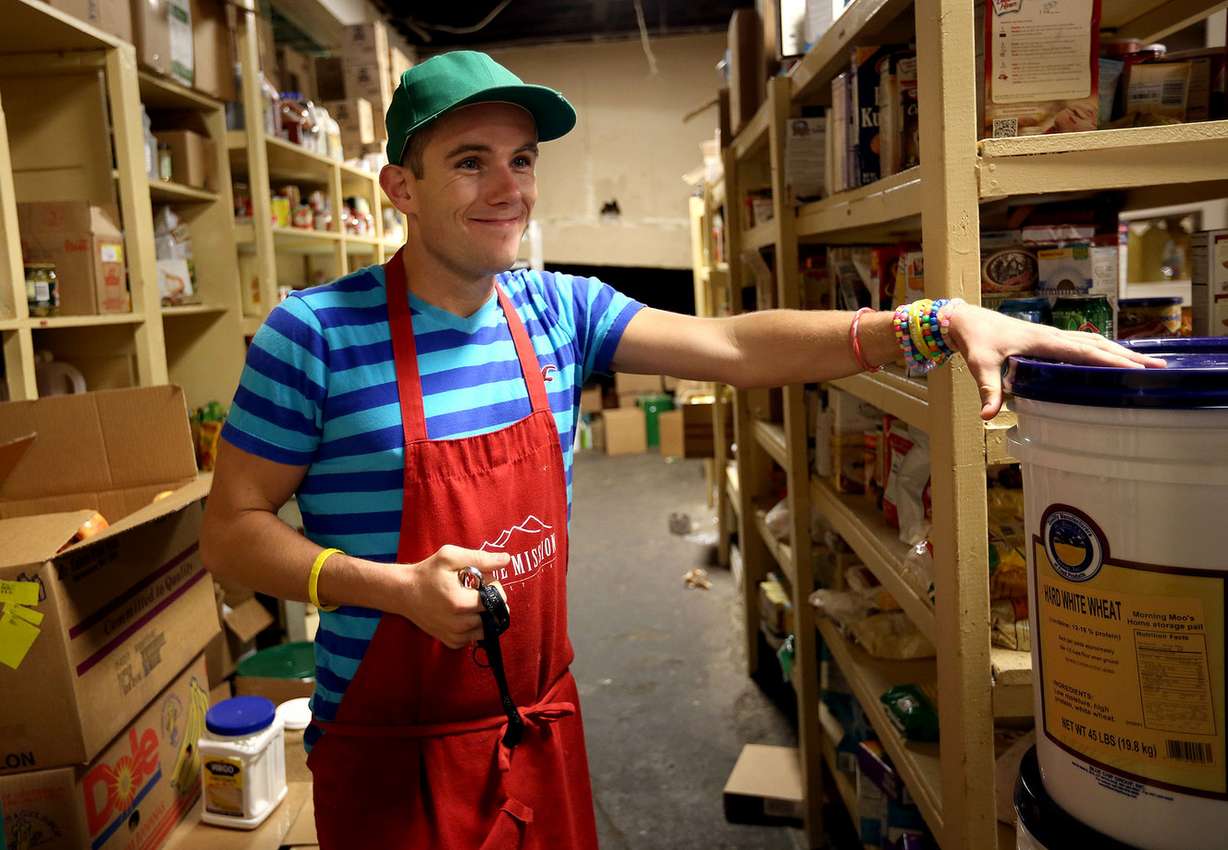 "We're not turning anyone away," he said.
CCS, which serves lunch and dinner at its St. Vincent facility, also offers day services such as showers, haircuts and storage. It, too, can use coats and winter clothing to help the nonprofit organization, which also resettles refugees, to weather the winter.
On Friday night, there were a handful of available beds at the Rescue Mission. Those who didn't have a beds were offered space to sleep on the chapel floor once the evening services concluded.
Will Hurlbutt, who was manning the front desk, said the mission helped him get back on his feet after a divorce and losing everything because of an addiction to pain pills that developed after multiple back surgeries. In his previous life, he was an evangelical minister to a large congregation in Kansas.
"When I got to this place, I was totally broken. It's the best thing to happen in my life. I've been able to put things back together," he said.
For people who literally carry most of their life possession in a backpack or a few plastic bag, having new clothing or a winter coat means a lot, said Croswhite.
Gently used items are welcome, too. "But they have to be usable. Sometimes people empty their closets of things that are not longer usable. That usually means they're not useable for our homeless friends, either."
×
Photos
Related Stories