Estimated read time: 2-3 minutes
This archived news story is available only for your personal, non-commercial use. Information in the story may be outdated or superseded by additional information. Reading or replaying the story in its archived form does not constitute a republication of the story.
SALT LAKE CITY — "My husband, Michael John Gallegos, was hit and killed by a drunk driver." That's the opening line in a new video produced by Zero Fatalities.
Debbie Gallegos Cordova's husband, John Gallegos, was a coach at Cottonwood and Highland High Schools in Salt Lake County. He was sitting at a light on Bangerter Highway in June 2012, when a drunk driver in his SUV slammed in from behind.
"The police estimate he was going anywhere from 95 to 98 miles an hour," Cordova said.
The back half of the car was obliterated, the paint was scorched beyond recognition, and Gallegos was killed on impact.
Zero Fatalities wants every young driver in the state to see the video because it conveys a powerful message: Drunk driving ruins lives, shatters families and shakes communities to the core.
In the video, high school students will hear from the driver who learned those lessons the hard way. He delivers his half of the tale from a prison cell in Gunnison.
"Just knowing that you killed somebody is the worst thing," said Blake Molder. "I don't know what could be worse than taking someone's life."
Molder, the driver responsible, said his life changed forever, too.
"This could've all been prevented with better decision making," he said.
Molder, 23 at the time, had partied with friends and passed out behind the wheel. He woke up on impact.
"I heard the most terrifying — you can't explain it really — the most awful sound. That instant, I knew that I had done something terrible," he said from his jail cell.
Molder said he was in shock.
"As I climbed out of the window, my first thought was, 'Please God, don't let anyone be in that car.' "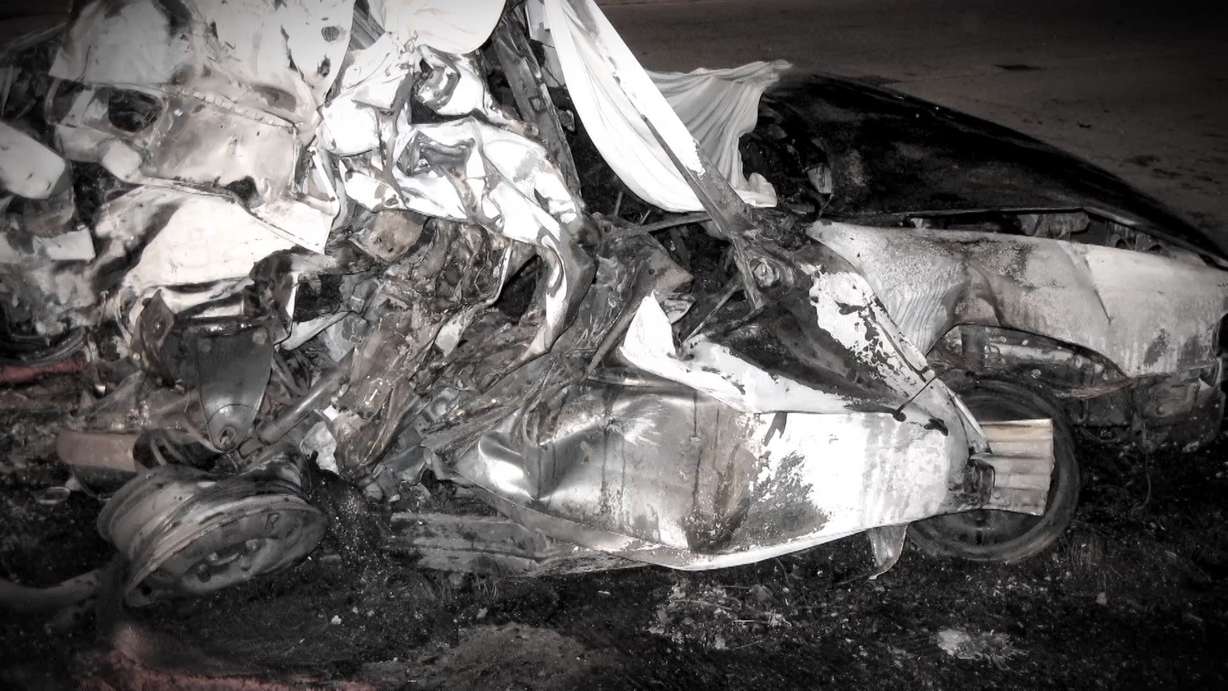 But Gallegos was in that car, already dead.
"I was angry," said Cordova. "I was angry at Blake for doing this to us."
Cordova said that her daughter would search for her father.
"She got sad and started crying and said, 'Is my dad coming home?' And I said, 'No he's not.' "
However, Cordova said she found a way to forgive Molder for the sake of the emotional well-being of her family.
Zero Fatalities showed the video last week at Highland High, where Gallegos went to school and coached. The organization will soon start showing the video at other schools statewide.
Cordova will also visit schools and hopes Molder will join her with this message, when he gets out of prison in more than a decade.
Molder is serving 1 to 15 years in prison for automobile homicide. He said he is tormented by his decision to drink and drive that night and hopes others will not make the same mistake.
"Every day, I remember what I did," he said. "Worst night of my life."
×
Photos
Related links
Related stories
Most recent Utah stories