Estimated read time: 3-4 minutes
This archived news story is available only for your personal, non-commercial use. Information in the story may be outdated or superseded by additional information. Reading or replaying the story in its archived form does not constitute a republication of the story.
WEST VALLEY CITY — Property owner Jay Bentley got slapped with a huge fine by city administrators because of graffiti. While Bentley claims he is the victim of vandals, city officials say the big fines are necessary — and they're working.
Bentley has owned a duplex in West Valley City for the past five years. Unfortunately, every few months, his property gets tagged by vandals.
According to city law, Bentley is the one responsible for cleanup. The most recent spray had him looking at a fine from the city for $25,000.
"The big issue is the huge fines that West Valley City seems to be imposing on property owners," Bentley said. "There's just no realm of reality to it."
He isn't the only one faced with a massive fine. In the last few months, court records show other property owners who were ordered to pay $37,000; $76,000; $87,000; and $194,000 for not cleaning up their property.
"It does feel like they treat us kind of like a criminal," Bentley said.
That's a lot of money, especially if it's somebody else who committed the crime.
"We realize that they are a victim," said Layne Morris, deputy city manager for West Valley City. "But if you're going to just let the graffiti sit on your property for three months, you're not helping yourself."
Morris said the city writes about 5,000 code citations a year not just for graffiti, but also for garbage, unkempt landscaping and junk cars littering property. If property owners ignore the demands to clean up, they are faced with a hefty fine.
---
We realize that they are a victim. But if you're going to just let the graffiti sit on your property for three months, you're not helping yourself.
–Layne Morris, WVC deputy city manager
---
"The fines are $500 a day," Morris said. "We get people's attention."
The city wasn't getting its residents' attention several years ago. In 2008, a countywide study revealed 43 percent of homes in West Valley City were non-compliant with city code. Within five years of implementing the extreme fines, the number dropped to 13 percent.
"We're aggressive in West Valley City. We're serious about code enforcement," Morris said. "Many cities aren't serious about code enforcement, or as serious as they should be."
Some property owners like Bentley say the city has gone beyond serious, especially when you compare Bently's $25,000 fine to major crimes like DUI ($700), selling drugs ($5,000), child abuse ($10,000) and murder ($10,000).
In Bentley's mind, $500 per day for not cleaning up graffiti is absurd. He also said he never got a note from the city saying he was in violation.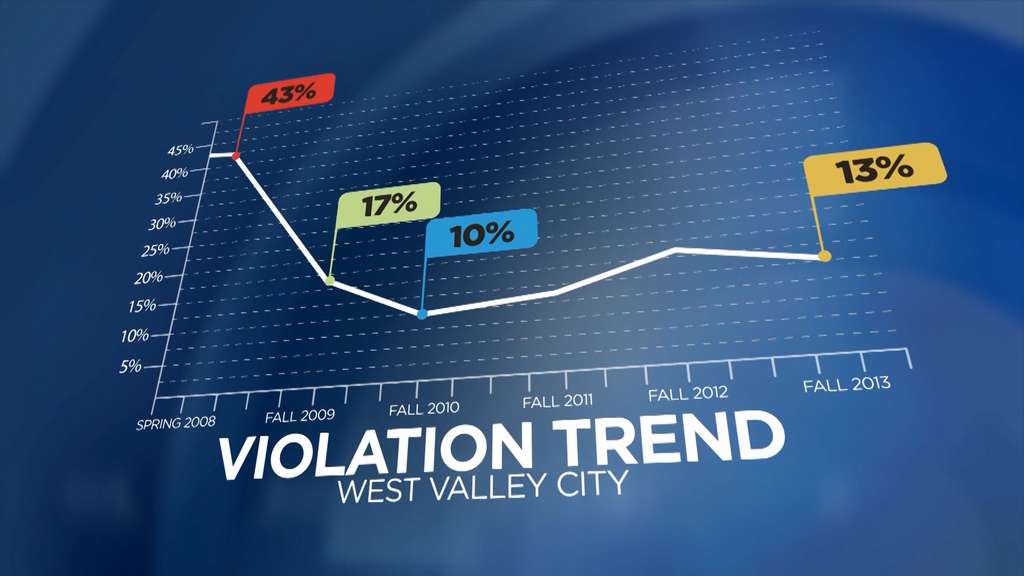 Not a chance, Morris said; Bentley has gotten the city's mail many times before.
Back in March, Morris said the city sent Bentley a courtesy notice. No change. Then when they issued a formal citation, still no change.
After that, Morris said 51 days went by until the property came into compliance.
"I understand that $25,000 can be a shock to somebody," Morris said, "but if you've been cited eight times in seven years, you ought to know the system by now."
Fortunately for Bentley, West Valley City made him pay only a small fraction of the fine, $300 of the $25,000. Even so, he's not satisfied.
"Now they say that they'd never hold anyone to that," he said, "but there's nothing in writing that says they're going to work with you on that fine."
×
Photos
Related links
Related stories
Most recent Utah stories