This story is sponsored by Young Automotive Group - providing customers with value, respect and understanding.
There were 50,600 vehicle accidents in Utah alone in 2012, according to the Utah Department of Public Safety. Here's another grim statistic: most people will be in at least one car accident during their lifetime. With a bit of luck and some defensive driving, hopefully you'll never fall into that "most people" category.
1. Pull Off of the Road
If it's possible to safely move your vehicle out of the way of traffic, do so right away. Particularly in fender-benders with minor or no injuries, pulling over should be the first thing you do.
Never drive away from the scene of an accident, even if there doesn't appear to be any damage.
Don't move if you feel doing so will cause more damage to your vehicle. Turn on your hazard lights and protect the scene of the accident — and prevent further ones — by setting up emergency flares, orange cones, or warning triangles.
If it doesn't feel safe (or possible) to move yourself or your vehicle, turn on your hazard lights and stay where you are until help arrives.
Your safety should be your first priority.
2. Make Sure Everyone is OK
The majority of accidents do not involve major injuries, however, it's important to check immediately to make sure you, your passengers, and the driver and passengers of the other vehicles involved are okay.
Be very cautious, as not all injuries are visible. Call an ambulance if anyone involved isn't feeling 100%.
It's a good idea to seek the advice of a medical professional after an accident even if you don't appear to have an injury. The impact your body sustains during even a very minor accident can cause problems down the road.
Document your medical treatment. Keep a record of hospital visits, x-rays, tests, prescriptions, and any other expense you incur because of the accident.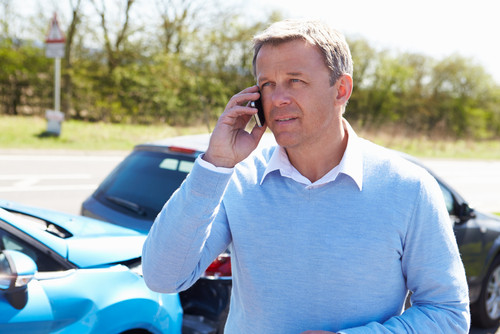 3. Call the Police
Even in the absence of obvious vehicle damage or personal injuries, a police report should be filed. These things are not always immediately apparent, and a police report offers neutral third-party documentation of the accident in the event that you decide to file a claim later.
Be very careful what you say to the police, other parties, and witnesses. This is crucial. Do not admit fault or accept blame even if you believe you caused the accident.
There are times when you might not be at fault, but accepting responsibility on the scene can make you liable. Be honest, and make sure to state the facts only. If you are asked a question and you're unsure of the answer, tell them you don't know. Don't assume or speculate.
Write down the name, badge number, and contact information for the investigating officer. Your insurance company or attorney may need to contact them later.
4. Exchange Information
Exchange contact, vehicle, and insurance information with the other driver(s). Write down the name, license number, phone number, insurance company, policy number, and license plate number of everyone involved.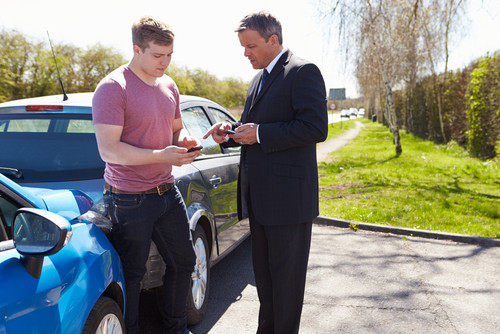 If there are any witnesses to the accident, retain them for a statement, and exchange contact information in case they remember more details after they leave the scene or you need more details from them later.
5. Take Pictures
Photograph the scene of the accident, vehicle damage, and any visible injuries you sustained.
6. Write Down the Details
While the accident is still fresh in your mind, write down everything you remember about what happened. Drawing a diagram of the road and details of the accident (directional arrows, etc.) can also be helpful. If you can't write it, use your and do a voice memo.
Take note of the direction each vehicle was coming from, signage, any damage to the road, weather conditions, the exact date and time of the accident, a good description of the vehicles involved (year, make, model, color), and anything else you can think of. Be very specific.
7. Call Your Insurance Company
Report the accident to your insurance company as soon as possible. Find out if your policy includes medical benefits (if applicable), and file your claim using the information you collected in the steps above.
When in the heat of the moment, it's very easy to mix things up or forget one of these steps. Print this article and keep a copy in the glove box of your car for good measure.
Check out other related articles sponsored by Young Automotive Group.
×