SALT LAKE CITY — Chronically absent students — those gone for at least 10 percent of the school year — account for more than 1/4 and up to 1/3 of students in Utah's rural school districts.
But the problem also extends to metropolitan areas, such as the Ogden School District, where more than 22 percent of students miss one in 10 days of school.
In total, 36,638 kids — about 12 percent of Utah's elementary-age students — are chronically absent.
Educators are learning more about the gloomy implications that repeated absence has for students throughout their learning career.
"This is a huge contributor to the achievement gaps that we see," Attendance Works director Hedy Chang said at an education policy forum Thursday. "Because people have seen themselves so accountable for academic achievement, it's almost like we've lost sight of what gets us there over time."
Attendance Works is a national initiative aimed at addressing chronic absence in public schools.
But the issue is often hidden by looking too broadly. Ogden School District's chronic absence rate of 22 percent, for example, isn't readily brought to bear when looking solely at daily attendance, which is almost 94 percent for the district, according to the Utah Office of Education.
"Our concern is by just reporting average daily attendance, it can mask a serious chronic absence issue for students," said Karen Crompton, president of Voices for Utah Children, an advocacy group for childhood education.
Every school district in Utah has a daily attendance rate of at least 90 percent, but different students gone on different days can put them further and further behind their peers who attend consistently.
Impacts on learning
Habits developed because of chronic absence set in at an early age. Preschoolers who attend irregularly are five times more likely to be chronically absent when they reach kindergarten, according to Chang, who studies student absence across the country.
As children get older, their performance in reading, math and other subjects lags behind if repeated absences continue.
---
Even though there are times you want to give your child a break and say, 'Maybe school doesn't matter so much today,' think about that twice because every day counts.
–McKell Withers
---
"The impacts on math and science as you get older are greater because these are scaffolded subjects," Chang said. If kids start to miss, it's harder and harder for them to catch up because if you miss out on some of the basic principles, you're lost by the middle of the semester."
Sporadic attendance has an even greater effect on students approaching high school age.
"If kids have two years of chronic absence any time between eighth and 12th grade, 50 percent of them are dropping out," Chang said.
Salt Lake City School District Superintendent McKell Withers said students who don't learn to attend school regularly often encounter difficulties when and if they graduate.
"Every day missed has a negative impact," Withers said. "And too many days missed over time almost has these fatal consequences related to high school graduation, skills and abilities to be able to get the kind of job they want, (and) college and career readiness. It's all related to not just showing up, but being engaged in learning."
Underlying causes
While there are common reasons for chronic absence among students nationwide, the causes of absence for an individual student can be much more difficult to identify.
"The key to solving it is first not assuming we know why kids miss school, but taking the time at every level to unpack why a child might be missing so much school," Chang said.
She cited elements that contribute to chronic absence for different reasons. Some barriers include poverty, homelessness, chronic illness, lack of access to health or dental care, insufficient transportation, or children having to care for younger siblings.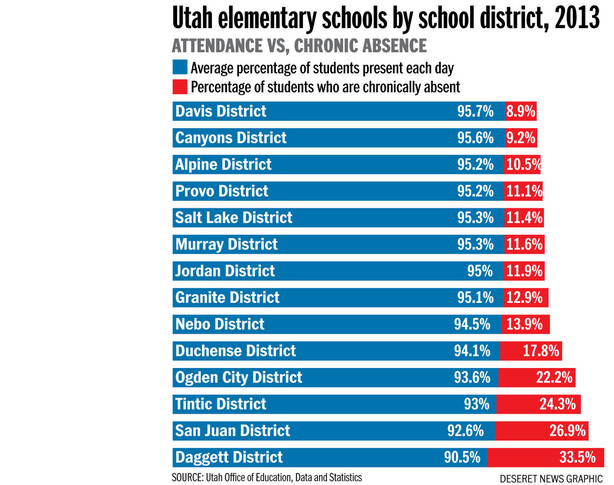 Children may have an aversion to school if they are struggling academically, if there is a lack of engaging instruction, a poor school climate, bullying, ineffective school discipline, or parents who have had a negative school experience.
Some parents and students fall victim to "myths" about absence, such as the idea that sporadic absences aren't as harmful as consecutive and unexcused absences, or that attendance is only important in older grades, Chang said.
Withers says parents play a key role in helping their students to attend regularly.
"The single best message for parents is even though there are times you want to give your child a break and say, 'Maybe school doesn't matter so much today,' think about that twice because every day counts," he said.
Withers added that parents and students should communicate with teachers prior to planned absences so students can be prepared when they return to class.
Proposed solutions
Much of what educators are doing to address chronic absence lies in finding the trends that identify which students have the potential to struggle the most. Missing class early on in the school year is an especially strong indicator of the likelihood that a student will be chronically absent later on.
"One of the things that makes a difference is actually tracking it," Crompton said. "When those first two days of absence happen, that's the time for the first intervention, not when you get to the 15th or the 18th day. … You've kind of crossed the point of no return there."
Withers said when teachers reach out to commonly absent children and their parents on an individual basis and recognize their success, the interaction can have a "powerful" effect in improving attendance.
"When somebody says, 'I missed you, I'm glad you're here today,' that can change the trajectory, and then you start to see the student be a little braver and try a little harder with their schoolwork because somebody cared about them," he said.
At a broader level, fostering a culture of regular attendance is something many schools are striving to improve through in-class incentives and activities as well as after-school programs.
Sending notifications to parents and turning to legal recourse should be used only as a last resort, Chang said.
In an effort to draw more attention to the issue, education organizations like Voices for Utah Children are calling for chronic absence to be included in Gov. Gary Herbert's grading system for public schools, which measures school accountability.
Withers says that while policy measures can help, the most good that parents and teachers can do is encourage individual accountability among their students, and provide positive feedback when goals are met.
"There's nothing more loving than having high expectations for every kid, and that's the change that needs to take place," he said.


×
Photos
Related Stories